These Holographic Press-On Nails Will Transform Your Look In A Pinch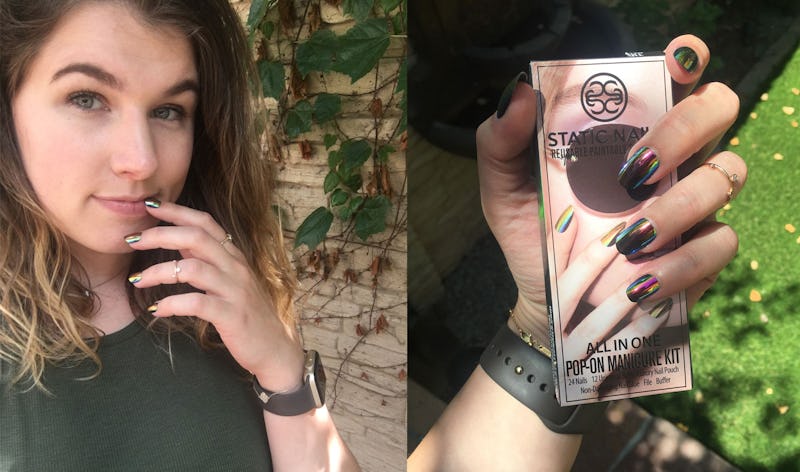 The irony of trying out press-on nails for a story? It's kind of hard to actually type said story, as I'm discovering at this very moment. But here we are, and I'm slowly but surely learning how to work with the Kylie Jenner nails I'm rocking. But this isn't any set of acrylics — they're called Static Nails, and they deliver an ~extra~ mani without the commitment or damage.
Up until today, my nails have been kept as short as possible. I can't stand them getting even a touch too long, because it's tempting to bite them, and I also feel like short nails just look and feel cleaner on me. That said, I've always been allured by long, glamorous manicures.
Once colorful, bold acrylic nails made a modern comeback a few years ago, I considered getting in on the trend, but to me, it wasn't really worth the price tag and time commitment that comes along with maintaining them (fills, polish changes, etc.), not to mention the damage. So I continued to admire long nails on other people, while keeping mine nice and trimmed.
When I heard about Static Nails, though, it seemed like the perfect opportunity to give long nails a test drive with zero commitment. I'll tell you all about it, because I think by now I've finally nailed (get it?) how to type my tale with these bad boys.
Here are TK things you need to know about these super cool holographic press-on nails.
1. There Are More Than 20 Static Nails To Choose From
These faux nails are a huge update from those drugstore French manicure fake ones you used to want in elementary school. There are more than 20 different styles to choose from, from nude to metallic to matte. Plus, you can paint them if you change your mind.
I decided on a holographic set called Shaded and Faded, because if I was going to do this thing, I wanted nails that were at least a little wild. Each set comes with 24 nails, a nail file, no-damage nail glue, and a short how-to guide.
2. You Can Trim And File The Nails To Fit Perfectly
Because it comes with so many extra nails, there's pretty much guaranteed to be 10 in there that fit your nails. If not, it's easy to file down the sides for a custom fit.
After I poured them out on a table, I organized them by size (there were two of each) and placed them over my nails to see which 10 would make the cut. I filed them down a bit because I could tell right off the bat that these babies were long (so, not "beginner" nails).
Then, I unscrewed the glue and went to work.
3. They're Surprisingly Simple To Apply
How much glue you use depends on how long you want to leave them on. For short wear, one+ days, you only need a thin strip of glue. (If you go with this option, you can reapply them up to six separate times.) For medium wear, five+ days, you put dot of glue on the center of your nail and spread it around a bit. For long wear, seven to 18 days, you put a dot of glue on the center of your nail and a bit on the back of the Static Nail.
I went with the medium route, so I could give them a good chance without over-committing. After you put the glue on, you let it tack up for a few seconds, then press the nail on for 20 seconds. They feel incredibly secure after this, so make sure yo press them where you want them.
4. There Were Some Not-So-Easy Moments, Though
It was smooth sailing with my left hand, because I was using my right hand to apply them (and that hand didn't have nails on yet). My right hand, however, was tougher. Not only was I using my non-dominant hand, but my left hand also had the nails on it, so I was still trying to figure out how to press down with them on.
Plus, when I was done, it was clear that they were way too long for my personal taste (not to mention, to do literally anything with). And that's a good thing, because they're even more customizable. But it was tricky to break out my nail scissors to trim them down after both hands had them on. Thankfully, no accidental stabbing injuries.
All-in, it took me about 30 minutes to apply them from beginning to end, but I imagine the process gets way quicker the more you do it (they say it should only take you about five).
In the end, I got the hang of it, and I was amazed by my fresh, decidedly un-me manicure.
5. Ultimately, They're A Fun Way To Try Out The Acrylic Look Without The Commitment
Ultimately, these nails have been a fun little beauty experiment that I never thought I'd try. I feel like I'm channeling an alter-ego I didn't even know I had in these nails: They give off sassy, cool, and glam vibes.
Of course, they do take some getting used to, and they don't feel all that cool when you're struggling to open a package or take a picture. (Also, it takes me significantly longer to unbutton my pants, which is annoying.) I'm chalking it up to being a newbie at long nails, but I'll probably still trim them even more to make them easier to maneuver around.
And when I am ready to take them off completely, they're easy to remove, too. You just lift the sides of the nail to pop it off (and if it doesn't come off easily, it probably needs another day). Till then, though, I'll be endlessly admiring my glossy fake manicure — and trying to nail that whole "fingermouthing" selfie pose.