These Hometown Date Clues Come Straight From 'The Bachelor' Promo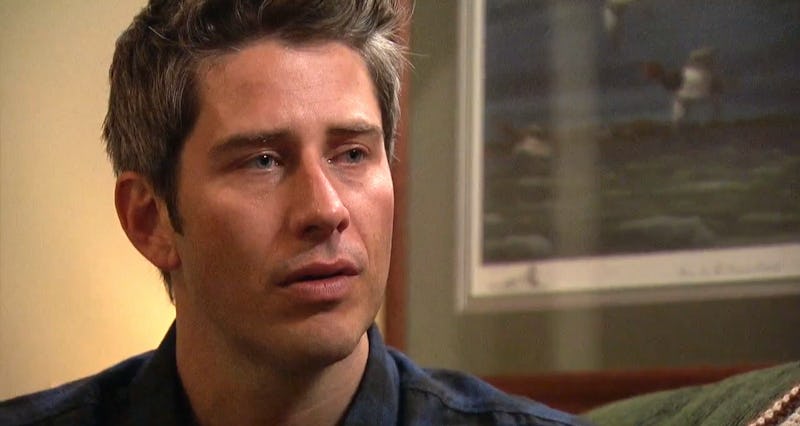 ABC
Hometown dates are just around the race track bend for Arie Luyendyk Jr. With seven women left at the start of Week 7, he will have to send three people home before the hometown dates on The Bachelor (editor: Amy Barbour). Arie will meet four of the women's families during Week 8 and if you don't want to wait until the end of the Feb. 12 episode to know who those women will be, you're in luck. Thanks to Bachelor previews and social media, viewers can figure out a couple of the women who will be going on Bachelor hometown dates. So, while anyone with a lot of time on their hands could put this information together since it's all out in the open, it's only fair to warn that SPOILERS follow.
Arie hosted his own hometown date with Krystal earlier in this season of The Bachelor (senior producer: Lindsay Liles). But the upcoming hometown dates give the contestants the chance to show Arie where they come from and introduce him to their families. These hometown dates inevitably mean the contestants' family members ask the Bachelor some tough questions. Arie's season will be no exception since the preview at the end of the Week 6 episode showed that he will be interrogated by family members — specifically male ones. Because even though The Bachelor likes to keep viewers on their toes, the preview was fairly spoilery since it showed three recognizable male family members of the contestants. The clips are quick, but jump to 1:06 in the below video posted by The Bachelor Twitter page to see these hometown date previews.
Off the bat, you probably don't know what the family members of Becca K., Bekah M., Jacqueline, Kendall, Lauren B., Seinne, or Tia look like, but never underestimate the power of social media. By looking at the Instagram accounts of the remaining contestants and comparing them with the faces of the male family members that were shown, you can figure out two women who are definitely going on hometown dates. Then, using the process of elimination, you can assume the third contestant getting a hometown date. As for the fourth and final one, that's up to good old-fashioned guessing. But with the help of The Bachelor and internet sleuthing, here are some pretty solid predictions for the women most likely to get hometown dates.
Lauren B.
Although Lauren B. was upset after the Week 6 rose ceremony, she's a definite for the hometown dates. Beyond previews showing that Arie and Lauren will go on a one-on-one date in Week 7, her father — who you can see in the above post — was seemingly one of the men featured in the preview. "If [Arie] proves me wrong, I'll f*cking kill him," he says. So while Lauren may be fairly quiet, her dad doesn't appear to be so soft-spoken.
Tia
Southern accents abound in the preview for the hometown dates, so it should come as no surprise that Arie will be going to Arkansas with Tia. In the clips, a younger man with a bald head, a goatee, and pierced ears talks to Arie. Based on Tia's Instagram, this is her brother. On his social media page, his name is Jason Garrett. A woman with a southern accent can also be heard in the voiceovers. As Tia and Lauren are the only contestants left from the south, the mystery woman is probably related to one of them — further solidifying their statuses as hometown date definites.
Bekah M.
Unlike Lauren and Tia, this one is a bit tricky since there's nothing on Bekah's social media that links her to the other man featured in the preview. (When Bekah does share family photos on Instagram, it's usually of her younger brother or sister, like the one above.) The older man is one of the contestants' dads since he says, "What's really your intentions with my daughter?" Based on photos of their fathers on Instagram, he does not appear to be the dad of Tia, Jacqueline, Kendall, or Seinne. (Becca K. told Arie on their first one-on-one date that her father had passed away.) That leaves just Bekah's dad.
While her mother had reported her as missing in November, this may prove that Bekah had been hanging out with her dad a couple weeks earlier. If (lack of) photographic evidence isn't enough to convince you, then consider how strong Arie's attraction to Bekah is. So even if this man turns out not to be Bekah's father, she may be getting a hometown date regardless.
Becca K.?
Besides checking out spoilers from Reality Steve, there's no way to know for sure who the other woman to get a hometown date will be. But one guess is that it's Becca. During the Feb. 12 episode, Arie has another one-on-one date with Becca, so if all goes well, she could be headed home with him. And while it could be misleading editing in the preview, Becca is shown crying (you can tell by her cross tattoo on her hand) during the hometown date section.
Yet, Arie indicates some reservations about Becca before their Week 7 one-on-one date since he thinks they are missing a romantic connection. If the romance isn't there, then Jacqueline, Kendall, or Seinne could end up with the last hometown date instead of Becca. But no matter who that fourth spot goes to, The Bachelor uncharacteristically prematurely revealed a lot more intel about hometown dates than usual. And now that some of the hometown dates are seemingly guaranteed, fans can use that extra brain power to figure out whose ex-boyfriend is going to show up.