Here Are All The Heroes Who Could Actually Die In 'Avengers: Infinity War'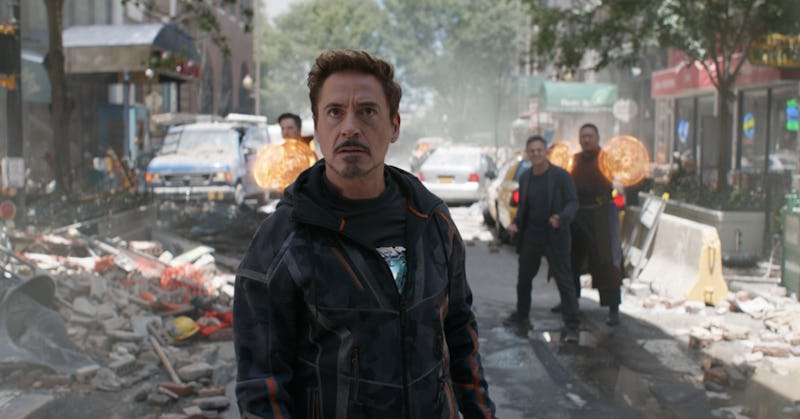 Marvel Studios/Walt Disney Pictures
Marvel's biggest film to date, Avengers: Infinity War, is almost here. The movie is not only the 19th film in the Marvel Cinematic Universe and the culmination of everything the franchise has produced up to this point, it's also expected to alter the MCU in some big ways. How big, you ask? Well, it's almost a guarantee that some beloved characters will meet their end in the movie, but who will die in Avengers: Infinity War? The film's spoilers are heavily guarded secrets, but that doesn't mean fans aren't coming up with their own theories on the matter.
Before discussing who might die, though, it probably makes sense to discuss who definitely won't die. The safest character is probably Spider-Man, since he's not really Marvel's to kill. Spidey's movie rights still belong to Sony, who co-produce his solo movies with Marvel Studios, and the sequel to Spider-Man: Homecoming is already scheduled for July 5, 2019. Nipping at Spidey's heels is Black Panther, who just headlined the highest-grossing superhero film in U.S. history. The hero is a money machine for Marvel, and will likely be the face of the franchise beginning in Marvel's Phase Four. Other safe heroes should include Doctor Strange and Ant-Man (if he even appears in the film), since they head their own nascent franchises and haven't had a chance to thrive yet. Also, Ant-Man in the Wasp hits theaters just a few months after Infinity War, so Ant-Man is definitely not going anywhere. Then there's Star-Lord and most of the other Guardians of the Galaxy. Since it's already been revealed that there will be a Guardians of the Galaxy: Vol. 3 in Phase Four, most of them — but especially their leader — are probably safe.
So with the likely survivors out of the way, it's now time to talk about the characters who may not be so lucky.