Here's Why 'RHONY' Needs A Serious Shakeup For Next Season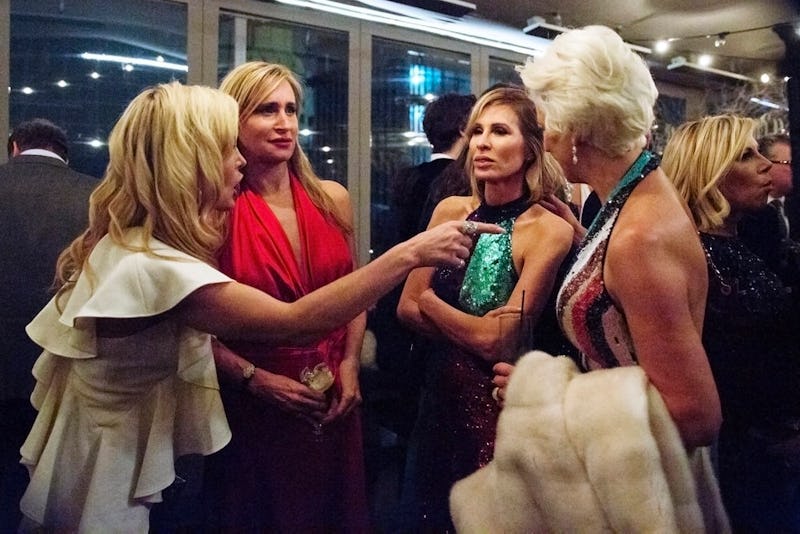 Heidi Gutman/Bravo
Another season of Real Housewives Of New York is in the books, and I can't decide if we're all the better for it. This season had plenty of drama, but was it the kind of drama that was fun or relaxing to watch? Not really. The actual goings on in the real world these days can be terrifying, and so many people — myself very much included — watch Real Housewives Of New York as a means of escapism. But some of this season's drama felt so icky and serious that, well, I might as well have just watched cable news. Some of the cast members seem to be feeling the pain, too, which had had me wondering exactly who will return for Season 11 of Real Housewives Of New York? After this doozy of a season, we may need a whole new cast.
Let's cut right to it — Carole Radziwill has already announced that she won't be a part of Season 11 of Real Housewives Of New York. "After six seasons on Bravo's RHONY, I have decided to return to what I do best — journalism and producing," Radziwill told PEOPLE in a statement. "I am sure this does not come as a surprise to any of the viewers, all of whom have been supportive, encouraging, and kind."
She went onto basically say that she was over reality television and she wanted to do more work that suited her "more steady temperament." Carole added a little bit of shade at the end, saying, "I have worked with amazing producers, made great friends, and I'm thrilled to leave frenemies behind. I will remember this entire experience with delight, humor, and a veracious accuracy. Next." Reading between Carole's carefully crafted lines: She's getting out while she can still maintain some semblance of dignity
One of the "frenemies" Carole is referring to is probably Bethenny Frankel — their relationship, once BFF-status, completely dissolved before and during the course of Season 10. They're not friendly to this day, as evidenced by previews for the reunion in which they're screaming in each other's faces. Who will replace Carole? Rumors swirled that former Housewife Jill Zarin could revisit her old stomping grounds and take on Carole's seat, but in an interview with PEOPLE, Jill said that it isn't happening. "It's not true," she said. "They haven't called."
Carole is definitely a no, but let's see what the odds of the rest of the women on Real Housewives Of New York making their respective returns.
Luann de Lesseps
After an arrest in Palm Beach, two trips to rehab, and her kids suing her, Luann's year has been… not so great. Luann missed filming the RHONY reunion because of her second stint in rehab, and it's clear that she's really going through some stuff. She's working on her #CountessAndFriends cabaret act, but maybe steering clear of the stress and triggers of Real Housewives Of New York would be good for her.
Dorinda Medley
There's been some insinuation in almost every single episode of Season 10 that Dorinda has a drinking problem. But other than that, it hasn't been dealt with — it just hangs in the air like the smell of last night's tequila shots. She denies it and everyone else tiptoes around it, which has gotten increasingly hard to watch for viewers like me. Dorinda and Luann are at odds after their fight in Cartagena, and everyone but Carole (who is leaving anyway) is slowly getting sick of her antics, too. She will likely be back, but, much like with Luann, a break might be good for the soul.
Bethenny Frankel
Bethenny is no stranger to struggle — she's been up and down a lot on the show, and most recently, she suffered the loss of her on-again, off-again boyfriend, Dennis, from a suspected drug overdose. Between her custody fight, Dennis' death, and the fact that she has three million businesses and a huge charity to run, I wouldn't be surprised if Bethenny bowed out of Real Housewives Of New York for the second time. She later told Andy Cohen of her 2010 break from the show, as per The Daily Mail:
"I felt like [being on the show] was a little something to not be proud of. There was a point when I was a little embarrassed to be a Housewife. There was a time when I was in it that it felt kind of not what I started out as, and that's why I walked away."
If that's how she felt then, how does she feel now, having to fight with the aforementioned "frenemies" every week?
Sonja Morgan
Sonja is just here to have a good time, and if she's happy, she's going to stay on the show. Sonja is on the low-drama scale of things now. She spent that Colombian trip from Hell sunning herself and remarking about how good the empanadas were — Sonja isn't going anywhere for Season 11.
Tinsley Mortimer
Similar to Sonja, Tinsley genuinely seems like she has a good time on Real Housewives Of New York. She hasn't been beaten down by the years yet, but Tinsley is just living in a hotel, dating Scott on-and-off, and being her best self. She's a keeper for Season 11.
Ramona Singer
Ramona is the only woman in the cast who has never missed a season. She'll never leave. She should, but she won't. The show will be cancelled first. Andy Cohen will have to have her removed from Bravo headquarters by security, and even then, she'll make a home in the air ducts.
The toxicity of this season of Real Housewives Of New York has been notable, and it's worth it for all of the women to ask themselves what the future holds when it comes to their role on the show. Or at least get a group huddle going over brunch at Balthazar (since they can't go to Sonja's anymore) and talk out their issues, because a repeat of Season 10 would just be too sad and stressful for everyone. Fans included.