'Lady Bird' Star Saoirse Ronan's Oscars Plan Will Make You Want To Call Your Mom ASAP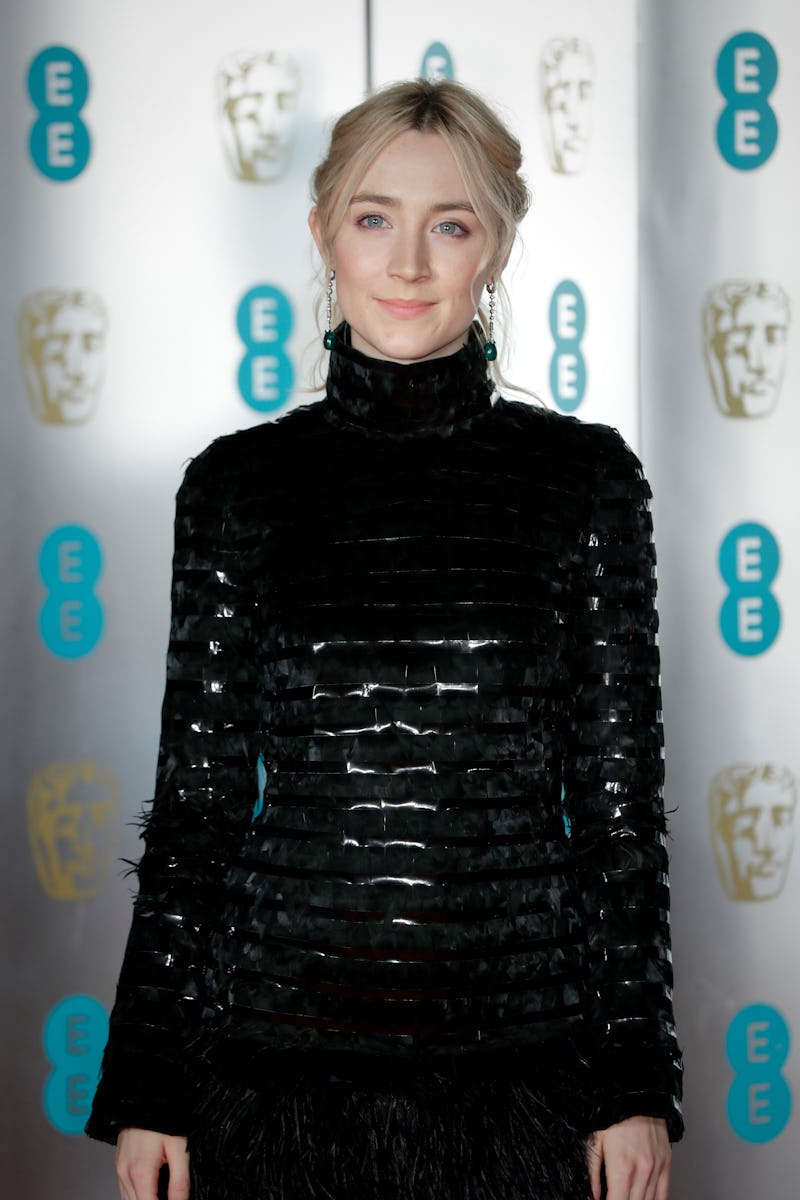 John Phillips/Getty Images Entertainment/Getty Images
In the Oscar-nominated Lady Bird (director: Greta Gerwig), Saoirse Ronan's on-screen persona goes through the all-too-real romantic struggles of a teenager. She's no longer a teen herself, but her portrayal earned her a Best Actress Oscar nomination. Who Saoirse Ronan is dating is bound to be a point of conversation during the 2018 Academy Awards, since the actor will have a guest by her side.
But her guest will most likely quash any romantic rumors; Ronan has implied in several interviews, including ITV's This Morning, that she will be bringing her mom to the Oscars. As for a possible significant other, Ronan keeps that part of her life pretty under wraps, but she did reveal in January during an The Ellen DeGeneres appearance that she is single. So if nothing has changed in the last two months, Lady Bird is currently flying solo.
Although Ronan is only 23, she was nominated 10 years before Lady Bird (executive producer: Lila Yacoub) for her first Oscar — Best Supporting Actress for Atonement. She received another nomination just two years ago for Best Actress in Brooklyn. The much-acclaimed young actor is definitely at the top of her game, but she seems to be concentrating mostly on work. In her Jan. 18 appearance on the talk show, Ronan confessed, "I don't know how to date." This exchange led to the actor playing one of DeGeneres' favorite games, "Who'd You Rather?"
After seeing Ronan hilariously take a grandmotherly approach to this hypothetically-based game, you can kind of get why she said she doesn't know "how to date." But her reasoning will certainly endear you to her more. For example, when she chose her Lady Bird costar — and fellow Oscar nominee for Call Me By Your Name — Timothée Chalamet — over Harry Styles she said, "Let me stick with Timmy because even if it's just a platonic relationship, I think we can have a nice companionship together," much to the amusement of the audience and DeGeneres.
Ronan also tried to avoid picking Ed Sheeran in the game. Though Ronan played Sheeran's love interest in his "Galway Girl" music video, they're strictly friends. Plus, Sheeran announced his engagement to girlfriend Cherry Seaborn just two days after Ronan's appearance on Ellen. So perhaps, she even already knew about his big relationship step.
There is another musician who Ronan was rumored to be dating — Hozier of "Take Me To Church" fame. In 2016, Ronan appeared in Hozier's music video for his song "Cherry Wine." Hozier himself isn't in the video with Vikings actor Moe Dunford playing the featured male. But Hozier and Ronan had partnered together on the project as a charitable effort for #FaceUpToDomesticViolence. "Cherry Wine" was released to raise awareness about domestic violence and while Hozier wrote the song from the perspective of a male victim of domestic abuse, Ronan portrays the victim in the video.
Ireland's The Daily Edge has since outlined Ronan and Hozier's rumored romance, which at least points to them being friends if nothing else. Beyond the two Irish artists doing other advocacy work together, they have attended concerts and he has supported her acting. While she doesn't have any public social media accounts, Hozier tweeted during the 2016 Oscars that he was rooting for her and more recently praised her performance in Lady Bird.
Still, those Hozier dating rumors are simply that, and Ronan has also been linked to some costars through unsubstantiated gossip. One of her directors — Kevin Macdonald for the film How I Live Now — did seem to spill the beans on her romance with her costar George MacKay back in 2013. But Ronan never confirmed that relationship or any other ones.
In February, Ronan was on BBC Radio 1 and was asked how long she'd have to be dating someone to take them as her date to the Oscars. "It depends on how the dates are going, I suppose," she said. She added if it was someone she knew immediately was the love of her life, she'd invite them — otherwise, she'd wait until they had been on at least 10 dates. But she said that she really prefers bringing her female friend or her mom since they know her so well. "If they don't know you that well, how are they gonna comfort you when you lose? And will you want them to?" Ronan asked. "That's why you bring your mam."
It's understandable that Ronan is slightly pessimistic about her chances of winning since she has not won an Oscar yet, and GoldDerby reports that Frances McDormand for Three Billboards Outside Ebbing, Missouri, is favored to win for 2018. Yet, she'll be happy to have her mom by her side no matter the outcome since she told Jimmy Kimmel that her mom is "the best plus one" during his show on Feb. 22. And as she'll most likely be nominated for additional Academy Awards down the line, she'll have plenty more shots at Oscar gold. Just don't expect her to show up to those future award shows with a significant other on her arm — unless they have 10 successful dates under their belts.