7 Ways To Keep Slippage From Happening During Sex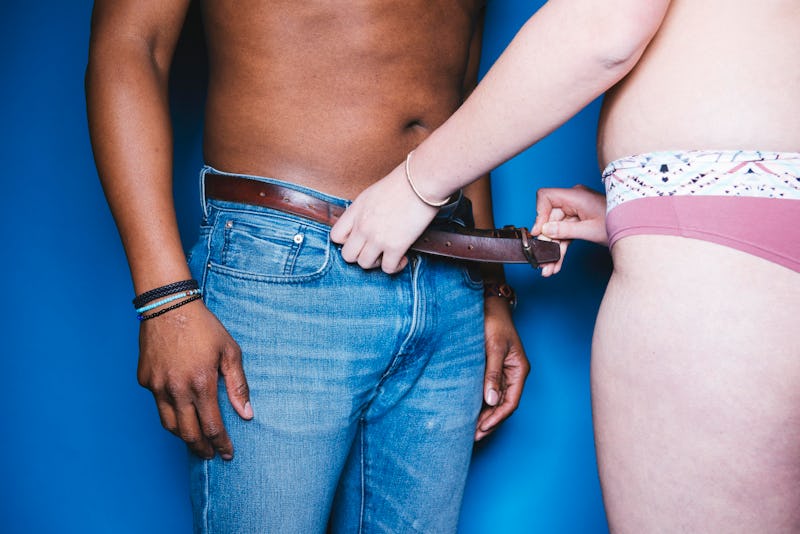 BDG Media, Inc.
Before I first started having penis-in-vagina sex, I was warned about a lot of things. I was warned that it would hurt (not accurate), that I probably wouldn't come (doubly accurate for both me and my partner), and that I could get pregnant or get an STI (thankfully not accurate). I was not warned about the problem I actually ran into: the penis constantly slipping out in the middle of the action. My partner and I had never heard of this happening and didn't know any solution, so we just kept letting it slip out and putting it back in. It appears I haven't learned much since then, because constant removal and re-insertion of the penis is a standard part of my routine now. Which makes me wonder: Am I doing it wrong? Or is that just an inevitable part of sex?
"Penises get erect in a variety of angles and, depending on the position you're both in, they can more easily sort of 'spring' out of the vagina with each outward thrust — especially because, ideally, there's a lot of slippery lubrication going on," sex educator Anne Hodder tells Bustle. "During orgasm, the vagina muscles contract and tighten, which can absolutely 'push' out something inside (penis, dildo, hand) if there isn't anything keeping it in place. So it's totally possible that a vagina can accidentally push out a penis, especially one that's post-orgasm and losing its erection, but it's really nothing to worry about. Kind of just part of the deal."
So, don't be concerned if your partner's penis keeps falling out during sex. Inconvenient as it may be, it's not an unusual part of the process. Nevertheless, it can be annoying. So, here are a few tips that can help you prevent it from happening or keep going after it.