Here's Why The SAG Awards Don't Have A Host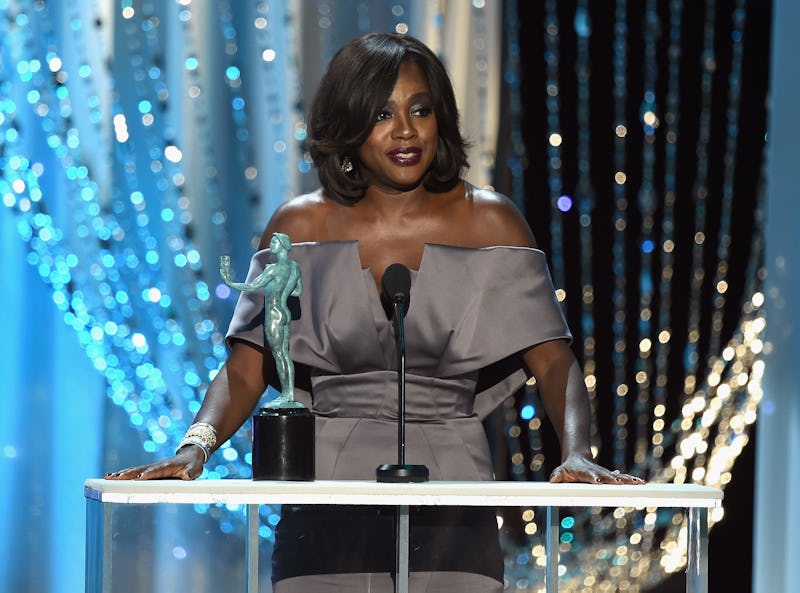 Kevin Winter/Getty Images Entertainment/Getty Images
Awards ceremonies are typically extravagant events — both for the people in attendance and for viewers at home. While equally as glamorous, the Screen Actors Guild Awards have a bit less pomp and circumstance. That's in large part because the SAG Awards don't have a host. While emcees can set the tone for awards shows, the SAGs have never felt the need to have one. So why don't the SAG Awards have a host? As the 2017 SAG Awards air on Sunday, Jan. 29 at 8 p.m. on TNT and TBS, you can prepare for the ceremony by finding out the reason behind this awards show mystery.
OK, so perhaps I am being a bit dramatic when I say that there is mystery surrounding why there isn't a host since the reason is pretty straightforward. (Blame it on me channeling the dramatic actors nominated for the SAG Awards this year.) Long-time producer of the awards show, Kathy Connell, has shared the reasoning behind the decision to keep the SAGs host-free and it makes a whole lot of sense.
Connell, who has been a producer of the SAGs since they first premiered in 1995 and serves as executive producer for the 23rd annual awards show, explained in 2013:
"We chose to not have a host was [sic] because we didn't want the time taken away from the people we were honoring. Our show is just two hours long. We wanted the whole evening to be about the actors and not about one personality."
As the SAG Awards come from the Screen Actors Guild, the show focuses strictly on the acting (and refreshingly, stunts) in movies and TV shows. For example, instead of a Best Picture category, the SAGs acknowledge the Best Cast in a Motion Picture. That means you'll only see the familiar faces that appear on screen at the SAGs since there are no technical awards and no producers will be accepting awards. So, rather than fill the awards show with additional entertainment, the SAGs keep it lean and focus just on their actors.
Connell spoke out about the SAG host situation again in 2014, when she explained to SSN Insider what makes the SAG Awards different from other awards shows:
"We've never done a host. It's about all our actors. We also initiated the concept of the actors presenting a clip of their film because it becomes personal to them. The other thing we're known for is our Actors' Stories, which start our show. Actors tell a quick thing about being an actor, live from their table, and people are always surprised because we never announce who's going to do it."
Those Actors' Stories kick off the show and if you love seeing actors talk about acting, then you won't really even miss a host. Another benefit of a host-less show? That two-hour timeframe that Connell mentioned. The Oscars and Golden Globes usually run for over three hours, which can make getting up for work on Monday a struggle. The SAGs offer a low-key viewing experience for entertainment fans since they'll be all wrapped up by 10 p.m.
One other factor that has become a staple of awards shows, but that the SAG Awards lack because there is no host, is planned social commentary. When asked by Variety if there will be a political aspect to the 2017 SAG Awards, like there was at the 2017 Golden Globes, Connell said:
"It truly hasn't come up ... Has it come up having a cup of coffee in the kitchen? Maybe, but not in relation to the show. There is nothing that is planned that will deal with the outside world, but I can't tell you what will happen when any of our members get up on the stage."
If the Globes were any indication, politics will certainly come up whether the SAG Awards have a host or not. Yet, as Connell noted to Variety, "That's the nice thing about doing a live show." Because even without a host, the 2017 SAG Awards will be putting on a show for movie and TV fans when they air on Jan. 29.