Why Netflix's 'Been So Long' Is The 'La La Land' We Deserved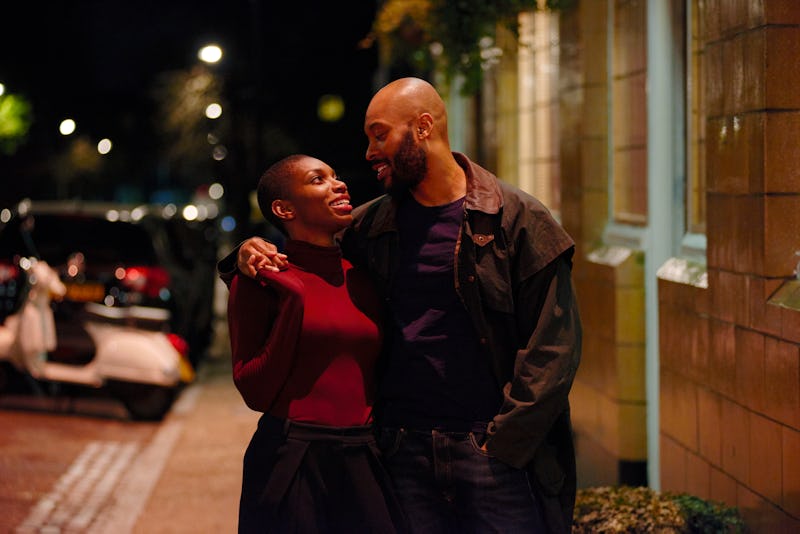 Rob Baker Ashton/Netflix
In 2016 La La Land almost won an Oscar. It was sold as a modern-day romantic musical that would simply break hearts the world over. Not mine. The film, set in LA, had a predominantly white cast, the love interests were both white, and the plot was all about a tortured jazz musician, a genre that's deeply rooted in black culture, and yet there was only one black character of substance in the whole film. Yes, some of the songs were catchy, but as a working-class black girl from South London, the plot was completely wasted on me.
I have a tumultuous relationship with musicals. I get fixated on certain ones (like Hamilton) but overall, I often find them slightly ridiculous and a bit kitsch. But my main gripe with mainstream musicals isn't randomly breaking into song or the step-ball-changes — it's that nobody looks like me. That was until the long-awaited release of Been So Long. No musical film has really represented black Britishness and romance quite like it. It's the La La Land we really deserved.
The new Netflix film starring Chewing Gum's Michaela Coel and Misty's Arinze Kene sounds more like a BBC drama than a vibrant new sing-along. Set in Camden, Simone (Coel) is a sensible single mum hellbent on protecting her daughter from the world. She reluctantly falls for Raymond, a road cleaner fresh out of prison for drug and theft-related crimes. That being said, it's not an urban drama exploiting black pain and suffering, it's just a little glimpse into the lives of one community and a beautiful tale of black love. The estates are just homes, the kebab shop is just a restaurant. It's delightful having a film about working class people that isn't a mockery it's simply positive and stuffed full of fun.
In La La Land the driving force behind the plot was simply, "will the two struggling artists become stinking rich, famous, and recognised, whilst still being able to uphold a long-distance relationship?" It's storytelling I really struggled to invest in because it's so far removed from anything I know. In comparison, Been So Long isn't just a love story, it explores so many other avenues like being a single parent and raising a child who uses a wheelchair, or the effects of gentrification and the closing of family businesses. It's more than a story of romance — it's one about community.
Yes, Been So Long has more subplots than Les Misérables. Originally written as a play by Che Walker, it was first staged at the Royal Court in 1998, before being revived as a musical in 2009 at the Young Vic. It's this version that the film adapts, and once you get into the mindset that this is a musical and people will randomly sing down the road at any given moment, it's hard not to get hooked. Thankfully the film is also rated 15, gearing it towards a more adult audience, so you won't find any fluffy woodland creatures or childish musical tropes here. From R&B to pop and even spoken word, the songs are mature and modern, often bawdy and crude. They could easily be chart toppers.
The most powerful part of the whole film is undeniably the loud and ferocious display of black love. Watching a bald, dark-skinned woman being pursued as the object of adoration is so compelling. Having Coel play Simone was so incredibly significant, especially for black British women watching, because she encapsulates a necessary and breath-taking beauty so far away from European ideal standards. Coel shows that love is women with short hair, dark skin, full lips and brown eyes.
At its heart, Coel's casting in Been So Long is changing the perception of who can play the role of the romantic lead. It's safe to say that Emma Stone has been the romantic lead in almost every film she's starred in. Herself and Ryan Gosling are practically a clichéd choice for romantic interests at this point. Audiences are yearning for something different, and Coel and Kene really deliver that. The love shared between the two is faulty. It's a little scary, but that's what makes it feel so real. There's a scene when they are naked holding each other — both beautiful, bald, and black — and the intimacy feels so gentle and delicate that it radiates through the screen. It is about inclusion and love and the fear of opening your heart again all whilst perfectly picturing black British love in a way that is rarely (if ever) has been seen on our screens.
This isn't a tragedy, it's just a love story like all the others. You don't have to hold your breath waiting for it go wrong. In a world that can feel so violent towards us, their story really confirms that we, black people, are deserving of love. We deserve to be the centre of the story, the romantic lead, the hunk, the ones having steamy make-out scenes. Sadly, in La La Land, the few black people we did see were just props with no character development, simply drifting into the colossal shadow of young Hollywood giants. Been So Long is what I really needed to see. People who look like me existing loudly and freely at centre stage.