You May Have To Wait A Bit To Marathon 'AHS: Apocalypse' On Netflix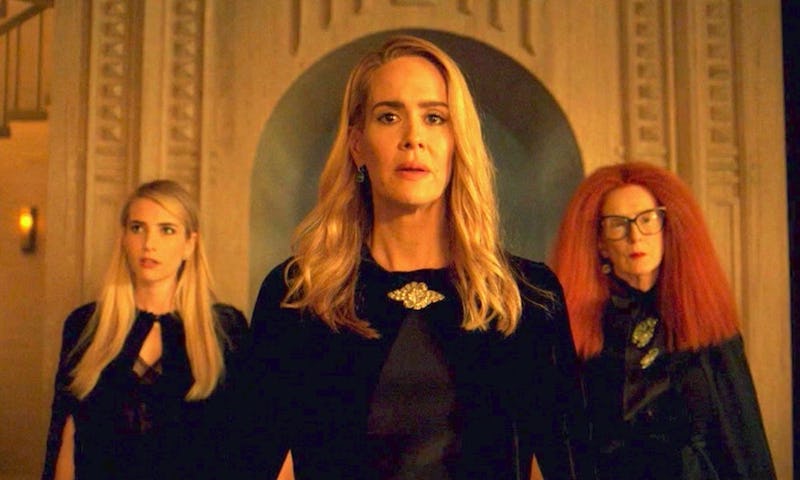 FX
If reaching American Horror Story's Nov. 14 season finale felt like the end of the world, you're probably already wondering if AHS: Apocalypse will be on Netflix. While no official announcement has been made, fans of Ryan Murphy's Emmy-winning FX anthology series need only look at past release patterns to get a an idea of just about when they will be able to commence their marathons of the most recent Season 8 installment. (Bustle reached out to both FX and Netflix for further insight, but did not receive an immediate response.)
The good news is that all seven past seasons — Murder House, Asylum, Coven, Freak Show, Hotel, Roanoke, and Cult — are currently available to stream on Netflix, so there's no reason to suspect Apocalypse won't eventually join the ranks as well.
Following Apocalypse's Sept. 12 Fall 2018 TV debut on FX, Netflix made all 11 episodes of Cult available just six days later, on Sept. 18. The previous year, FX premiered Cult on Sept. 5, while Netflix rolled out Season's 6 Roanoke on Oct. 3. So, while not a perfectly matched pattern, FX's release of a new season and Netflix's streaming availability of the previous season seem to go somewhat hand-in-hand.
While the theme of AHS Season 9 has not yet been revealed, it is definitely happening, with FX green-lighting both a 9th and 10th installment, per Deadline. As FX Networks CEO John Landgraf told Deadline in an August interview, "Ryan asked for a 10th season of American Horror Story which we were happy to give to him."
Whether or not Season 10 will be the series' last, stay tuned. "I don't know," Landgraf added to Deadline. "A lot of that comes down to Ryan and whether he still feels inspired about it."
For its part, Apocalypse gave fans plenty to feel inspired about this season. The highly anticipated installment — billed as a crossover between Season 1's Murder House and Season 3's Coven — brought about the return of both fan-favorite characters of the past as well as AHS alums, whose absences had certainly been felt. In particular, the Oct. 17 "Return to Murder House" episode brought the triumphant returns of Connie Britton, Dylan McDermott, and, of course, the legendary Jessica Lange, who hadn't appeared on the anthology series since the 2015 Season 4 finale of Freak Show.
With AHS mainstays like Sarah Paulson and Evan Peters both admirably tackling several roles — and also directing episodes — on Apocalypse, there was also plenty of room for newcomers. Season 8 brought the additions of Dynasty icon Joan Collins, and most notably, the main antagonist, hell-raising Michael Langdon, played by AHS newbie Cody Fern.
"How many people get to play, essentially, the Devil?" Fern recently told Vulture. "It's such an iconic role. Instantly I was aware of the pressure because people have been waiting for him since Season 1."
Rounding out the truly remarkable ensemble cast: Kathy Bates, Emma Roberts, Billie Lourd, Frances Conroy, Taissa Farmiga, Adina Porter, Leslie Grossman, Lily Rabe, Cheyenne Jackson, Billy Eichner, and Gabourey Sidibe. Throw in some of the series' best fashion moments to date and a cameo from Fleetwood Mack's Stevie Nicks, who performed a bewitching rendition of "Gypsy," and, honestly, what's not to love?
Unless Netflix and FX try to pull the scariest pre-Halloween 2019 trick of all, fans should look forward to the treat of reliving AHS: Apocalypse all over again when it will likely hit the subscription streaming service in the late summer or early fall of next year.