Brace Yourself, Taylor Swift's New Album Will Probably Include More Diss Tracks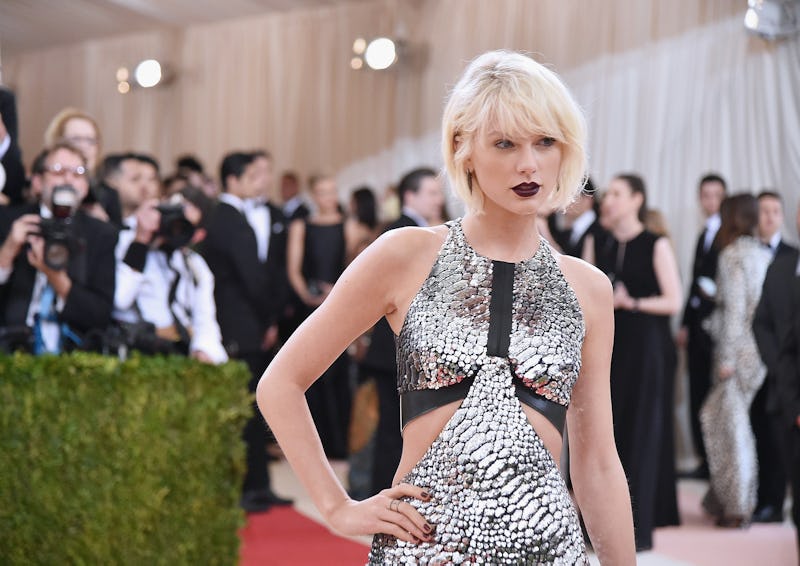 Mike Coppola/Getty Images Entertainment/Getty Images
Given the Kimye drama, the receipts, and a clapback from her ex-beau Calvin Harris, there was a chance that Taylor Swift might have used her 2017 album to issue some heartfelt apologies. This possibility practically dwindled to zero when her new single was released late Thursday night. But will Reputation be all diss tracks? If Swift's new song "Look What You Made Me Do" is representative of the album as a whole, it seems highly likely.
This isn't exactly goosebump-inducing news. Let's not forget that the 27-year-old singer may have been mining her personal life for creative material for years. Her song "Enchanted" was reputedly about Owl City's Adam Young, "Dear John" supposedly took a swing at John Mayer, and the singer herself seemed to make clear that "Bad Blood" was about her pop nemesis Katy Perry after she told Rolling Stone it was about another female artist who "tried to hire a bunch of people out from under me," in reference to backup dancers.
That's why it wasn't a shock when Swift's new song dropped and appeared to take aim at Kanye West with the lyrics, "I don't like your little games, don't like your tilted stage," seemingly referencing the rapper's floating stage in his Saint Pablo tour set design. She also sings, "The old Taylor can't come to the phone right now," which could be a reference to the phone call Kim Kardashian recorded, supposedly unbeknownst to Swift.
But according to the singer herself on the latest track, the old Taylor is dead. Plus, the snake videos she used to tease her track could suggest the same thing: she's shedding a skin. So who is she now, exactly? "Look What You Made Me Do" contains a few clues to the sort of Swift we could be tangling with these days. She's "smarter," "harder," and she's even channeling Game Of Thrones' youngest sociopath with a revenge list.
Further clues are provided by her new look on the promo images. She's got dark lipstick with wet hair, and she's giving off a very Hot Topic aesthetic. In short, Swift is now goth Jenny Humphrey from Gossip Girl. So while, sure, we have no clue what the rest of the songs are going to be like, all of this would seem jarring if she went on to release sweeter, more contrite tracks. Why bury the old Swift if you're just going to resuscitate her a track or two later?
If you've been crossing fingers and toes for an album that would show the world how far the singer has come, how humble and open to criticism she is, Reputation doesn't look like it's going to be that record. But who knows? Given the tepid response to "Look What You Made Me Do" so far, maybe the backlash will be enough to inspire more measured self-reflection before her next musical effort.