Two 'Brooklyn Nine-Nine' Actors Are Headed To 'One Day At A Time' & Fans REALLY Want A Crossover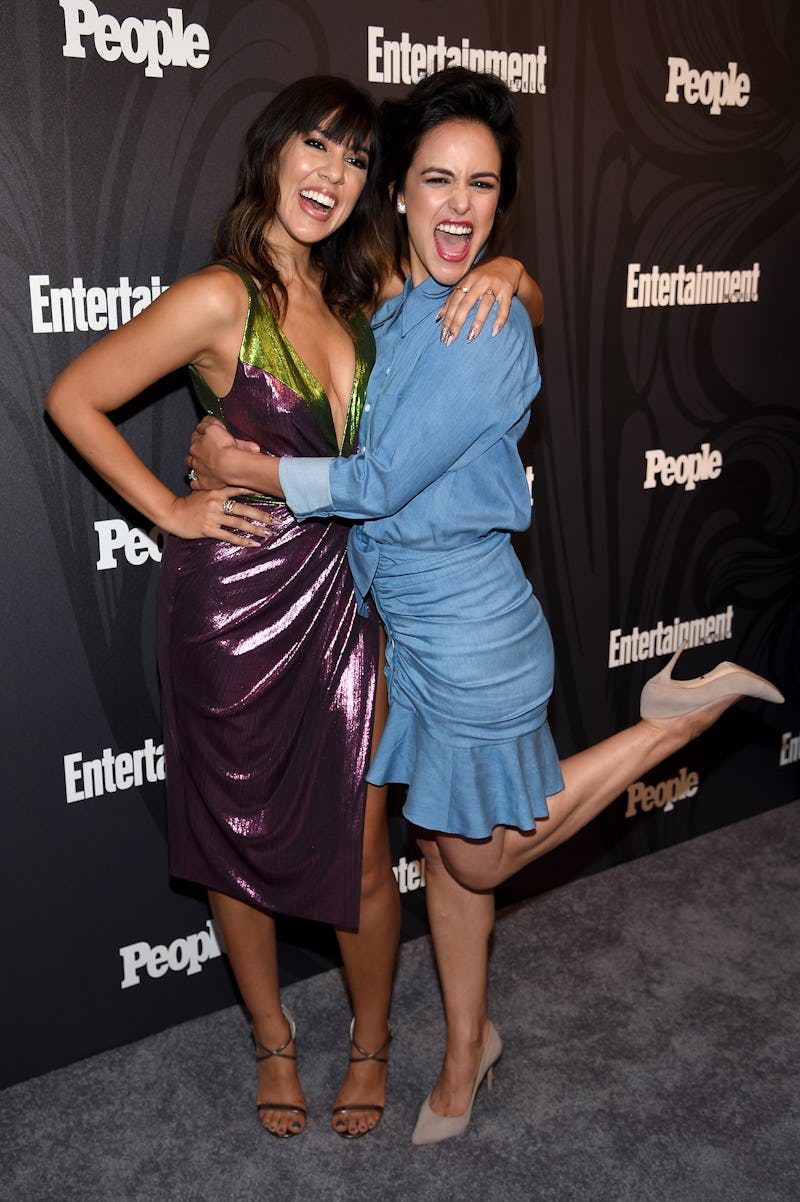 Dimitrios Kambouris/Getty Images Entertainment/Getty Images
Still reeling from The Horrific Cancellation Announcement Of May 10? Don't worry, this is a good piece of Brooklyn Nine-Nine news. B99 stars Melissa Fumero and Stephanie Beatriz will guest star on One Day at a Time Season 3, the actors revealed via Twitter on Tuesday, July 10. The acclaimed Netflix original series has yet to announce who Fumero and Beatriz will play. Some fans even speculated that there might be a Brooklyn Nine-Nine/One Day At A Time crossover. (Bustle reached out to Netflix and NBC for comment, but did not immediately hear back.)
When it came time to share the awesome guest star news with the Twitterverse, One Day at a Time star Isabella Gomez tweeted,
"We can finally tell youuuuuu!!! The @Brooklyn99FOX ladies are in the @OneDayAtATime houuuuuse this week!!! @melissafumero @iamstephbeatz."
And when someone asked if she was following along with the B99/ODAAT fandom's freakout, Gomez replied, "GIRL IM FREAKING OUT WITH YALL."
Oh, and you better believe Detective Rosa Diaz and Sergeant Amy Santiago are beyond elated, too. Fumero tweeted,
"Guess who's coming to hang with the Alvarez family!?!! @iamstephbeatz & I are guest starring on @OneDayAtATime Season 3!!!!!!!"
"CAN NOT EXPRESS HOW EXCITED WE ARE! @everythingloria thank you for welcoming us. We're having so much fun this week on the @OneDayAtATime set!"
Do you know who else is excited for this Brooklyn Nine-Nine and One Day at a Time extravaganza? Fans of Brooklyn Nine-Nine and One Day at a Time, duh. This news truly is a gift to us all.
As if Brooklyn Nine-Nine's move to NBC and One Day at a Time's return were not already reasons to be counting down the seconds to 2019, now you have a Brooklyn Nine-Nine and One Day at a Time crossover to look forward to, too. Er, quasi-crossover... ? It's unclear if Unless Beatriz and Fumero bring Detective Rosa Diaz and Sergeant Amy Santiago to the One Day at a Time universe, this probably won't be technically be a crossover-crossover, but regardless, it will technically be awesome.
After all, the two series air on two different platforms: Brooklyn Nine-Nine will begin airing on NBC this fall and One Day At A Time drops on Netflix.
Watch out, Avengers, The Alvarez family, Detective Diaz, and Sargent Santiago might coming for your throne with the maybe most ambitious TV crossover event (if it happens).
For some fans, this is truly the best day. Until Season 3 of One Day at a Time premieres on Netflix, of course.
For other fans, they have been dreaming of a crossover like this.
The news is overwhelming — but in the best way.
Some fans have already dreamed up scenarios for a potential crossover — you know, if it ever happens. Worlds colliding, indeed.
Another fan wanted to also put Jane The Virgin into this glorious potential crossover mix.
Some fans were just mesmerized by the prospect of a crossover.
And another fan let the tears of joy fall.
Other fans expressed skepticism that a crossover between Brooklyn Nine-Nine and One Day At A Time might be happening at all. Fumero and Beatriz could be playing other characters on the Netflix comedy series (gasp).
After the Cancellation Announcement Of May 10 went and shattered what was left of the internet's heart, the words "Brooklyn Nine-Nine news" are enough to turn a fan's spine into a pillar of ice. Fortunately, today's B99 news item is a good news item, not unlike the Heroic Show Rescue Of May 11. One day after Fox announced it would not renew the series, NBC opened its arms, scooped up Brooklyn Nine-Nine, and plopped the scripted comedy down on its roster. Season 6 will premiere on NBC in 2019.
Speaking of beloved TV shows that are set to return to the small screen in the year 2019, One Day at a Time will premiere at some point next year. Back in March, the streaming service announced that the show has been picked up for a third season. Oh, and as she revealed last month, the inimitable Gloria Estefan will also guest star on the Netflix reboot of Norman Lear's sitcom.