You Can Buy Wine With "Notes Of Cannabis" & It Actually Sounds Delicious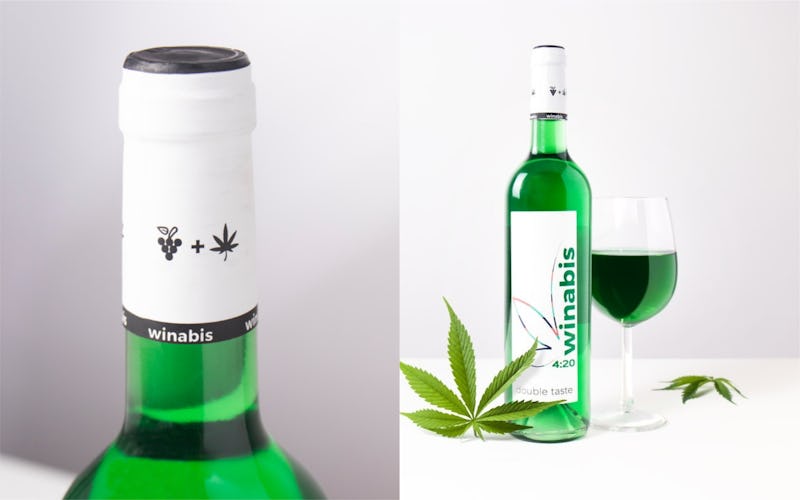 Firebox
Holiday shopping is well underway, and thus begins the struggle to find a gift for everyone on your list. There's always that one person who leaves you wondering what you could possibly get them that they don't already have. Well, if they are a person of particular taste, perhaps this cannabis-inspired wine will be the thing for them. (Or, if we're being honest, the treat you give yourself as a congratulatory "you made it through your shopping list/this entire year" gift.)
Appropriately named "Winabis," the wine-cannabis combo is described as a beverage with double the enjoyment and "without any of the dodgy side effects!" If you're concerned about the legality of such a beverage, fear not: Winabis doesn't actually contain any THC, the naturally-occurring chemical in marijuana that makes you feel high. As the product description states, Winabis "might get you drunk, pissed, or smashed," but a glass of the drink "will NOT get you high, stashed, or stoned."
What does a wine inspired by weed taste like? Mostly "medium sweet grapes, juicy peach, and a sophisticated note of cannabis." A product description for the 9.5 percent ABV Winabis describes the wine as "light and fresh, despite its jammy, complex taste profile." Also, it's bright green. Like, neon green. Like, "should I be drinking something this color green?" green.
Here's the part where I bum you out a little: the wine is pretty much only available in Europe. Winabis is being sold $25.99 on Firebox, the site where you can also buy things like a unicorn candle that cries rainbow tears and air fresheners personalized with your friends' faces. However, the site specifies they're unable to ship the product to the U.S., with their shipping info noting, "Please don't take this as thinly concealed xenophobia."
Winabis, the Spain-based company responsible for the wine of the same name, also sells bottles for €16.95 a piece. That converts to about $19.24 U.S., though I shouldn't even bother mentioning that because they currently only ship in Europe. Winabis' about page does specify that you can reach out if you're desperate for that good, good in your country.
Unfortunately, even if they do deliver to the States, whether you can get it delivered to your state in particular depends. That's because cannabidiol or CBD is still not legal in every state. Perhaps you can just put some green food coloring in your white wine and pretend?
The CBD-infused food trend doesn't seem to be slowing down any time soon. This summer beverage company Sprig introduced CBD-infused soda. Like Winabis, the soda doesn't have THC. As Sprig specific on their site, "Our CBD is derived from all-natural, Colorado-grown hemp. This drink is known for its beneficial properties, but does not get you high."
This influx in CBD-infused products is in part due to the health benefits associated with cannabidiol. CBD has been touted by brands like cannabis company Papa & Barkley as being an anti-inflammatory, anti-convulsant, and antioxidant. Some limited research also suggests CBD can help with insomnia and pain relief associated with migraines and PMS.
If you're looking to pair your Winabis with some candy infused with or inspired by cannabis, you have your pick of more than a few. If you're in New York, you can check out CHLOE's CBD-infused brownie. There's also Not Pot, a company which sold CBD-infused chocolate hearts last year. They currently have CBD gummies available and ship to locations across the United States. Plus, a portion of Not Pot's profits go to supporting decriminalization of marijuana and organizations fighting mass incarceration.
So, you can feel good and feel good.