These New Photos Of Zac Efron As Serial Killer Ted Bundy Will Give You Goosebumps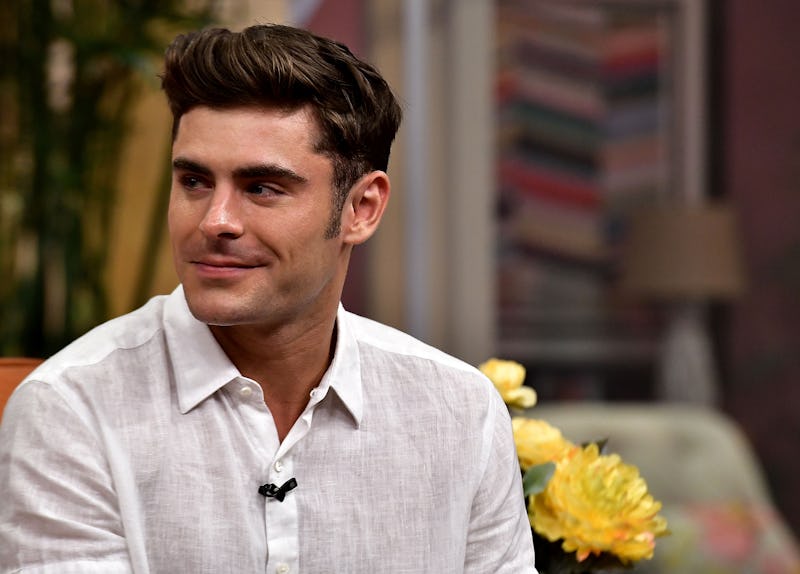 Gustavo Caballero/Getty Images Entertainment/Getty Images
Production on Extremely Wicked, Shockingly Evil and Vile is officially underway, and the behind-the-scenes photos of Zac Efron as Ted Bundy, as pointed out by People, are officially intense. When filming commenced earlier this month, Efron shared a snapshot of the himself recreating Bundy's mugshot. It was, in a word, unsettling. And now, there are some more photos of Zefron in Extremely Wicked, Shockingly Evil and Vile, and yes, the whole situation is still unsettling.
When you look at the photos of Efron-as-Bundy next to actual photos of Bundy, you may think, "Whoa, that's super eerie. And wow, what great casting. It's going to be so cool to see Zefron deliver a performance for the ages." And then, it hits you: You don't know how to feel about the captain of East High's basketball team successfully pulling off a Bundy impression.
It would be a major understatement to say this Extremely Wicked, Shockingly Evil and Vile role is a long ways away from the other characters Efron has taken on. Now, that is not say he hasn't proven himself to be a dynamic performer; his turns in Hairspray, The Paperboy, High School Musical, The Disaster Artist, Baywatch, and We Are Your Friends show he's got serious range.
But man, Extremely Wicked, Shockingly Evil and Vile sure is going to be a severe departure. Also? The behind-the-scenes photos are something else, no? The following cannot be overstated: These pics are pretty uncanny.
Bundy was a serial killer, rapist, and necrophile who preyed on young women throughout the Mountain States and the Pacific Northwest in the 1970s. According to CNN, he confessed to committing 30 murders, but his actual number of victims remains unknown. He was reportedly arrested in 1975, again in 1977 after his first escape, and again in 1978 after his second escape. He was executed in 1989.
As Variety reported in May 2017, the star of the High School Musical franchise will portray Bundy in the forthcoming feature film Extremely Wicked, Shockingly Evil and Vile. According to the site, producer Nicolas Chartier said he'd been trying to "work with Zac Efron for a long time." He continued,
"From his dramatic turn in Paperboy to his hilarious performance in Neighbors, he continues to impress audiences and critics alike with his extraordinary versatility and range. We couldn't be more excited to see him in this amazing role."
The movie will also star The Last Tycoon's Lily Collins as Bundy's girlfriend Elizabeth Kloepfer, John Malkovich as Judge Edward Cowart, and Kaya Scodelario as Bundy's ex-wife Carole Ann Boone. Extremely Wicked, Shockingly Evil and Vile will tell Bundy's story from Kloepfer's perspective. Standing at the helm of the movie is Joe Berlinger, a filmmaker whose credits include acclaimed documentaries Paradise Lost: The Child Murders at Robin Hood Hills and Some Kind of Monster.
Zefron talked a bit about the movie back in December 2017 when BuzzFeed U.K. had him and his The Greatest Showman co-star Zendaya to interview one another. When Zendaya asked Efron to name his most challenging role, he replied, "Hopefully the next one." "The next one" being Extremely Wicked, Shockingly Evil and Vile. He continued,
"Ted Bundy is going to be a challenge. I think it's going to be different and it's going to be fun. I'm super stoked."
Stoked to see what Efron brings to the table in this movie? Keep your calendar-marking pen at the ready: The release date for Extremely Wicked, Shockingly Evil and Vile has yet to be revealed.