Why Zendaya Didn't Think She'd Be Cast In 'Spider-Man' Is Depressing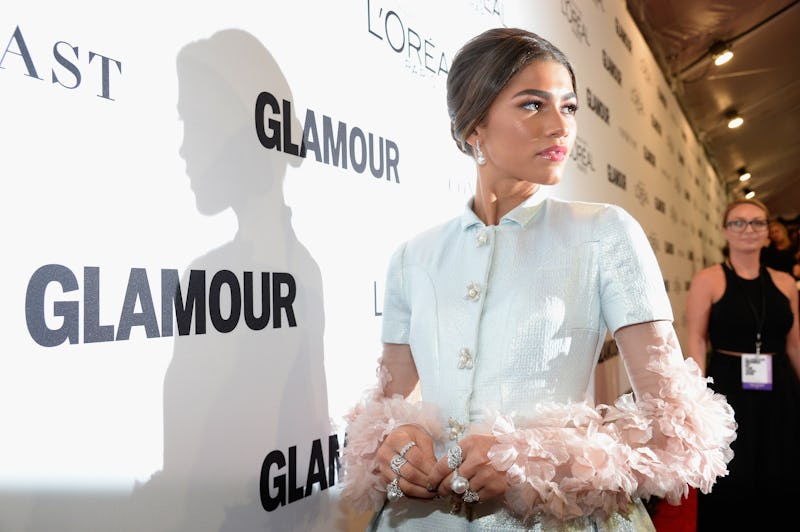 Kevork Djansezian/Getty Images Entertainment/Getty Images
Zendaya has hardly been unsuccessful to this point, so it might be shocking to learn that the 20-year-old star isn't always self-assured in her auditions. Not because she isn't confident in her abilities, but because Hollywood's racial biases mean that Zendaya doubts that she'll get a role — such as the role of Michelle in Spider-Man: Homecoming. In a recent interview with Variety, Zendaya explains that auditions for actors of color are harder because the odds aren't in their favor. "A lot of time, the thought process of an actor of color is 'I'm going to go and give it my best shot, but they are probably not going to go with an actor of color for this," she said. "We all think it."
It's a maddening double standard that movie execs seem to have no problem casting white actors as originally-nonwhite characters (see: Ghost in the Shell, Aloha, Gods of Egypt, etc), but we don't get to see actors of color play originally white characters as often. If that does happen, it is more likely to happen on stage than on the big screen (such as in JK Rowling's Cursed Child), or, more recently, in films by DC or Marvel (the latter of whom increased their on-screen diversity in 2016). Still, assuming that any film will have colorblind casting is probably naive — and, as Zendaya points out in her Variety interview, Spider-Man: Homecoming's diverse cast is the exception, not the rule.
"I didn't know [Spider-Man: Homecoming] was going to switch up the characters and really cast the best people for the roles," she said. "That was the coolest part for me, knowing they embraced the diversity." That "embracing diversity" should be something so unique as to be worth mentioning in 2017 is ridiculous. But it's also understandable that Zendaya wouldn't walk into the audition feeling like she's got it in the bag. If roughly 70 percent of all roles in film are played by white actors, what actor of color wouldn't doubt their chances?
Viola Davis spoke about Hollywood's diversity on the Today Show in February 2016, emphasizing the fact that incredible actors don't get enough roles due to a lack of "diversity-embracing" opportunity. "I think one of the things people misunderstand [is that] you have to separate opportunity from talent," Davis said. "People feel like if the roles aren't there, that means there's no talent out there. That's not true. What's true is, if you create those narratives, then those roles can open up to people who are waiting in line." And, worse, because those narratives are so slow in coming, there are only so many roles left for actors of color to compete for.
Casting Zendaya as Michelle in Spider-Man: Homecoming was a win, but it's still so disheartening to hear how much doubt she, as an actor of color, experiences when auditioning. It's understandable, yes, but it certainly isn't OK. But with outspoken women of color like Zendaya, like Davis, in the industry, things will surely keep improving for the better.