13 Stunning Pearl Bikinis To Shop For A Mermaidcore Summer
Coming to beaches near you.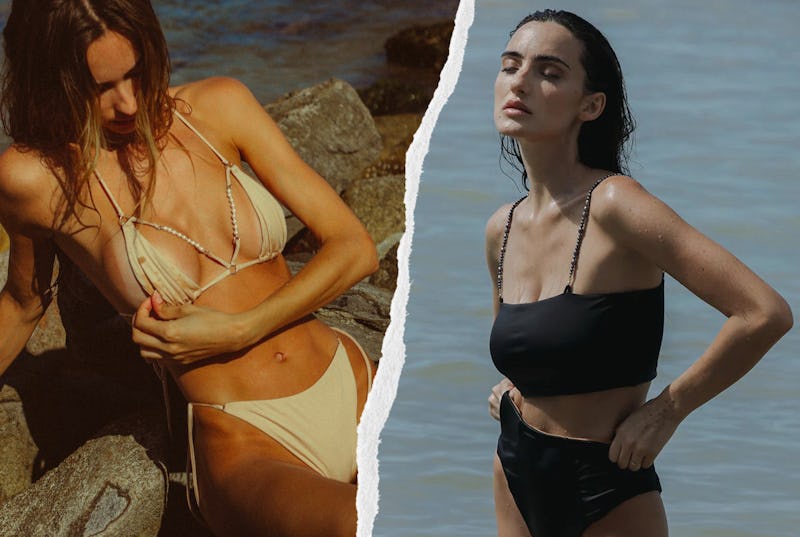 Courtesy of Monica Hansen Swimwear & SIE Swim
We may receive a portion of sales if you purchase a product through a link in this article.
You can thank Halle Bailey's Ariel in the live-action Little Mermaid and, more recently, Dua Lipa's Mermaid Barbie, for the chokehold mermaidcore currently has on fashion. Even at this year's Karl Lagerfeld-themed Met Gala, countless celebrities harkened to the siren aesthetic.
Kim Kardashian, Kendall Jenner, Anne Hathaway, and Gigi Hadid, for example, all ornamented their 'fits with pearls at the May event. Though we've been seeing the aesthetic primarily in evening ware, I'm happy to report that the trend has come full-circle, making its way back to the water.
The siren-inspired look has officially infiltrated swimsuits. Enter: pearl bikinis. The luxurious gems are an elegant way to tap into the under-the-sea aesthetic, while elevating any 'fit into sophisticated territory. Pearls are, after all, the jewels of the sea.
In swimwear, pearl-adorned bikinis are making the rounds. Classic silhouettes — like bandeau or triangle tops — are given a sophisticated makeover with straps strung with pearls, circular or flat. Meanwhile, you can lean into mermaidcore hard with utterly whimsical seashell-shaped tops. Naturally, all are utterly worth adding to your rotation of stylish suits.
From elegant to spicy, I rounded up the best pearl bikinis below to help you channel your inner Ariel. This is mermaidcore at its finest.