The Best Memes & Tweets From The 2022 Met Gala
The internet is absolutely *buzzing.*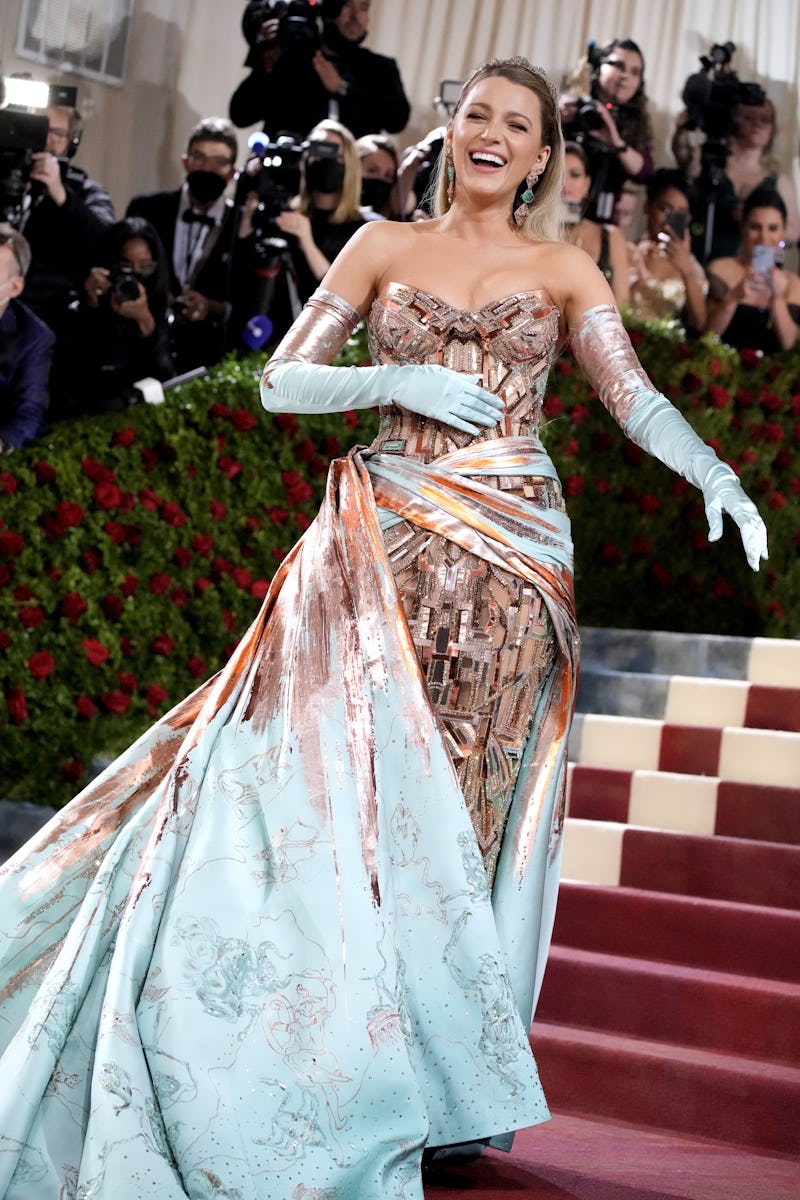 Jeff Kravitz/FilmMagic/Getty Images
It's finally the first Monday in May, which, yes, means iconic fashion and beauty moments (especially from one of this year's hosts, the Met queen herself Blake Lively). But for the red carpet misses and viral moments from New York City's Upper East Side event, you have the flurry of quick commentary on social media to thank for your entertainment. Enter: the most hilarious and relatable memes and Tweets from the 2022 Met Gala.
This year's dress code was "Gilded Glamour and White Tie," so that's why you're seeing lots of lace-up corsets, lots (and lots) of gold, over the top embellishments, and Bridgerton-inspired fits — just when everyone started missing those epic Regency balls the most. That said, do you really expect celebs to follow the theme that Anna Wintour has chosen? Har har har.
While some seemed to understand the assignment completely (looking at you, Billie Eilish), others didn't seem to think much about the history of the Gilded Age at all. I, for one, am still deciding if it's fashion's favorite night out — or comedy's most hilarious night in...
Keep scrolling for a chuckle at some of the best Met Gala 2022 memes and Tweets, below.
Celebrities really missed the golden opportunity to dress like this, in Twitter's honest opinion.
Say hello to the co-chairs of this year's Met Gala — and the internet's all-time favorite couple (aka mom and dad).
ICYWW — Lively's Met Gala gown was inspired by New York City architecture.
Anna Wintour is simply serving Anna Wintour (in a tiara).
Seriously though... there were too few Bridgerton-core looks.
Nailed it.
Zendaya, we all miss you more than you know.
Perhaps one day Anna Wintour will bless us (and Ashley Tisdale) with a Y2K Met Gala theme...
L-i-v-i-n-g for Billie Eilish's Bridgerton-style gown, complete with a breasty bustier.
They're not wrong.
There may have been too many off-theme looks to count.
It appears Jenner is, in fact, not joking about her red carpet look, much to the internet's dismay.
The internet can't decide if Shawn Mendes belongs on the set of Bridgerton (perhaps as the next duke?), or in the next live-action remake of Beauty and the Beast.
Suits on suits on suits.
TFW a Millennial mainstay meets a Gen Z icon.
Anyone else patiently waiting for Taylor Swift to grace the red carpet?
Twitter is on the hunt for an alleged reporter who slayed the red carpet with her spot-on Gilded Glamour look.
Everyone is obsessing over this Emma Chamberlain x Jack Harlow interaction.
There's nothing wrong with channeling Tony though. Just saying.
Ahh, now it makes sense.
Princess of the ball.
Impressive bling.
Sad.
Baby's first Met and she showed. up.
The queen of rap stays undefeated in the eyes of Twitter.
The red carpet couple everyone was waiting for.