The 9 Best Vagina Hygiene Products, According To ShowerTok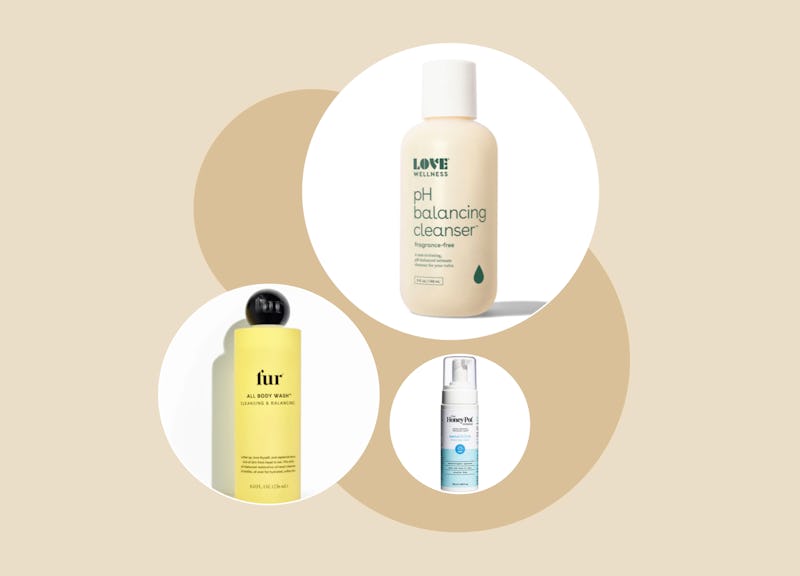 Love Wellness; Fur; The Honey Pot
We may receive a portion of sales if you purchase a product through a link in this article.
ShowerTok is a one-stop destination for all the best self-care product recommendations. Once you find yourself on that side of TikTok where hygiene influencers reign supreme, it's only a matter of time before you're inspired to do your own body wash haul so you, too, can have the ultimate shower experience.
While ShowerTok is all about stocking up on the lushest scrubs, shaving creams, and body oils, the world's cleanest influencers also like to recommend their fave vagina hygiene products. These washes and wipes are sold as the perfect finishing touch to any extra-thorough, head-to-toe shower routine, according to some hygiene aficionados on TikTok. But they definitely aren't necessary.
In fact, there's no need to clean or "freshen up" your vagina at all. While you can cleanse your pubic hair, vulva, and other external bits, your actual vagina should not be washed, says Dr. Kimberly Langdon, M.D., an Ohio-based OB/GYN with Medzino. "It has its own cleaning mechanism," she tells Bustle, so there's no need to go up inside with any products.
When washing down below, plain water is always best, Langdon says. If you want, you can lather up with a mild, unscented soap or body wash, give your vulva a quick once over, and you should be good to go. A specific product for the area is also OK as long as you read the ingredients.
If you are interested in expanding your body-cleansing routine, ShowerTok is all about gentle, fragrance-free vaginal washes, and that's right on point. As Langdon says, "Any products used on the external areas need to be hypoallergenic and water-based, with no perfumes or oils." That's because harsh chemicals or added fragrances can mess with your pH and cause irritation — two things you don't want or need in your nether regions.
With that in mind, scroll on for the best vagina products, according to ShowerTok's hygiene influencers.
Studies referenced:
Chen, Y. (2017). Role of female intimate hygiene in vulvovaginal health: Global hygiene practices and product usage. Womens Health (Lond). doi: 10.1177/1745505717731011.
Fashemi, B. (2012). Effects of feminine hygiene products on the vaginal mucosal biome. Microbial Ecology in Health and Disease, 24. https://doi.org/10.3402/mehd.v24i0.19703
Lykke, MR. (2021). Vaginal, Cervical and Uterine pH in Women with Normal and Abnormal Vaginal Microbiota. Pathogens. doi: 10.3390/pathogens10020090.
Ozen, B. (2017). Vaginal Candidiasis Infection Treated Using Apple Cider Vinegar: A Case Report. Altern Ther Health Med. Epub 2017 Nov 7. PMID: 29112940.
Sources:
Dr. Kimberly Langdon, M.D., OB/GYN with Medzino