Cardi B's Red Bottom Nails Are Like Louboutins For Her Fingertips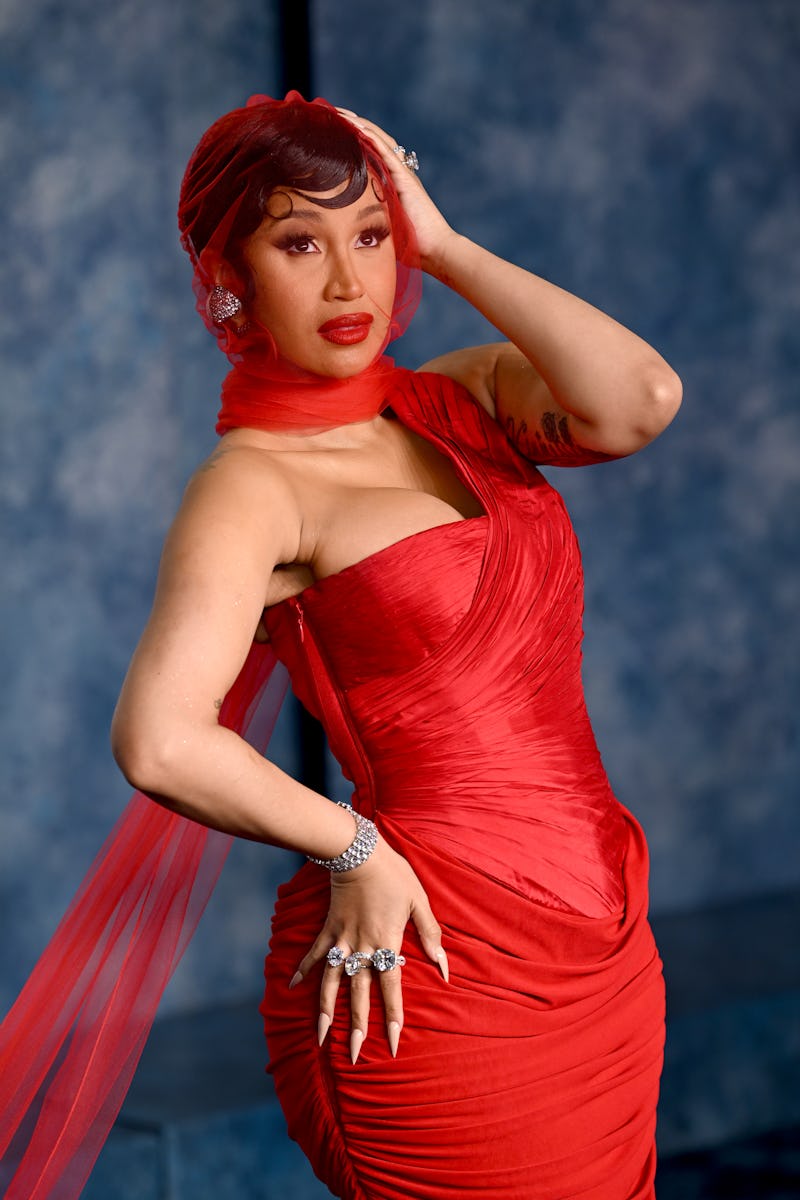 Doug Peters - PA Images/PA Images/Getty Images
Cardi B is a total glamour chameleon, most recently experimenting with bold, cobalt lined eyes, a sweet red ink face tattoo (in honor of her son, of course), and seriously otherworldly couture looks that all but shut down the red carpet. And to prove once and for all that she truly is *that* girl — the "Up" rapper has taken to her Instagram feed to share some casual shots of a not so casual look.
Obviously, all eyes are no doubt immediately drawn to her colorfully sleek strands, painted in neon yellow and blue-toned stripes. And the Grammy winning New York native went one step further, pairing the playful lob with some chic, sharply angled bangs thanks to her go-to hair guru, Mia Jackson (aka Tokyo Stylez).
The understated hero of the look, in my opinion? Her "red bottom" nails: ultra-long, stark white acrylics with a peekaboo red lacquer painted on the undersides. And for the fashion forward who may have a thing for heels like Carrie Bradshaw — you'll immediately recognize the look resembles a pair of red-bottomed Louboutins. A major slay (and likely painted by her fave nail tech, Jenny Bui).
Clearly, Cardi is feeling the vibrant summertime vibes — confidently captioning the shots with: "I'm perfect 💙💚🐠."
Louboutin-inspired nails have been having their moment for quite some time now, with other A-listers like Kourtney Kardashian trying their hand at the unique nail art trend. And as we head into the summer months, believe it or not: pops of red à la scarlet lips and beyond are expected to be everywhere, and "red nail theory" nails are still having their main character moment.
Into the classic nail polish hue? Here are 26 ideas to inspire your next manicure.