Why Every Beauty Expert On The Planet Loves EltaMD's UV Clear SPF 46
The one sunscreen to rule them all.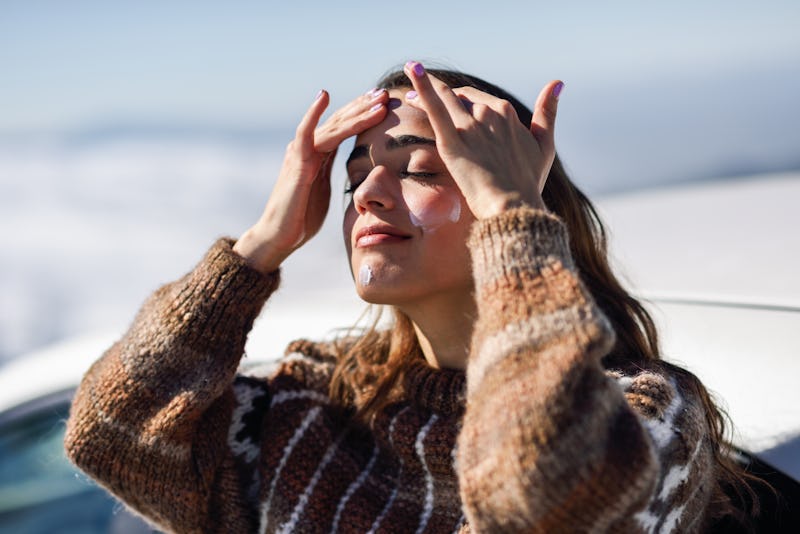 Shutterstock
We may receive a portion of sales if you purchase a product through a link in this article.
The search for the perfect sunscreen is a tough one, to say the least. Traditionally, so many of them clog your pores, leave a white cast, or clog your pores while leaving a white cast. It's why no one can believe the miracle that is EltaMD Clear Facial Sunscreen, a broad-spectrum SPF that makes it look like you have a beauty filter on 24/7 as it protects your skin from the sun.
Beloved by dermatologists, celebs like Hailey Bieber, Kendall Jenner, and pretty much all of TikTok (where it has over 43 million views), the EltaMD sunscreen is a physical, zinc-based SPF that uses nanoparticle zinc technology so it goes on super smooth, says Dr. Leah Ansell, M.D., FAAD, a board-certified dermatologist from Treiber Dermatology. While many mineral (aka physical) sunscreens leave behind a white or chalky cast, nano zinc sunscreens blend right into your skin, so you look glowy instead of ghostly.
While there are over a dozen different EltaMD face sunscreens to choose from, the cult favorite is the EltaMD UV Clear Broad-Spectrum SPF 46, a product that has over 35,000 positive reviews on Amazon and is lauded for its hydrating formula that delivers a flawless finish. Read on for intel on why this particular sunscreen is in every beauty expert's cabinet.
What's In The EltaMD UV Clear Broad-Spectrum SPF 46?
The EltaMD sunscreen does more than simply protect your skin from the sun's harmful rays: It nourishes your complexion with a cocktail of MVP ingredients and gives you a gorgeous dewy glow upon application. For its main function, it relies on a blend of both physical and chemical sunscreen actives, explains Dr. Julia Carroll, FRCPC, FCDA, FAAD, a board-certified dermatologist and founder of Compass Dermatology. Its physical blocker is zinc oxide, a science-backed ingredient that's basically the gold standard in its category. "This is a natural mineral, which protects from the sun by reflecting UVA and UVB rays," Carroll tells Bustle. As is the case with all mineral sunscreens, zinc sits on top of your skin to block the sun — but EltaMD also contains a small amount of octinoxate, a chemical-based sunscreen ingredient that soaks into your skin. "So it combines the UV-reflecting properties of physical SPF with the UV-absorbing features of chemical sunscreens," says Carroll. "This combination blocks a broader UV spectrum while still providing a [smooth] application."
The sunscreen's lightweight, oil-free formula also contains skin-soothing niacinamide, hydrating hyaluronic acid, and gently exfoliating humectant lactic acid, which is why it operates as such a superstar skin care-SPF hybrid. "Niacinamide is an anti-inflammatory that helps to reduce redness," says Carroll, adding that the hyaluronic acid attracts water to your skin so it looks and feels moisturized. The product also contains vitamin E, an antioxidant that can mitigate sun damage, she notes.
The product also happens to be fragrance-free, sensitivity-free, and non-comedogenic, so it won't clog your pores. With all of these gentle actives, the pros say it's perfect for folks with all different skin types, including those who are concerned about acne, hyperpigmentation, and rosacea. On top of that, applying a broad-spectrum sunblock like this one, especially one with a higher SPF, will obviously help protect against skin damage and skin cancer (as is the main goal). This is all to say... it's a winning formula in the sun care aisle.
The Bottom Line
There's a reason the EltaMD sunscreen finds its way into so many people's beauty routines and is constantly praised by dermatologists. "The nano zinc technology is what sets it apart from other sunblocks," Ansell says, especially compared to many other zinc-based mineral sunscreens that tend to leave a white cast. "I always recommend it for acne-prone skin. I love how safe and easy to use it is, and that it doesn't clog pores."
TL;DR? Bieber doesn't leave her house without it, beauty experts have been recommending it for ages, and consumers who have used it keep coming back to it. It's the sunscreen that dreams are made of.
Studies referenced:
Jallad, KN. (2017). Chemical characterization of sunscreens composition and its related potential adverse health effects. J Cosmet Dermatol. doi: 10.1111/jocd.12282.
Mohammed, YH. (2019). Support for the Safe Use of Zinc Oxide Nanoparticle Sunscreens: Lack of Skin Penetration or Cellular Toxicity after Repeated Application in Volunteers. J Invest Dermatol. doi: 10.1016/j.jid.2018.08.024.
Ruszkiewicz, JA. (2017). Neurotoxic effect of active ingredients in sunscreen products, a contemporary review. doi: 10.1016/j.toxrep.2017.05.006.
Sander, M. (2020). The efficacy and safety of sunscreen use for the prevention of skin cancer. CMAJ. doi: 10.1503/cmaj.201085.
Serpone, N. (2021). Sunscreens and their usefulness: have we made any progress in the last two decades? Photochem Photobiol Sci. doi: 10.1007/s43630-021-00013-1.
Silva, ESD. (2018). Use of sunscreen and risk of melanoma and non-melanoma skin cancer: a systematic review and meta-analysis. Eur J Dermatol. doi: 10.1684/ejd.2018.3251.
Taylor, S. (2002). Simple dosage guide for suncreans will help users. BMJ. doi: 10.1136/bmj.324.7352.1526/a.
Sources:
Dr. Leah Ansell, M.D., FAAD, board-certified dermatologist from Treiber Dermatology
Dr. Julia Carroll, FRCPC, FCDA, FAAD, board-certified dermatologist, founder of Compass Dermatology