Florence Pugh Just Recreated Winona Ryder's Beetlejuice Wedding Look
In a crimson red dress and veil, no less.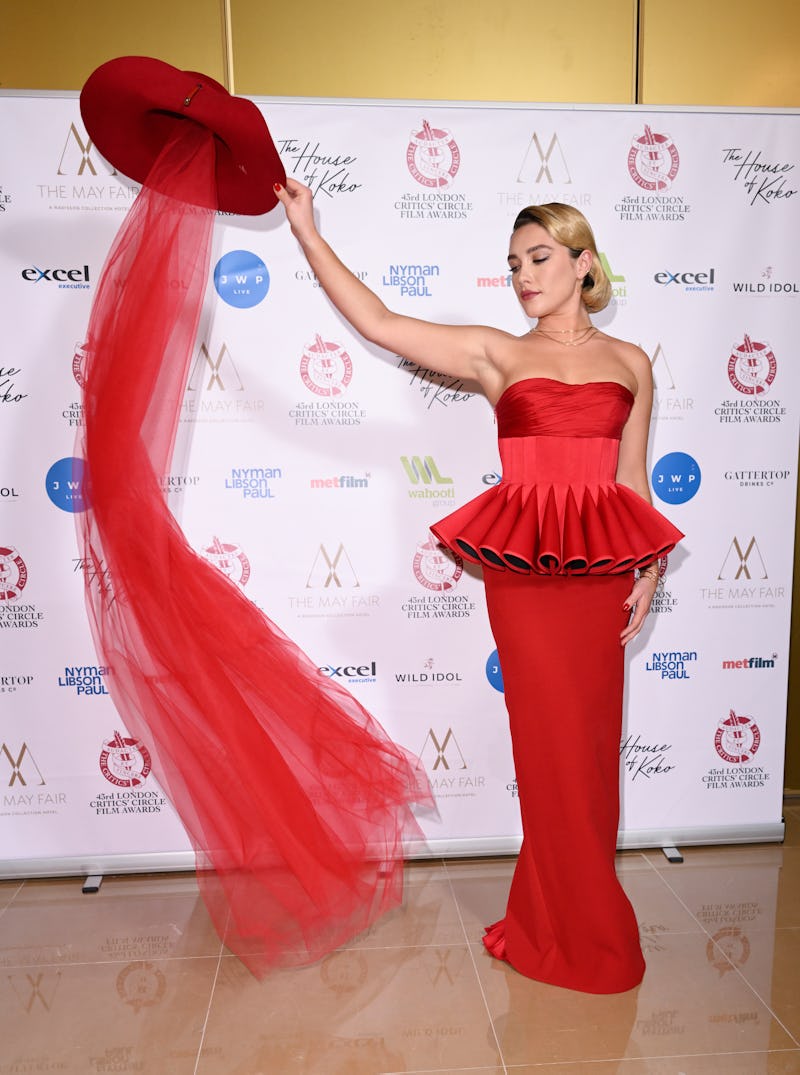 Karwai Tang/WireImage/Getty Images
This year's Critics Circle Film Awards might've taken place in a swanky Mayfair hotel in London, but actor Florence Pugh's striking red look for the occasion channelled more than a hint of the seven seas. I have to admit, Pugh's dramatic brimmed hat looks a lot like Puss in Boots' trademark headwear: a jaunty, musketeer-style d'Artagnan hat.
The striking accessory, which also came with its own flowing red veil to match the awards do's scarlet carpets, is possibly a subtle nod to the actor's role in Puss In Boots: The Last Wish. (Acclaimed Spanish actor and director Antonio Banderas plays the titular feline, Pugh voices fellow fairytale favourite Goldilocks in the animated film.)
At the film awards bash, Pugh took home the gong for British/Irish Actress Of The Year, in recognition of her recent roles in Don't Worry Darling, The Wonder, and the aforementioned Puss In Boots: The Last Wish. Elsewhere, Todd Field's tense and thorny drama Tár and Irish tragicomedy The Banshees of Inisherin were big winners on the night, with Cate Blanchett winning Actress Of The Year for her portrayal of fictional conductor Lydia Tár in the former.
As well as embracing a bit of cowboy adjacent headwear, Pugh also channelled Beetlejuice's Lydia Deetz (originally played by Winona Ryder in the 1988 film) and the character's bright red, puffy wedding dress and matching veil. It's not the first time Pugh's nodded to the Tim Burton horror classic with fashion, either – though this is probably her boldest tribute yet.
Karwai Tang/WireImage/Getty Images
Karwai Tang/WireImage/Getty Images
Karwai Tang/WireImage/Getty Images
Karwai Tang/WireImage/Getty Images
She also tapped into another key fashion trend: peplum skirts. Originally a hit in Ancient Greece, the garment started out as a type of tunic called a Peplos – a toga-type situation with detailing and extra fabric around the waist– and has since evolved into an ruffled overskirt that flares out of dresses, skirts, jackets, you name it. The peplum look has been having a bit of a moment as of late: think Sydney Sweeney's vintage '81 Mugler dress from the HCA Awards last year, or Anne Hathaway's hot-pink peplum number from Valentino.
Pugh's bright red ensemble is the creation of rising Hong Kong designer Robert Wun, who made his runway debut in 2023 at Paris Haute Couture Fashion Week. Drawing from horror film aesthetics and smart, angular tailoring, Wun's Spring/Summer 2023 couture collection incorporates its fair share of peplum skirts, too, teaming the dramatic ruffles with surreal, high-heel shaped handbags, and a white gown stained with red-wine hued beetroot dye, per Vogue. Florence's Critics Circle look previously appeared on Wun's Paris runway.