Keys Soulcare's Truly Becoming Peptide Serum Is My Skin-Plumping MVP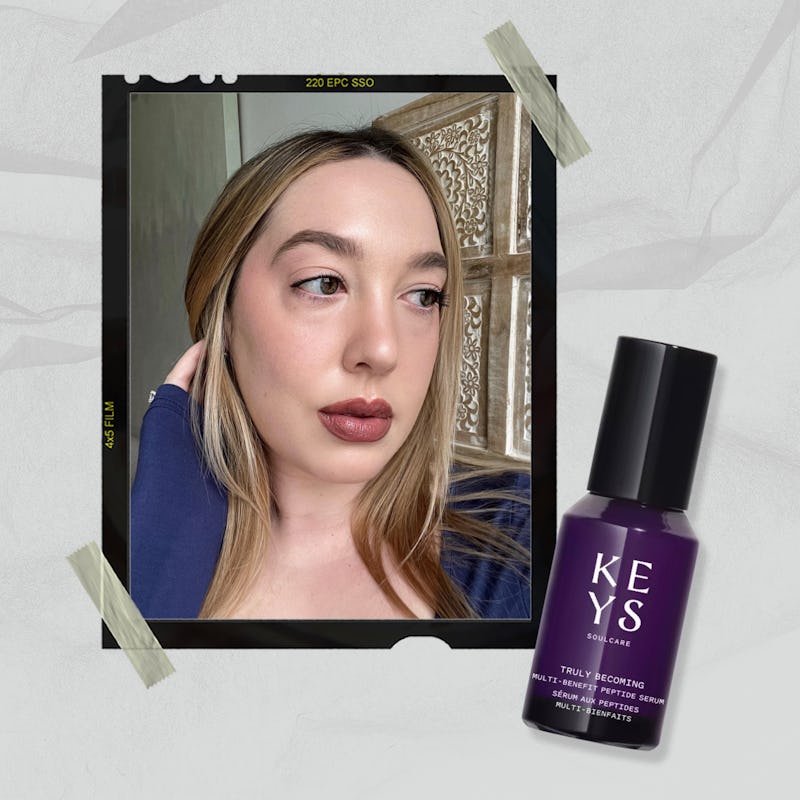 Olivia Rose Rushing
We may receive a portion of sales if you purchase a product through a link in this article.
Peptides are the latest buzz word in the world of skin care — namely because of cult-fave products à la Hailey Bieber's Rhode Skin, Biossance, and more — and it's pretty clear that all of the hype is for good reason.
Dr. Sandra Lee, M.D., also known as Dr. Pimple Popper to millions, previously told Bustle: "As we age, our bodies become less efficient at producing key proteins like collagen and elastin. Certain peptides can give your collagen and elastin production a boost, which has been shown to measurably reduce the appearance of wrinkles."
In other words? Peptide-filled complexion products are like youth in a bottle, with some serious anti-aging benefits (that also act as an armor for your skin, defending against environmental aggressors). And Keys Soulcare (Alicia Keys' beauty brand, ICYWW) has one of my current go-to serums for plump, luminous, and protected skin.
Say hello to the Truly Becoming Multi-Benefit Peptide Serum. Along with powerful peptides, the hydrating formula is filled with other equally powerful ingredients, like moisturizing hyaluronic acid and a uniquely luxe marine bamboo, to name a few standouts.
If you're in need of a new skin staple for your current routine, here's my honest review.
Fast Facts
Price: $38
Best For: Those with sensitive skin (or otherwise) that are craving serious moisture and want to lessen the appearance of fine lines.
Rating: 5/5
What I Love: This serum is perfect for both day and night as it's ultra-hydrating without ever looking greasy (and plays nice with makeup, too).
What I Don't Love: Compared to some competitors on the market, 1oz is on the smaller end of the spectrum and may require more frequent refills for everyday use.
The Keys Soulcare Truly Becoming Multi-Benefit Peptide Serum
Created in partnership with board-certified dermatologist Dr. Renée Snyder, Keys Soulcare's Peptide Serum is formulated to target a handful of skin concerns: fine lines and wrinkles, dryness, dullness, tone, texture, and beyond. And with key ingredients that include a potent poly-peptide complex, marine bamboo by way of seaweed extract, and a multi-weight hyaluronic acid (which means it hydrates skin on a deeper level) — this single serum is a powerhouse that complements any skin care regimen.
What's more, the bottle is etched with a sweet affirmation that says "I rise above," which is meant to marry the act of caring for your skin with caring for your soul.
My Sensitive Skin
Though I am constantly testing new products and exposing my complexion to new ingredients, I have a lineup of must-have essentials I know I can always lean on to achieve balance and calm.
While I'm mostly blemish-free, I have pretty sensitive skin that responds most positively to clean, minimal, and mindful formulas. I do love to be surrounded by fabulous aromas and lovely scents — but I've come to terms with the idea that fragrance and sensitive skin don't really get along.
Overall, I love nothing more than skin that is juicy and hydrated, and of course, am all about preventing signs of aging as much as possible through effective skin care. And considering Keys Soulcare's Reviving Aura Mist ($25; keyssoulcare.com) and Harmony Mask ($30; keyssoulcare.com) are some of my other fave products in rotation, I trusted its serum would likely be just as beloved by my skin.
First Impressions
First things first, I'm happy to report that the serum's formula is definitely made with sensitive skin in mind. Not only is it sans any fragrance, but the brand as a whole abides by the FDA and European Union Cosmetics Regulation Guidelines, leaving out over 1,680 restricted substances. Major win.
In terms of the formula's feel, the thin consistency covers my complexion in one or two pumps, leaving a non-sticky, dewy glow that is instantly refreshing and cooling. It feels like a skin treat that never leaves you feeling too greasy (which is especially nice for daytime). In comparing my other go-to serums, I didn't expect it to be an opaque white hue, though it definitely feels lightweight and satin-like, not so much like a heavier lotion or cream.
Beyond a juicy, moisturizing texture, the small purple bottle is made of glass, and feels just as luxe and lovely in my hands as it looks amongst my skin care lineup.
The Final Verdict & Results
As a makeup-loving girlie, skin care that *also* works well with makeup is a serious plus — and this formula does just that. Perhaps what I love most about this serum is that it gives the skin a natural, lit-from-within glow that shines through even full-coverage foundation. While those who have oily skin may need to set certain spots with a light dusting of loose powder, my combination skin loves the extra burst of hydration that keeps me looking dewy and youthful throughout the day, as well as moisturized in my super dry apartment all night long.
Overall, Keys' Peptide Serum is sensitive skin-safe and powerfully moisturizing, working to significantly enhance my current routine. Personally, I'll definitely be snagging a refill when I run out.