KVD Beauty's Good Apple Serum Foundation Elevated My Makeup Routine
My skin is giving *flawless.*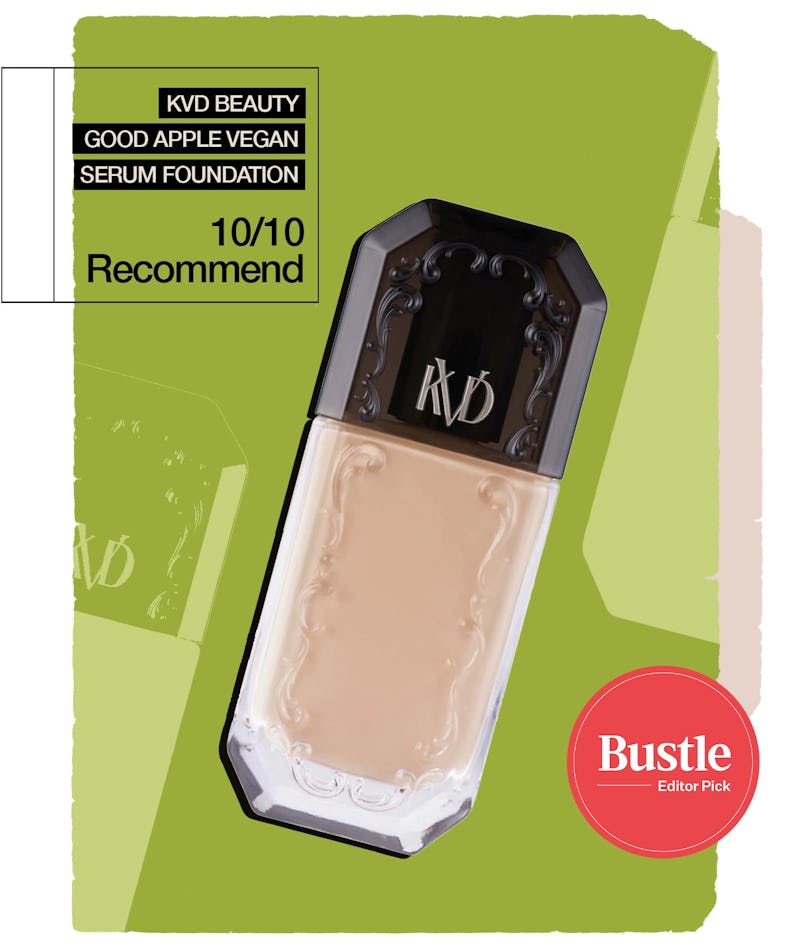 10/10 Recommend
We may receive a portion of sales if you purchase a product through a link in this article.
When it comes to my complexion, I tend to be incredibly picky with my skin care routine — and even more picky with my foundations. And while I'm typically a low-key skin tint kinda girlie from day to day, there's nothing quite like a fuller-coverage, high-glam moment for date nights with my husband and beyond.
Countless foundations have made their way into my (really large) makeup bag, only to be filtered out soon after by some of my tried and true OGs that just perform better. Given my pattern of feeling the hype from a new launch, trying it for a few days, going back to my go-tos shortly thereafter, and repeating: It's safe to say I haven't been wowed by a foundation formula for quite some time ... Until KVD Beauty's latest launch, that is.
Enter the KVD Good Apple Serum Foundation, which is going completely viral on TikTok (just as its Good Apple *cream* sister foundation did in 2022). The difference? Well, they both boast full coverage. The latter, however, has a matte finish, while the newest launch is a liquid consistency with a semi-matte, natural finish.
I have sensitive, combination skin — so I just had to give the newness a try. And spoiler: It has officially joined my list of products that if the brand just so happens to discontinue it, don't even speak to me for eight to 10 business days.
Fast Facts
Price: $42
Best For: Full coverage with an ultra lightweight feel.
Rating: 10/10
What I Love: The semi-matte finish keeps my oils at bay throughout the day, yet doesn't cling to my dry spots.
The KVD Beauty Good Apple Full-Coverage Transfer-Proof Vegan Serum Foundation
Available in 40 different shades and created to be both full coverage and lightweight on the skin, the KVD Good Apple Serum Foundation has a naturally radiant, semi-matte finish that lasts all day long.
Vegan, cruelty-free, and housed in a uniquely ornate bottle that's easily recyclable, the formula is filled with skin-loving ingredients like nourishing apple extract, hydrating glycerin, and quince leaf extract which keeps the skin's shine at bay. What's more, it is recommended for those with oily, combination, and normal skin types.
My Sensitive, Combination Skin
While I am grateful to have a relatively blemish-free complexion, my skin does come with its own particular issues — and in terms of foundation, finding the perfect match for my combination skin has proven quite difficult. Some dewy skin tints may hydrate my dry patches, but leave my t-zone way too greasy. On the other hand, a more mattifying formula may keep excess oil at a minimum, but cling to those dry areas and look textured, flakey, and very not cute. In other words? Hydrating skin prep and frequent powder breaks are a major must.
I also have skin that's more on the sensitive end of the spectrum and usually prefer formulations with ingredients that really nourish my skin's barrier.
Love At First Pump
Within the first few moments of applying this foundation for the first time, I truly fell in love and knew that this formula was something special.
It effortlessly and seamlessly melted into the skin with full coverage, yet somehow, felt incredibly comfortable and lightweight. It easily kept my oily t-zone at bay (for hours without a need for touchups, might I add), but never settled into my dry patches or created texture. In lieu of concealer, I was able to go in on certain spots with another layer of foundation, though it never appeared to be cakey or too heavy. The color didn't oxidize or change to a more orange tone over time. And for those sensitive to scent, I can confirm that there is no off-putting aroma whatsoever.
That KVD Good Apple Magic
Since my first time trying the foundation, I've used it on countless occasions: a full work day turned workout at the gym, a quiet date night with my husband, a daytime baby shower filled with so much joy and a few tears, and even a wild birthday party that went well into the next day (resulting in the first time I've *ever* fallen asleep without washing my face).
What's more, I've used it in tandem with different products: KVD Beauty's Lock-It Primer. My daily face moisturizer. No primer or moisturizer at all. What did those moments all have in common, might you ask? My skin needed little to no touchups at all, and my makeup somehow looked fresh after hours and hours of wear.
The Final Verdict
After a couple weeks of use, the KVD Beauty Good Apple Serum Foundation has become my undisputed complexion hero for every single glam look (save for those dewy and minimal no-makeup makeup days). Though it's only the start of March — it may be just my fave drop of the year.
Not only is the finish incredible natural and soft, but the formula is a dream for my combination skin, making it one of those rare "apply it and forget about any touchups" kind of products.
I could go on and on ... but you may just want to experience the magic for yourself.