I Tried Kim Kardashian's SKIMS Thong Bikini As A Size 18 Woman
There's something so liberating about serving body free of shame.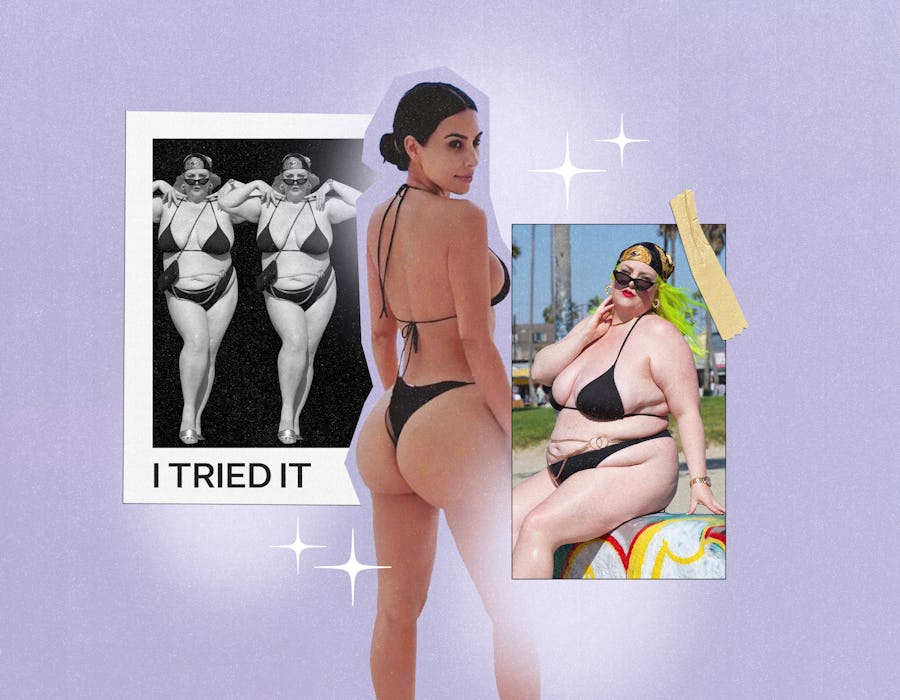 Instagram @kimkardashian/Harald Austad
I Tried It
We may receive a portion of sales if you purchase a product through a link in this article.
Ever since Kim Kardashian's body-baring SKIMS swim capsule launched last March, the ultra cheeky styles have been taking the internet by storm. It seems like every time you open Instagram, you're met with yet another butt-flaunting swimsuit (Kardashian or otherwise). Though I take pride in my body positivity, I had not yet dared to wear an itsy-bitsy thong bikini out in public — and that needed to change.
Society has told me for years that I am not meant to, nor should I dare, wear a bikini unapologetically in public. But that's never stopped me before. I was excited to explore this new and uncharted fashion territory — excited, but definitely skeptical.
Since this was my first time trying out SKIMS two-piece swimwear, I had some reservations. Would it have enough support for my large breasts? Would the bottoms cover me, or would I end up with full frontal exposure? (Not necessarily what I want to serve up for a very public, all-ages beach.) I've heard great things about SKIMS products overall, but any time a brand has multi-size offerings in a single style (their bikinis, for example), I worry about whether the brand will properly translate straight-size designs for the plus-size body.
The brand offers a size range of XXS-4X in almost every swimsuit style, which gave me major hope. According to the size chart at a size 18/20 I would wear a size 2x in the Swim Thong (a favorite of the SKIMS founder herself). When I actually measured myself, however, my bust was a size 3X and a size 3X/4X for the bottoms. Fearful that it would not, in fact, give me appropriate coverage, I decided to size-up on the bottoms, just to be safe.
Once I tried it on, I instantly loved the luxe felling of the Triangle Top. It had appropriate nipple coverage for my large bust size, but did not offer the amount of support I would like when hanging out on the beach all day. The thin string ties of the bikini began to feel heavy on my neck fairly quickly. While I sized up to the 4X in the bottoms for more frontal coverage, the back was a bit too loose (I definitely could have done a 3X).
The beach was fairly busy that day, so I opted to wear an oversized men's button down as a cover-up to get from car to sand. Halfway to our destination, I shed the outer layer and served up a plate of booty.
Being the fashionista that I am, I styled the basic little black bikini to the highest degree. I added a gold chain belt and jewelry, cat eye sunglasses, comfortable gold mules from Sam Edelman, and, of course, my vintage Chanel scarf and crossbody to complete the look.
Harald Austad
Harald Austad
Harald Austad
Harald Austad
Im not going to lie, it felt a little strange being so naked in public (and I once flaunted my thong at a busy Hollywood nightclub). Even as a confidence activist who tries viral fashion trends for a living, I have never worn something this revealing in public.
I was scared at first, but was pleasantly surprised at how quickly my nerves melted away. After I got comfortable in my swimsuit, I realized very quickly that people are so involved in themselves, no one really cared that I was showing so much skin.
I love Venice, because you can spot people from all walks of life. When you have such unique and vibrant beachgoers, a neon-haired plus-size girl in a thong bikini is just part of the general landscape. The fear was all in my head! I soon felt comfortable baring my full behind — I was definitely feeling myself.
I was shocked at how many compliments from fellow beachgoers I got on my look overall. As I was taking pics, a group of girls in their early 20s cheered me on. It felt amazing to be gassed up by other women. Their encouraging words made me feel more confident and helped me see that others support my daringness.
There's something majorly liberating about rocking a barely-there bikini and serving body free of shame. Take this as a reminder that you are beautiful and perfect as is, so don't be afraid to rock what you got.