The '90s & '00s Trends That Were All Over Fashion Week
From cutouts at Christian Siriano to Care Bears at Moschino.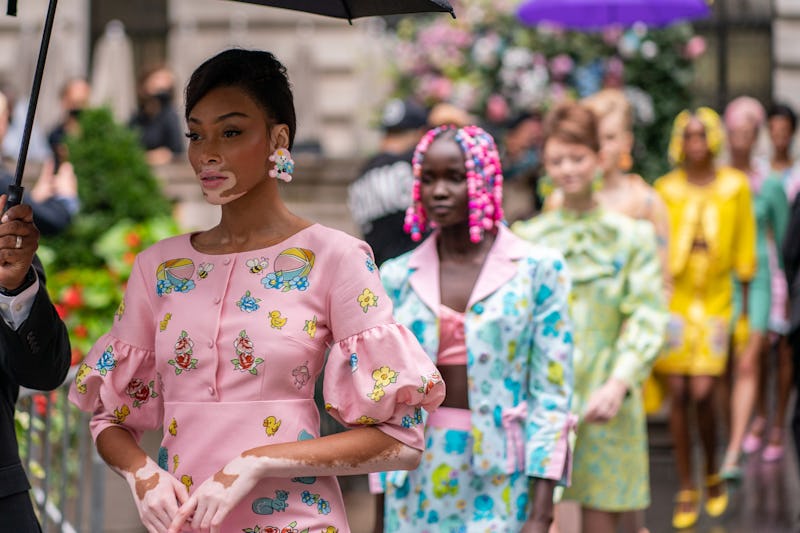 David Dee Delgado/Getty Images Entertainment/Getty Images
All things considered, this is the first New York Fashion Week season in almost two years that will be held in person, like was the norm in seasons prior to the coronavirus pandemic. Although, it won't be exactly like what you're used to experiencing, whether in person or through a livestream. Audiences are much smaller, and most shows will require proof of vaccination and encourage audiences to mask up. Still, they'll be happening live in real time with a crowd of editors, buyers, celebrities, and stylists in tow. And with a Fashion Week invite, you can watch it in person — not from a computer screen in your living room.
Indeed, with New York Fashion Week standing as one of the last major events before the world shut down in March 2020, there have been two consecutive seasons — September 2020 and March 2021 — that have remained largely virtual. Sure, there was the odd outside showing or masked presentation, but it was nothing like the jam-packed events that Fashion Week had been previously. Until now.
What can we expect this season? Designers are staging more outdoor shows than ever, embracing a sense of unbridled optimism that points toward a safer and more social future. In some cases, brands are taking over entire streets to stage fashion shows, awards ceremonies, and red carpets, all in one groundbreaking event. When they are showing indoors, designers are revving up the glamour, choosing venues with personal and social significance, from Gotham Hall to the Empire State Building.
And the designs themselves are fun and playful. Designers Tom Ford and Theophilio sent bright hues down the runway while brands like Moschino and Bevza embraced the '90s with fun cartoon characters and soft minimalist silhouettes, respectively.
Ahead, find everything you want to know about the designers who are showing at New York Fashion Week for the Spring 2022 season.
This article was originally published on