3 Reasons Why Orchids Should Be In Your Skin Care Routine
Meet the flower with serious beauty superpowers.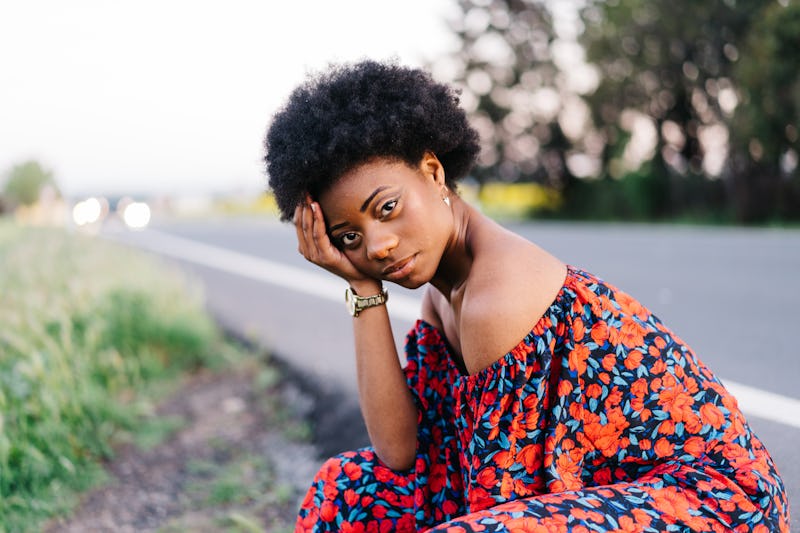 Jozsef Jakab / EyeEm/EyeEm/Getty Images
Flowers are stalwart ingredients in skin care. Jasmine, rose, hibiscus regularly make appearances in top shelf products. Recently, alongside other botanicals you know and love for nourishing your complexion, there has been an uptick of orchids in skin care.
Orchids might be one of the more rare or unexpected floral varieties to appear in beauty formulas, but they are by no means a new ingredient, according to Dr. Ava Shamban, M.D., a board-certified dermatologist and founder of Ava MD and Skin Five, who notes that the flower's skin-boosting prowess has been a long-time staple in Asian beauty. "Their essence and blends were used for hundreds and hundreds if not thousands of years as a natural beauty treatment," she tells Bustle.
As with all things beauty, ingredients and products are cyclical — and orchids happen to be experiencing a resurgence. Shamban says that while the floral has been in skin and hair care products over the past decade or two, she's seen a recent boom in beauty formulations.
What's the appeal of the botanical, then? When they're distilled and infused into your skin care products, orchids have a variety of perks for your complexion. Read on for the orchid skin care benefits that make it a must-have ingredient.
We only include products that have been independently selected by Bustle's editorial team. However, we may receive a portion of sales if you purchase a product through a link in this article.
1. Orchids Are Moisturizing Superheroes
When used in skin care, orchids have super-moisturizing properties. They function similarly to hyaluronic acid, the hydration-boosting superstar. "All types of orchids have varying antioxidants and humectant properties which help retain moisture levels, as well as soothe and smooth the complexion," Shamban says.
The orchids used in skin care formulas also have high levels of mucilages — a jelly-like substance secreted by flowers that Shamban says further keeps your complexion hydrated. And, since they're a humectant in the same vein as hyaluronic acid, they'll also boost your skin's ability to absorb (and retain the moisture from) the rest of your routine.
2. Orchids Support Your Skin Barrier
In the skin care world, zinc is synonymous with adequate sunscreen coverage — but it also has other benefits, like protecting against and repairing free radical damage. As a quick refresher, free radicals are environmental stressors — aka outer elements that wreak havoc on your skin by quickening signs of aging and depleting collagen. The good news? "All orchid varieties are mineral-rich," says Shamban, and that includes zinc. So the flower packs all of these benefits in addition to the more well-known UV ray-blocking properties of zinc (though it's not a substitute for actual sunscreen).
Orchids are also rich in anthocyanins, says Shamban, a pigment found in plants and fruits that have major skin-boosting properties. "They protect essential fatty acids, lipids, and fibroblasts that support our collagen and skin structures," she explains. As in: They support your complexion's outer barrier, which keeps it strong and healthy.
3. Orchids Help With Acne & Hyperpigmentation
Orchids can also be a helpful ingredient for fighting acne, says Shamban. That's all because it contains three skin-supporting minerals: zinc, calcium, and magnesium. Studies have found that patients with acne had reduced levels of zinc; and calcium, the mineral typically associated with milk, is well-known for its ability to repair the skin barrier and combat inflammation. Both of those factors help keep breakouts at bay. Plus, the oil from orchid flowers tends to be light and not pore-clogging, adds Shamban.
Then the magnesium within orchids works to even out dark spots. "Magnesium reduces pigmentation and supports the regeneration of skin cells," says Shamban.
Want the star floral for your beauty cabinet? Below are six orchid-packed skin care products to stock up on.
Skin Care Products With Orchid Extract
A Hydrating Eye Gel
Sometimes you wake up and immediately grab ice cubes to fight tired, puffy eyes. Using Wldkat's eye gel brings you that feeling, but with added nourishing properties: It goes on cool and is rich in orchid extract, glycerin, and hyaluronic acid for ample hydration.
An Antioxidant-Packed Face Oil
Herbivore's face oil has the skin-soothing and hydrating combination of jasmine, orchid, and camellia floral extracts. But a very welcome bonus is its divine floral scent that you get to experience when your complexion soaks in the lightweight elixir.
A Glow-Inducing Moisturizer
K-Beauty is often the original incubator of many skin care trends, so there's no shortage of orchid-based beauty in that market. Thanks to the duo of peptides and orchid extract, this moisturizer works to replenish collagen in the skin.
A Rejuvenating Face Wash
When your face needs a wake-up call, this is the cleanser to reach for. A combination of sea buckthorn, orchids, and other botanicals work together to strengthen your skin barrier and awaken your epidermis without drying it out.
A Transformative Mask Treatment
For face mask lovers, Payot's rich concoction is a real treat: It's packed with brown algae extract, vitamin C, hyaluronic acid, and the star floral, which all work together to plump and restore tired, stressed-out skin.
A Superfruit-Rich Face Elixir
This face oil is a true multitasker. You get a platter of nourishing fruits and botanicals — courtesy of camu camu, papaya, maracuja, and sacha inchi — for feeding your complexion essential vitamins along with orchids and bakuchiol, which restore your skin's elasticity. It's a dreamy two-in-one.
Studies:
Cassola, F. (2019). Deep in the Jelly: Histochemical and Functional Aspects of Mucilage-Secreting Floral Colleters in the Orchids Elleanthus brasiliensis and E. crinipes. Frontiers In Plant Science. https://www.frontiersin.org/articles/10.3389/fpls.2019.00518/full
Edgar, S. (2018). Effects of Collagen-Derived Bioactive Peptides and Natural Antioxidant Compounds on Proliferation and Matrix Protein Synthesis by Cultured Normal Human Dermal Fibroblasts. Scientific Reports. https://www.ncbi.nlm.nih.gov/pmc/articles/PMC6041269/
Gupta, M. (2014). Zinc Therapy in Dermatology: A Review. Dermatology Research And Practice. https://www.ncbi.nlm.nih.gov/pmc/articles/PMC4120804/
Hadi, H. (2015). A Comprehensive Review of the Cosmeceutical Benefits of Vanda Species (Orchidaceae). Natural Product Communications. https://pubmed.ncbi.nlm.nih.gov/26434147/
Lee, S. (2018). Skin Barrier and Calcium. Annals Of Dermatology. https://www.ncbi.nlm.nih.gov/pmc/articles/PMC5929942/
Lila, M. (2004). Anthocyanins and Human Health: An In Vitro Investigative Approach. Journal of Biomedicine and Biotechnology. https://www.ncbi.nlm.nih.gov/pmc/articles/PMC1082894/
Mogaddam, M. (2014). Correlation between the Severity and Type of Acne Lesions with Serum Zinc Levels in Patients with Acne Vulgaris. BioMed Research International. https://www.ncbi.nlm.nih.gov/pmc/articles/PMC4135093/
Pappas, A. (2009). Epidermal surface lipids. Dermato-Endocrinology. https://www.ncbi.nlm.nih.gov/pmc/articles/PMC2835894/
Poljsak, B. (2012). Free Radicals and Extrinsic Skin Aging. Dermatology Research and Practice. https://www.ncbi.nlm.nih.gov/pmc/articles/PMC3299230/
Tadokoro, T. (2010). Whitening Efficacy of Plant Extracts Including Orchid Extracts on Japanese Female Skin With Melasma and Lentigo Senilis. The Journal of Dermatology. https://www.researchgate.net/publication/44662208_Whitening_efficacy_of_plant_extracts_including_orchid_extracts_on_Japanese_female_skin_with_melasma_and_lentigo_senilis
Telang, P. (2013). Vitamin C In Dermatology. Indian Dermatol Online Journal. https://www.ncbi.nlm.nih.gov/pmc/articles/PMC3673383/
Expert:
Dr. Ava Shamban, MD, a board-certified dermatologist based in Los Angeles, CA