Kim Kardashian Buys Princess Diana's Attallah Cross Necklace For $197,453
"It was never worn by anyone other than Diana and it hasn't been seen in public since she died."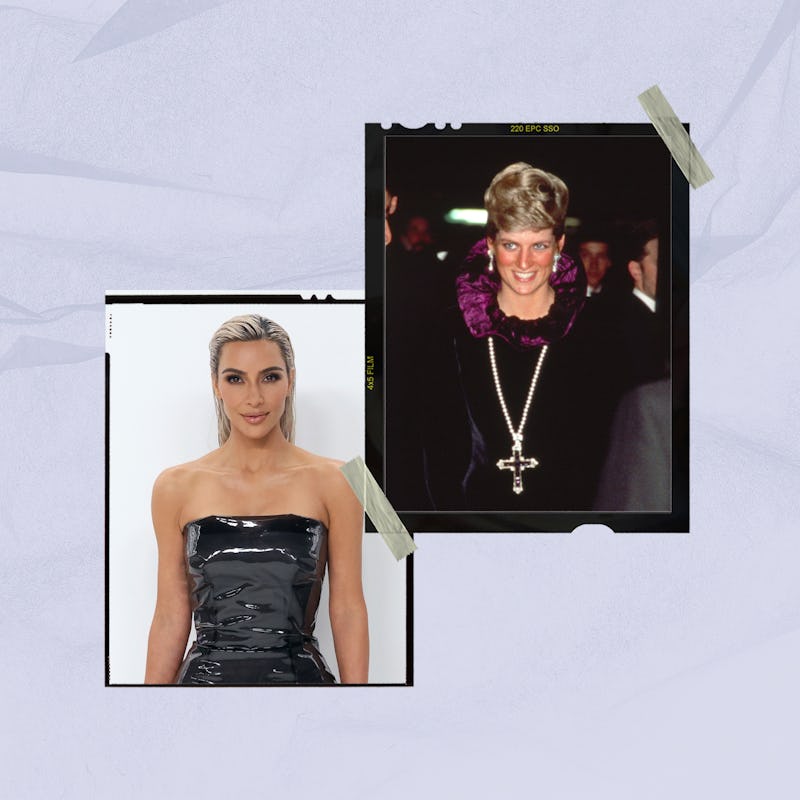 Taylor Hill/FilmMagic/Tim Graham Photo Library/Getty Images
Another day, another brush with iconic fashion pieces for Kim Kardashian. The billionaire purchased a necklace once worn by the late Princess Diana, according to TMZ. The necklace, known as the Attallah Cross, is adorned with diamonds and square-cut amethysts and hangs on a long string of pearls. Kardashian reportedly bought the necklace for $197,453 at a Sotheby's auction on Jan. 18, a higher price tag than the $144,000 estimate Forbes reported in December. Bustle received confirmation that Kardashian did buy the necklace.
Diana famously wore the necklace in October 1987 to a charity gala on behalf of Birthright at Garrard in London. Diana had a long-standing relationship with Garrard, Forbes noted, and even chose her famous sapphire engagement ring from the high-end jeweler. She borrowed the necklace from the Garrard jewelry company for the evening and paired the necklace with an extravagant Elizabethan-style ensemble.
Something of Princess Diana's, such as the necklace, going up for auction appears to be a rare event. "Jewelry owned or worn by the late Princess Diana very rarely comes on to the market, especially a piece such as the Attallah cross, which is so colorful, bold and distinctive," Kristian Spofforth, head of jewelry in Sotheby's London told Vogue. Spofforth notes that the pendant is "symbolic" of Diana's "growing self-assurance in her sartorial and jewelry choices, at that particular moment in her life." In 1987, Princess Diana, who at that point had princes William and Harry, was still married to Prince Charles, but rumors of marital trouble began to surface.
The large cross necklace was reminiscent of something Madonna might wear and hung mid-torso on the royal. "Few people could carry this piece off but Diana really could," Ramsay Attallah, the son of the cross' previous owner, Naim Attallah, told Vogue in 2022. "When I was growing up, we'd always have it on the table for Christmas lunch, but it was never worn by anyone other than Diana and it hasn't been seen in public since she died."
This isn't the first time Kardashian has invested (emotionally and otherwise) in celebrated fashion. In May 2022, she famously wore Marilyn Monroe's "Happy Birthday Mr. President" dress to the Met Gala, leaving fans and preservationists divided. She also wore Monroe's green 1962 Golden Globes dress. "It will forever be one of the greatest privileges of my life to be able to channel my inner Marilyn in this way, on such a special night," she said.
TMZ reported that Kardashian also purchased pieces once owned by Jackie Onassis and Elizabeth Taylor. Only time will tell if she takes any of them for a spin.