6 Times Celebs Wore Red Carpet Looks Weighing Over 50 Pounds
From Simone Biles to Cardi B.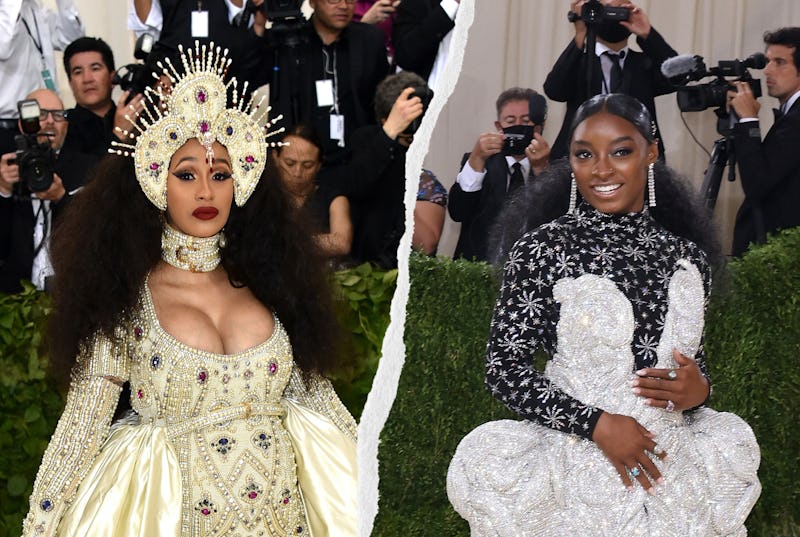 Getty Images
Whether attending the Oscars or the Met Gala, celebrities who want to make a lasting impression on the red carpet don't let the weight of their look get in the way. In fact, certain stars will even enlist people to help walk the red carpet if it means they can wear an outfit that clocks in over 80 pounds (looking at you, Simone Biles).
From the material to the intricate beading to the long, flowing trains, the heavier details on red carpet looks can make wearing them far from easy. Take Rihanna, for example, gliding up the stairs of the Metropolitan Museum in a Guo Pei cape; 55 pounds of fabric trailed her every step.
Or Precious Lee in an embroidered Area dress that was so heavy, it took four people to help her put it on. And you can't forget the aforementioned Simone Biles, whose feather-inspired dress took 6,700 hours to craft, and several men to maneuver on the red carpet.
With some looks weighing more than a small child, it's no wonder celebs enlist help or even remove part of the look once the red carpet concludes. Yet the challenge of wearing heavy garments is worth it; there are few things more arresting on the red carpet than a gown that takes up space.
From Cardi B's sweeping train to Simone Biles' embroidered dress, here are 6 red carpet looks that weighed over 50 pounds.