This Body Care Brand Wants To Treat Your Ingrown Hair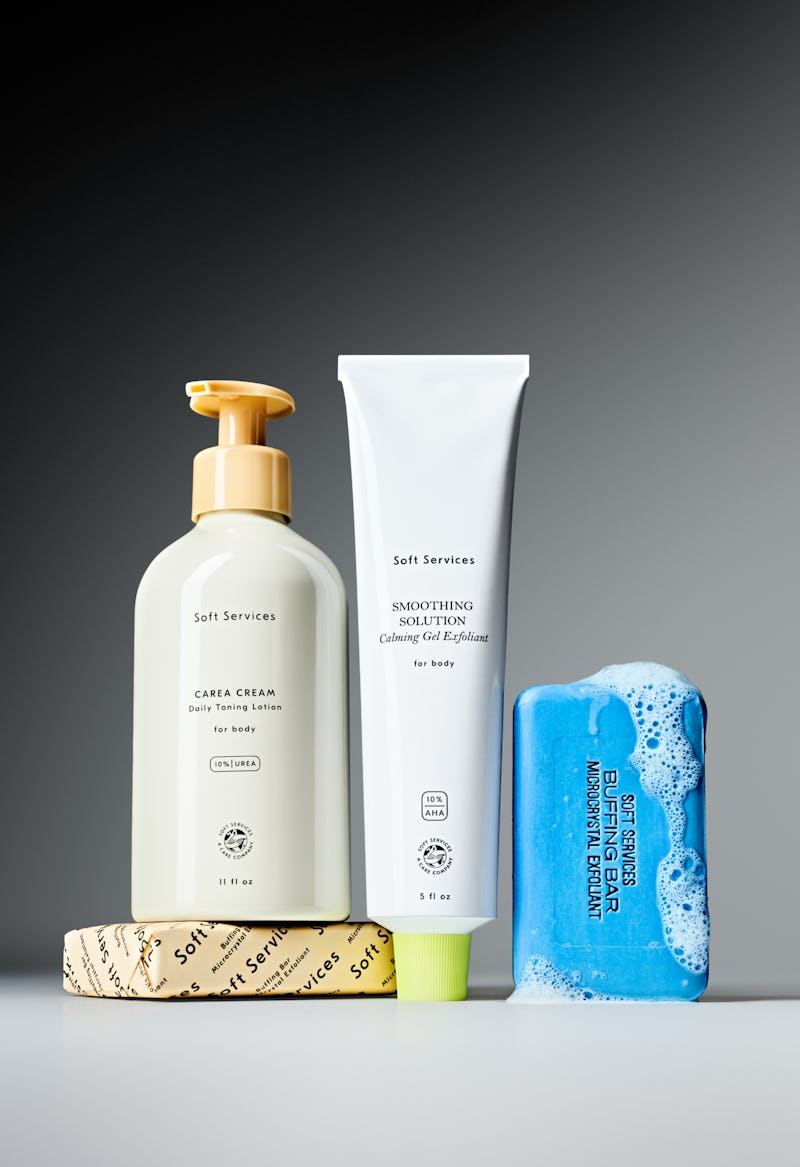 Soft Srevices
In You Heard It Here First, Bustle's editors introduce the coolest up-and-coming beauty brands you should have on your radar. Here, the co-founders of Soft Services talk about their mission to treat strawberry legs and other traditionally "taboo" skin concerns.
When you look at the targeted treatments that exist in facial skin care, it can make your head spin. There are pimple patches, peels, sheet masks — it would take hours to go over all the options. For your body, though? Not so much, despite the countless skin issues that can happen beneath your neck. And that's a gap in the industry that Soft Services has set out to fix.
The body care brand, which launched with three products in May, is a collection of problem-solving formulas that address keratosis pilaris (KP), ingrown hairs, and other skin woes so many people deal with on the reg, founded by beauty industry veterans (both worked at Glossier) Annie Kreighbaum and Rebecca Zhou. "We're excited to bring the types of choices we all have for our face into an area that's much larger and has as many issues if not more," says Zhou.
Many of the skin issues that crop up onto the limbs and torso are embarrassing, though — which could be why you won't find many strawberry leg creams or chest pimple treatments. And it's these exact concerns that Soft Services handles: with its Buffing Bar, an exfoliating bar of soap that gently sloughs away dead skin buildup and is particularly helpful in quashing KP bumps; the Smoothing Solution, an alpha hydroxy-acid-spiked gel that also treats KP along with ingrown hairs and discoloration; and the Carea Cream, a light lotion packed with the ultra-calming trio of urea, squalane, and colloidal oatmeal.
"We're excited to bring the types of choices we all have for our face into an area that's much larger and has as many issues if not more."
Kreighbaum and Zhou want to help end the taboo behind these bodily concerns, much like they already largely have in the facial skin care world. "Now you have all these people putting rainbow stars all over their faces being like, 'Oh, I have a big juicy zit on my cheek today,'" says Kreighbaum. "Fifteen years ago, that would not fly on Instagram. But now it makes you relatable." She and Zhou share that they regularly read the Reddit skin care threads and see tons of people writing about things like KP and body acne. "There's a thread called 'Forever Alone' where they're scared to be intimate with someone because they have body issues," says Zhou. "We just want to be a solution that people are already searching for," adds Kreighbaum.
The brand has swooped in at the right time, too: Body breakouts have always been a thing, but they've been exacerbated during the pandemic (#stress, y'all). These kinds of pimples are actually what sparked the idea of Soft Services. "My face can look great with makeup on, but if I have to wear a backless dress, it's like — game over," Kreighbaum laughs. "I now have 8 feet of hair because I have backne." Considering the fact that acne affects over 612.5 million people globally and about 40% of the population has KP, these types of products are clearly in need.
Don't expect Soft Services to stop with these treatments, either. Zhou and Kreighbaum plan on addressing other body skin concerns. "Anything below the neck is fair game for us," says Zhou. "The internet is basically our focus group — we listen to it to see what people struggle with. Giving people solutions is just super exciting for us." As someone who's personally been slathering the Smoothing Solution over my strawberry legs at night and then seeing them massively even out by the morning, I'm pretty excited, too.
We only include products that have been independently selected by Bustle's editorial team. However, we may receive a portion of sales if you purchase a product through a link in this article.
Editor's Note: This article was updated with details about what the products treat.