The 7 Golden Rules Of Summer Skin Care, According to Derms
Here's how to tweak your routine as the weather heats up.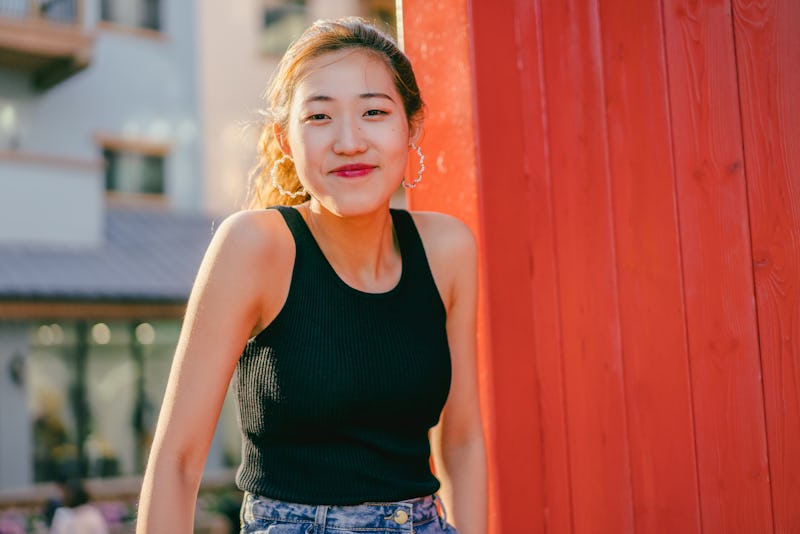 Getty Images/ Xuanyu Han
Summer really only has one flaw: It wreaks havoc on people's skin. The hot and humid weather is not only uncomfortable (does anyone like feeling all sweaty and sticky?), it also means the chances of getting a myriad of complexion woes is pretty high. So just like switching up a winter skin care routine can help you keep a nice glow when it's dark and cold out, there are essential summer skin care tips to follow that ensure you remain in the clear as the temperatures rise.
Some bad news is that heat — and especially humidity — can bring on the breakouts. "Humidity refers to increased moisture in the air, leading to increased moisture on the skin and increased oil on the skin," board-certified dermatologist at MDCS Dermatology Dr. Marisa Garshick, MD tells Bustle. "For this reason, some people may be more prone to clogged pores or breakouts."
How can you deal? All it takes is a few tweaks to your summer skin care routine in order to keep your complexion clear and bright. Here, dermatologists break down their essential tips, including the ingredients to keep on hand and the products to avoid.
We only include products that have been independently selected by Bustle's editorial team. However, we may receive a portion of sales if you purchase a product through a link in this article.
1. Use Sunscreen
‌
Sunscreen should be worn all year round. But since people are out and about under the sun more during the summer months, it's extra-important to make sure you're protected from the harmful UV rays. For the best protection, Dr. Seemal Desai, MD, a board-certified dermatologist and diplomat of the American Board of Dermatology, suggests looking for a sunscreen that has SPF 30 or higher.
Garshick agrees, but stresses the importance of reapplying: The Skin Cancer Foundation suggests doing so every two hours. To help make sure you follow this rule, she suggests picking a sunscreen that's easy to put on while you're on the go. She recommends products like SkinBetter Science Tone Smart Sunscreen Compact or Supergoop Sunscreen Glow Stick SPF 50 PA++++."
Don't forget your lips, either— Garshick suggests swiping on an SPF-spiked lip balm for protection, like Coola's Mineral LipLux Organic Tinted Lip Balm Sunscreen SPF 30 or Aquaphor's Lip Repair + Protect Broad Spectrum SPF 30.
2. Be Careful With Retinol
‌
Retinols have loads of skin benefits: They brighten skin, treat hyperpigmentation, smooth out fine lines, and fight acne (to name just a few). But they are pretty strong and make your skin more sensitive, especially when it comes to sun damage.
That doesn't mean you have to store it until fall comes along — Garshick says you can still use your retinol during the summer (even during the day, if your product says to apply in the a.m.) as long as you're using sunscreen. Desai echoes this and encourages retinol users to use a broad-spectrum SPF (for more protection from the sun's harmful rays) and to reapply regularly to prevent skin from getting irritated.
3. Wear Protective Clothing
‌
To really ensure your skin avoids the sun, Desai recommends getting added protection via your clothing. His tip: Reach for hats and even swimsuits that have UV protection factors (UPF). Dr. Purvisha Patel, MD, board-certified dermatologist and founder of Visha Skincare, says a hat will not only protect your scalp but will also protect your hair from unnecessary heat and dryness.
For your eyes, Garshick recommends sunglasses — besides looking cool, they protect your cornea from UV rays and the sensitive skin on your eyelids, which are often a part of the body that people forget about.
4. Stick With Lightweight Skin Care
‌
Because you're more likely to produce excess oil and sebum in the summer, you'll want to use lighter skin care products, like those that have a gel or foam consistency. Garshick says something like Dove's Instant Foaming Body Wash is great for getting rid of excess oil while still being gentle, even on the most sensitive skin.
As for moisturizers, you'll want to switch from thicker creams and ointments to something a lot lighter and non-comedogenic, which means its formula won't clog pores — this also reduces the chances of you getting breakouts. "While our skin often requires thicker creams to help trap moisture during the winter months, lotions or lightweight creams are often preferred in the summer, as they still are moisturizing but tend to absorb easily and won't leave the skin feeling greasy," Garshick tells Bustle. She recommends something like CeraVe's UltraLight Moisturizing Lotion SPF 30 for daily use.
A great ingredient to look out for in products is niacinamide, aka vitamin B3. Desai likes to recommend this for summer skin care routines as it's known to minimize redness and control excess oil production.
5. Stock Up On Antioxidants
‌
Antioxidants are known to help protect your skin from free radical damage and other environmental stressors (culprits behind accelerated aging). They're especially useful in the summer when skin is more exposed to UV exposure, because this is a form of free radical damage. Garshick highlights vitamin C as a good option to look for in a serum or cream as it protects your skin and works as a treatment for dark spots, which she notes tend to get worse during the summer. She recommends something like SkinCeuticals Silymarin CF (especially if you have oily skin) or Glow Recipe's Pineapple-C Bright Serum.
Other antioxidants that help with brightening dark spots include kojic acid, tropical tranexamic acid, and azelaic acid, adds Garshick — look to products like Caudalie's Vinoperfect Anti-Dark Spot Serum or Glytone's Enhance Brightening Serum to reap their glow-boosting. benefits.
6. Exfoliate Gently
‌
A must in a good skin care routine: regular exfoliation. But, during the summer months, you want to be you do it carefully. Physical exfoliants, which include scrubs that contain small grains or a scrubbing tool like a brush or scalpel, can cause irritation when used the wrong way. "As much as the skin may feel oilier, it is important to avoid using harsh or abrasive scrubs or exfoliants to remove excess oil," says Garshick. "This can disrupt the skin barrier and make the skin more sensitive and drier, which triggers the production of more oil."
She says to opt for a chemical or gentle physical exfoliant instead, like L'Oreal's RevitaLift Bright Reveal Brightening Peel Pads, which contain gentle glycolic acid to remove dead skin cell buildup. For a scrub, she prefers the Cetaphil Extra Gentle Exfoliating Facial Cleanser.
Just make sure your exfoliant of choice doesn't clash with other active ingredients in your routine. Patel says to avoid overly exfoliating ingredients like prescription retinoids or any mixed acid peels because the sun makes your skin more sensitive and prone to damage.
7. Always Wash Your Face And Body
‌
Another obvious tip, but important for the summer when there's extra sweat: Always cleanse. Patel says that sweat and humidity produce warm, moist environments where the microbes that live on your skin become overgrown, causing more yeast, bacteria, and infections to appear.
Garshick adds that this can also lead to extra buildup of dirt, debris, and oil on your complexion throughout the day. She recommends using makeup wipes like Simple's Kind to Skin Cleansing Facial Wipes or micellar water like Bioderma's Sensibio Micellar Water to remove debris from your pores before using your cleanser to make sure your face is really extra clean. Another perk of this? Clean skin is better able to soak up the rest of your products, so your glow will thank you for it.
Studies referenced:
Breathnach, A. (1996). Melanin hyperpigmentation of skin: melasma, topical treatment with azelaic acid, and other therapies. Cutis. https://pubmed.ncbi.nlm.nih.gov/8654129/
Draelos, Z. (2006). The effect of 2% niacinamide on facial sebum production. J Cosmet Laser Ther. https://pubmed.ncbi.nlm.nih.gov/16766489/
Ebrahimi, B. (2014). Topical tranexamic acid as a promising treatment for melasma. Journal of Research in Medical Sciences. https://www.ncbi.nlm.nih.gov/pmc/articles/PMC4235096/
Endly, D. (2017). Oily Skin: A review of Treatment Options. The Journal of Clinical and Aesthetic Dermatology. https://www.ncbi.nlm.nih.gov/pmc/articles/PMC5605215/#B9
Gehring, W. (2004). Nicotinic acid/niacinamide and the skin. J Cosmet Dermatol. https://pubmed.ncbi.nlm.nih.gov/17147561/
Goad, N. (2016). Ambient humidity and the skin: the impact of air humidity in healthy and diseased states. J Eur Acad Dermatol Venereol. https://pubmed.ncbi.nlm.nih.gov/27306376/
Mukherjee, S. (2006). Retinoids in the treatment of skin aging: an overview of clinical efficacy and safety. Clinical Interventions in Aging. https://www.ncbi.nlm.nih.gov/pmc/articles/PMC2699641/
Narang, I. (2019). Seasonal aggravation of acne in summers and the effect of temperature and humidity in a study in a tropical setting. J Cosmet Dermatol. https://pubmed.ncbi.nlm.nih.gov/30238598/
Pullar, J. (2017). The Roles of Vitamin C in Skin Health. Nutrients. https://www.ncbi.nlm.nih.gov/pmc/articles/PMC5579659/
Rodan, K. (2016). Skincare Bootcamp: The Evolving Role of Skincare. PRS Global Open. https://www.ncbi.nlm.nih.gov/pmc/articles/PMC5172479/
Sarkar, R. (2013). Cosmeceuticals for Hyperpigmentation: What is Available?Journal of Cutaneous and Aesthetic Surgery. https://www.ncbi.nlm.nih.gov/pmc/articles/PMC3663177/
Tyrrell, R. (1995). Ultraviolet radiation and free radical damage to skin. Biochem Soc Symp. https://pubmed.ncbi.nlm.nih.gov/8660402/
Experts:
Dr. Marisa Garshick, MD, board-certified dermatologist at MDCS Dermatology
Dr. Seemal Desai, MD, a board-certified dermatologist and diplomat of the American Board of Dermatology
Dr. Purvisha Patel, MD, board-certified dermatologist and founder of Visha Skincare