Meet The New Generation Of Covetable Sunscreens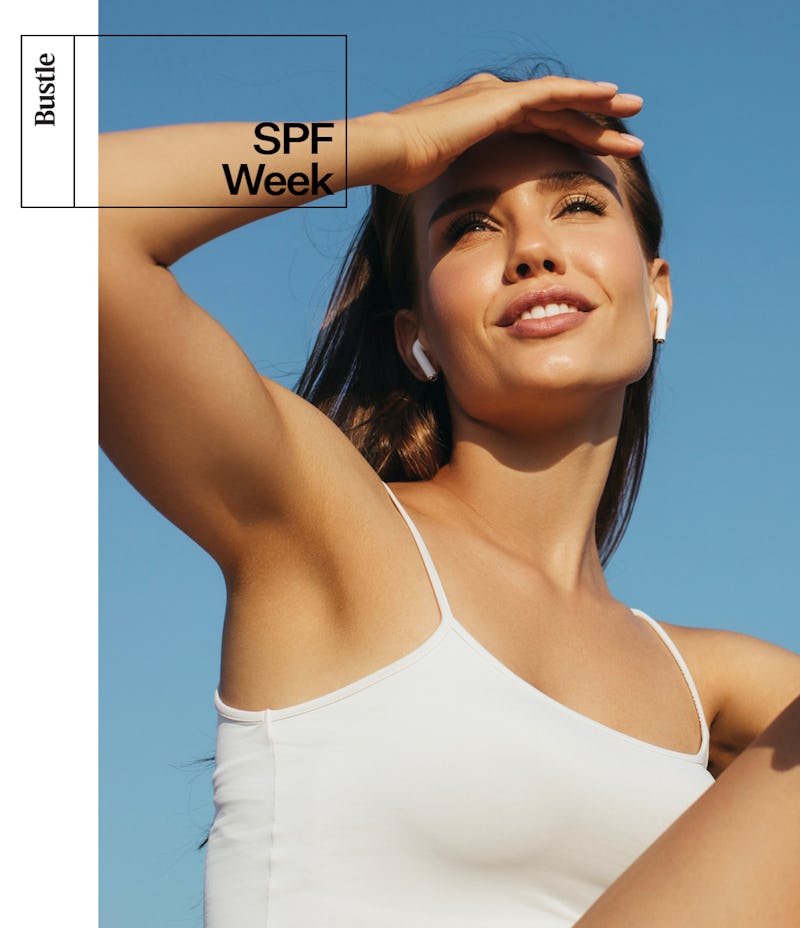 Getty Images/CoffeeAndMilk
Sunscreen is going through a major glow-up. From sunscreen-serum hybrids to SPF that doubles as makeup, these new formulas actually make you *want* to reapply. In Bustle's Suncare Week, we're doing a deep dive on the latest innovations in sun-care, from textures to technology.
Sunscreen used to have one task: protecting your skin from sun damage. It still obviously does that, but the SPF bottles on the shelves have been metamorphosing into even more covetable forms — including glowy makeup and nourishing skin serums. It's the new era of sunscreen-skin care and sunscreen-makeup hybrids... which make the SPF category sexier than ever.
I'm not just talking about your regular face lotion or foundation sprinkled with SPF — sunscreen 2.0 is, essentially, a protectant that works double duty. "If you've tried mineral-based foundation formulas — the ones that have historically left all skin very white — in the past and were disappointed, know that they've gotten so much better in recent years," says Katey Denno, Credo's lead makeup artist and beauty expert. "Whether you want a BB/CC cream or you're just looking for a UVA/UVB-blocking formula, there are quite a few great options on the market."
These great options entail complexion-boosting products that deliver skin care MVPs like antioxidants and hyaluronic acid along with SPF, and makeup formulas that offer coverage, radiance, and a healthy dose of sunscreen. You can find everything from SPF serums (like the Mara Algae + Zinc Sea Kale Sunscreen Sérum and the Equilibrium Day Fluid Sunscreen from Hourglass) to dark spot-reducing sunscreens (à la Skinceuticals' Daily Brightening UV Defense) and glow-boosting tinted moisturizers that protect your skin from the sun (just look at Ilia's Super Serum Skin Tint and Saie's Slip Tint Dewy Tinted Moisturizer).
Moral of the story? Sunscreen isn't just the most fundamental skin care product you can use — it's now capable of being the star of your beauty cabinet. Below are just a few rockstars within the new world of SPF-skin-care-slash-makeup hybrids.
The Best Sunscreen-Skin Care & Makeup Hybrid Products
For The Ultimate Glow
Mara's entire skin care line uses the power of algae extracts to deliver hydration and radiance — and the brand has just entered the SPF world with its sunscreen serum, which, naturally, contains the star ingredient. It's oil-based, so you're drenching your complexion with moisture as you get sun protection, and the cocktail of antioxidants and proteins (think moringa, kale, and raspberry seed oils) only up its nourishing prowess.
For A Burst Of Moisture
BareMinerals has been making powder foundations with SPF since the beginning — but this tinted moisturizer is a dreamy choice for fans of creamier formulas. It contains all the go-to hydrators: hyaluronic acid, squalane, and glycerin, so you get all-day moisture as well as SPF 30.
The Layer-Friendly
Venus Williams' skin care line recently launched this SPF serum, which combines complexion-boosting ingredients with sun protection. It was created with darker skin tones in mind, so it blends well without leaving a white cast. Denno recommends this one if you're looking for a matte finish. The good news? It's multifunctional: It benefits your skin with prickly pear stem extract, works on all skin types, and layers seamlessly under makeup, says Denno.
The Skin Soother
If you just want a sunscreen that's gentle and sensitive skin-friendly, this Day Creme from Odacite has a formula that defends your complexion without any drama. It's filled with glacial water (aka natural nutrients that feed your skin), green tea extract (an antioxidant, which helps protect), and calendula and aloe vera, two calming anti-inflammatories. Plus, the milky texture feels so nice on your face.
The 3-In-1
Ilia's Skin Tint truly does it all: It's an SPF, skin serum, and light foundation in one bottle. "This has all the benefits of a hydrating, high performance active — niacinamide, squalene, hyaluronic acid — face oil that leaves your complexion glowy, even-toned, and not greasy, all while protecting you from the sun's rays," says Denno.
The Lightweight Buy
You may know and love Hourglass for its cult-favorite makeup products, but its broad-spectrum sunscreen fluid is just as divine. It absorbs in a flash and hydrates and restores your skin barrier with both glycerin and vitamin E — despite feeling like you're wearing nothing on your face.
The Highlighter
There is now such a thing as an SPF-slash-highlighter. Unsun's radiance-in-a-bottle can be used on your face and body for a mineral-based shimmery glow with added sun protection — layer it over your foundation, mix with your moisturizer, or wear it alone for a gorgeous luminescence.
The Dark Spot Corrector
If you're battling hyperpigmentation, this multitasking sunscreen multitask by evening out dark spots as it defends your skin. The magic's in its plethora of brightening actives: tranexamic acid, niacinamide, and phenylethyl resorcinol. And the mica in the formula delivers an instant glow as the cherry on top.
For Acne-Prone Skin
The brand behind fan-favorite pimple patches now has another beauty buy for breakout-prone skin: the Megashade SPF Serum. The combo of hyaluronic acid, ceramides, ferulic acid, niacinamide, colloidal oatmeal, tea tree oil (an antibacterial zit-quasher), aloe vera, and kakadu plum (whew) make it a non-irritating, non-comedogenic sunscreen that doubles as a vitamin-packed serum.
For High Coverage
In milky, lightweight drops, you get a mineral-based SPF 50 to shield your skin — and get the added perk of brightening, thanks to plankton extract and clary sage ferment. If you like to slather on a high SPF, this does the job without the texture of a heavy lotion.