The 7 Best & 6 Worst Places On Your Body To Get A Tattoo, According To Tattoo Artists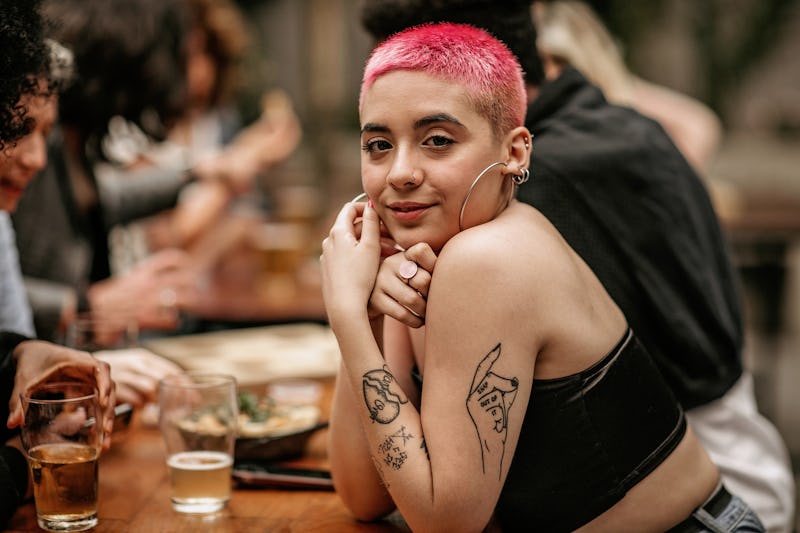 mixetto/E+/Getty Images
When you get new ink, you obviously want it to look as great as it did the day you got it for years to come. And while you can get ink anywhere on your body, not all areas are the most ideal places for tattoo longevity. Some are known for their tendency to stretch and warp. And others are more likely to fade, and no longer look the same. That's all thanks to the placement.
To protect your tattoo's longevity, one of the most important things to consider is sun exposure. "While you can always protect your tattoos with sunscreen, it may be a good idea to choose an area of your body that's usually covered up by clothes if you want your ink to stay looking fresh for years to come — especially if you're getting a color other than black," Leo Palomino, a tattoo artist at Atomic Tattoos in Florida, tells Bustle.
Oscar Akermo, a tattoo artist at BANG BANG NYC, also suggests "putting really fine and/or detailed designs on body parts less exposed to sunlight." So if you're interested in a fine ink tattoo, consider placing it on your inner arms, ribs, or upper legs.
On the contrary, putting really fine and/or detailed designs on body parts less exposed to sunlight is usually a great idea. Like inner arms, ribs, upper legs, stomach etc.
If you're going for a colorful tattoo, make sure you get the ink on "a location that doesn't get a lot of sun exposure is best for the longevity of the color, as sun exposure causes colors to fade," Palomino also explains. "Light-colored inks will fade more quickly than darker colors will."
The size and shape of the tattoo can also affect how great it'll look in ten or twenty years. Before you get your new tat, make sure you discuss these factors and more with your tattoo artist. They'll help you wade through all the pros and cons, and help you choose the right tattoo location. Ahead of that conversation, read on for a few of the best and worst locations, when it comes to the longevity of a tattoo, according to tattoo experts.
This article was originally published on