33 Winter Outfit Ideas Courtesy Of Hailey Bieber, Rihanna, & More
The temperature will not ruin your 'fit, I can promise you that.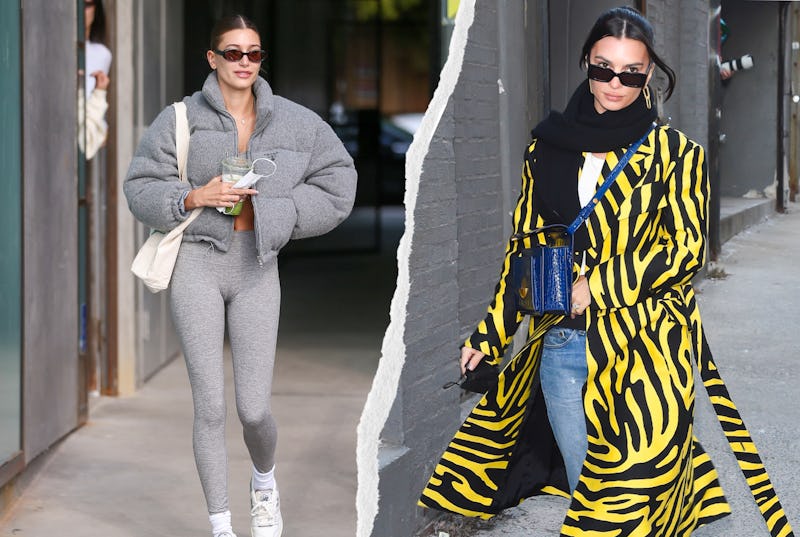 Getty Images
Nothing's worse than the dramatic temperature drop that happens around late November, forcing you to pull out your thickest and frumpiest coats. Just when I finally had my fall wardrobe figured out, winter sneaks in like a thief in the night, stealing any semblance of fashion sense I had.
OK, maybe I'm being a little dramatic. But I do have personal vendetta against bulky winter coat and chunky snow boots — I've had one too many outfits ruined, thanks to these style-cramping staples. As much I love the idea of snowflakes and sipping cocoa, my 'fit should still look good enough to post while I'm doing it (because content).
Thanks to a little thing called global warming, the months that make up winter can range anywhere from sunny and warm to freezing rain and mountains of snow — all within the same week. To accommodate the forecast, you have to have options.
If you, too, are in the midst of a winter fashion slump, keep scrolling. I've pulled together the chicest winter outfits that'll see you all the way through to April and beyond. Ahead, stylish cold weather 'fits courtesy of the most stylish celebs on the internet. Enjoy!
This article was originally published on