13 Relationship Mistakes Someone Might Make If They Have Anxiety
#10: Struggling with jealousy.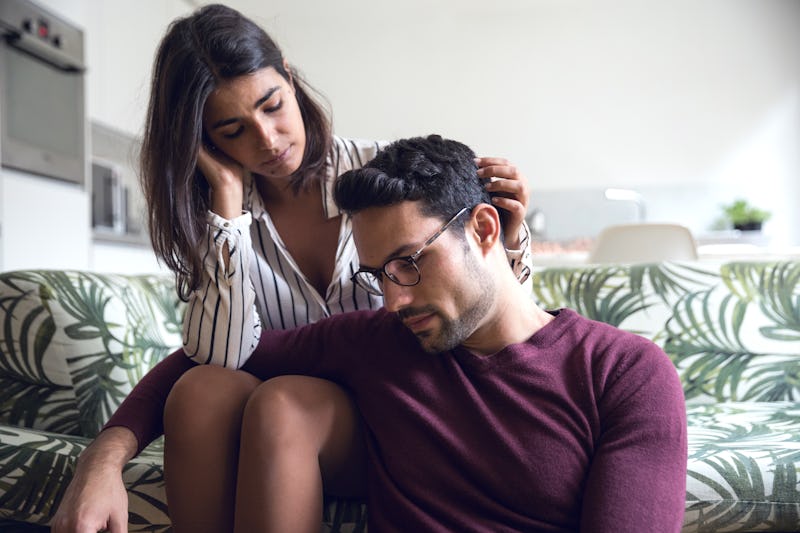 LeoPatrizi/E+/Getty Images
If you have an anxiety disorder, then you already know how much it can impact daily life, including how you feel at work, while out with friends, and even while you're (trying to) relax at home. But anxiety can also affect your relationship, typically by introducing stress, doubt, and worry — all things that can disrupt your connection as well as the progression of your lives as a couple.
When you see the world through an anxious lens, it can be tough to know what's worth worrying about and what isn't. It's why you might feel insecure in your relationship or shut down during tough moments. You might even start to have thoughts like "my partner is making my anxiety worse" and become even more disconnected and distrustful as time goes on.
If any of the above strikes close to home, "one of the best things you can do is see a counselor," Katie Ziskind, LMFT, a licensed marriage and family therapist, tells Bustle. "Seeing a therapist will help you learn positive coping skills to deal with your anxiety in a constructive way."
It will also help to begin talking to your partner about your anxiety so they can offer support and help whenever possible. It might be tough to admit at first, but ultimately it'll mean having a healthier relationship — and hopefully avoiding certain anxiety-related mistakes, such as the ones listed below.
Sources:
Katie Ziskind, LMFT, licensed marriage and family therapist
Dr. Paul DePompo, a clinical psychologist
Dr. Helen Odessky, clinical psychologist
Julie Williamson, LPC, NCC, RPT, licensed professional counselor
Melissa Kester, LMFT, licensed marriage and family therapist
Rosalind Sedacca, CLC, dating and divorce coach
Tina B. Tessina, PhD, psychotherapist
Elizabeth Su, life coach and relationship expert
This article was originally published on