The 9 Best Sex Positions For Beginners
You've got to start somewhere.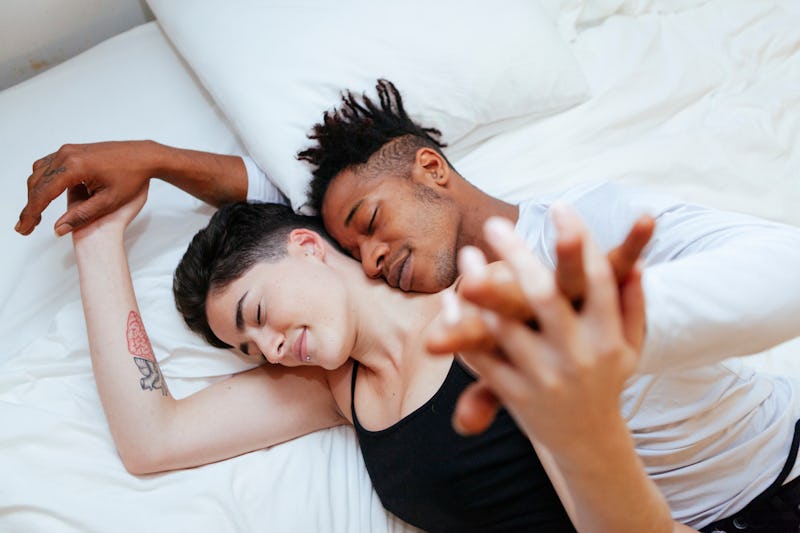 Beatriz Vera / EyeEm/EyeEm/Getty Images
If you're a beginner, sex can quickly become overwhelming, which is why there's no shame in sticking with easy sex positions for as long as you like. When you aren't trying to contort into trickier positions in bed, you're free to figure out what feels good, what your partner likes, and what to do with your limbs — all important aspects of good sex.
One of the best things you can do, if you and/or your partner have limited sexual experience, is to "pay attention to your pace," Tristan Weedmark, a global passion ambassador for the sex toy brand We-Vibe, tells Bustle. "There's no reason to rush into something in bed that might provoke anxiety." Or confusion. Or pain.
Instead, Weedmark suggests slowing way down, reading each other's body language, and trying to stay mindful as possible. If you're both new to it that's no problem— you can discover what you like together by experimenting and being open to trying new things. Go easy on yourselves, and don't be afraid to laugh if something "goes wrong," or you can't figure a position out right away.
It can also help to be honest about any concerns. "Assess your expectations and align them with your partner," Dr. Michael Reitano, MD, a physician in residence at sexual health startup Roman, previously told Bustle. "The truth is the preparation for sex allows the participants to begin to imagine what is to come and build positive sexual tension all while stressful details are shed."
With all that in mind, here are some great sex positions to try if you're a beginner.
Anytime, Anywhere
Try your favorite position in another place around the house like the kitchen counter or up against the wall.
When you're a beginner, it's perfectly OK to stick to positions you know works for you. According to Delgado, doing your favorite position somewhere else is a great way to keep things fresh. "Missionary on the bed is wonderful, but doing it on the kitchen table or the living room floor can bring just as much novelty and excitement as a new position," she says.
If you're new to sex, there's no shame in taking your time to figure out what you like. Move slow and follow what feels good. And remember if one way doesn't feel quite right, there are plenty of other easy sex positions to choose from.
Additional reporting by Kristine Fellizar.
Experts
Tristan Weedmark, a global passion ambassador for the sex toy site We-Vibe
Dr. Michael Reitano, MD, physician in residence at sexual health startup Roman
Kate Delgado, resident sex educator at Lioness
This article was originally published on