9 Common Things That Can Make You Feel Hungover (That Aren't Alcohol)
Caffeine withdrawal, dehydration, and other issues that don't come from a night out.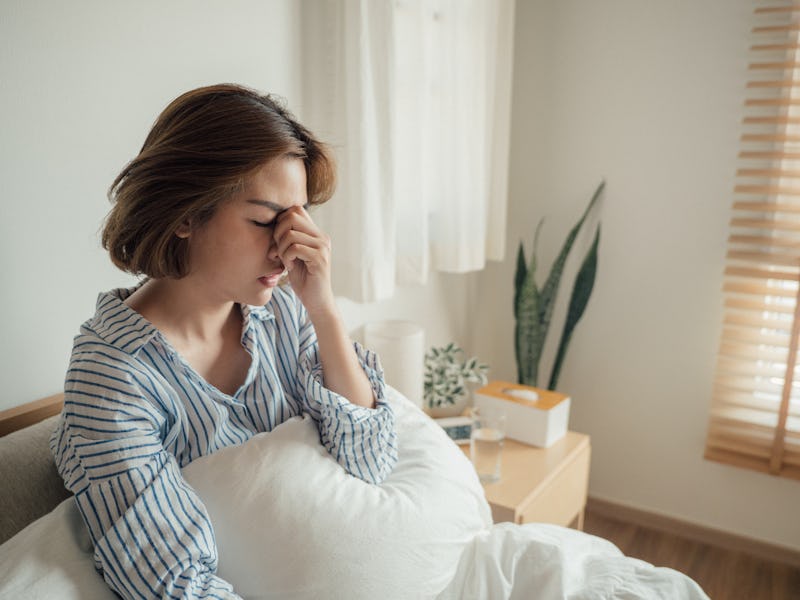 staticnak1983/E+/Getty Images
There's nothing worse than waking up after a fun night out to realize your body has betrayed you with a hangover. But if you've ever woken up to a splitting headache and a desire to never see sunlight or even think about food — without having taken a single drink the night before — then you may be dealing with a different medical issue. It's possible to feel hungover without drinking, largely because hangover symptoms are common in a lot of other conditions.
What happens to your body when you're hungover is a bit complicated. You could experience anything from nausea, because of how alcohol triggers your empty stomach lining, to headaches caused by dehydration, to anxiety from a chemical compound your body produces called acetaldehyde. But without alcohol in the mix, sometimes these symptoms still happen. Think about the headache and brain fog you get the day after you haven't really slept, or that upset-tummy feeling from eating a questionable piece of cheese.
If you wake up feeling sluggish and queasy but haven't touched a drink since that office party last year, consider these nine common things that can cause symptoms that feel like hangovers. Some of them are things you should definitely talk to your doctor about, while others require the curative powers of time — just like a hangover.
Experts:
Lisa Richards, C.N.C., nutritionist and author
Dr. Greg Burrell, M.D., vice president of clinical product, Carbon Health
Dr. Ehsan Ali, M.D., internal medicine specialist
Dr. Alex Dimitriu, M.D., founder, Menlo Park Psychiatry & Sleep Medicine