10 Yoga Tips For Beginners, Courtesy Of TikTok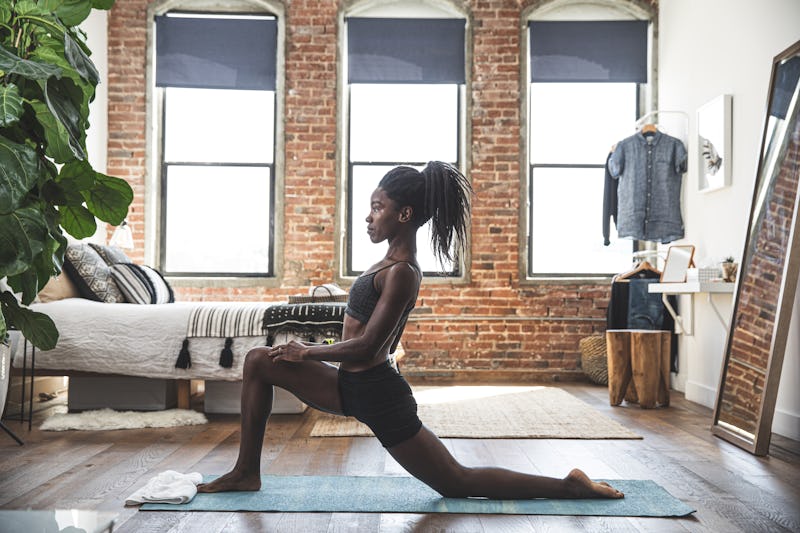 LeoPatrizi/E+/Getty Images
When you're just starting yoga, the thought of getting into a headstand or crow pose can definitely seem intimidating. But you really don't have to worry about nailing advanced-level positions to reap the benefits — because the essence of the workout is all about going at your own pace and embracing the mind-body connection. And, to help you get more comfortable on your mat, these yoga tips for beginners from TikTok are a great place to start if you're looking to dip your toes into your own practice.
If you scroll through TikTok, the video sharing app is filled with beginner-friendly tips for warming up to the workout modality. An example of the tips you can discover via the platform? One is that the early stages of learning how to do yoga can really be as simple as doing a toe-touch stretch — or a forward fold, as it's called in the yogi world. You can also spend all your time on the mat practicing your downward facing dog form, aka one of the most foundational poses that make up a flow. Whatever your yoga practice du jour may be, pro yogis say that going slow is encouraged. And some of the best TikTok yoga tips for beginners include warm-up or wind-down stretches for your nighttime ritual or morning routine. (The best part about these? You can do them without even having to get out of bed.) If that doesn't make you feel less intimidated about setting off on your yoga journey, let these TikToks speak for themselves.
From how to nestle into child's pose or ways to use affirmations to boost your practice, here are some easy-to-follow yoga tips for beginners.