21 Signs You Have A Calming Presence
These traits make you the embodiment of ASMR.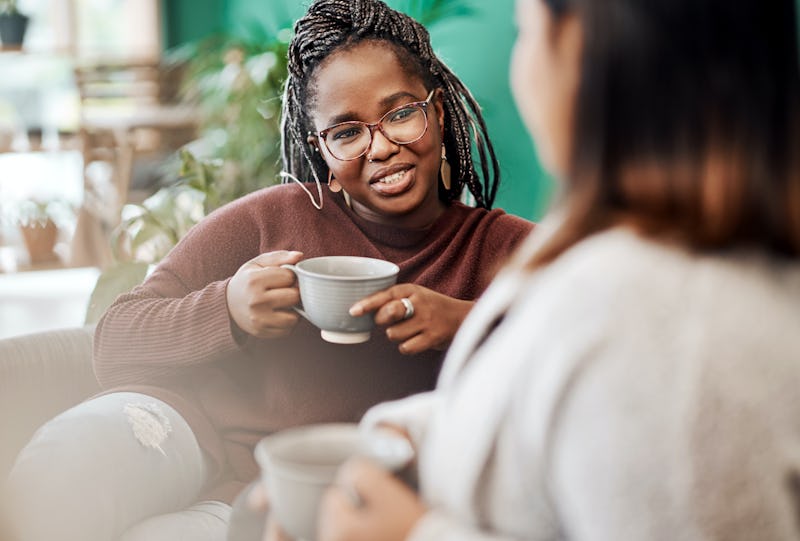 PeopleImages/E+/Getty Images
Ever meet someone who's the walking, talking embodiment of an ASMR video? When you're with them, you instantly feel more relaxed — almost to the point you forget about your problems. Whether it's because they have soothing body language, make great eye contact, or listen attentively — or all of the above — it's interesting to think about the habits common among people who are calming to be around.
Whether they're a friend, partner, or even a coworker, you just want to be around them. Why? "Because calming energy is soothing to our nervous system," therapist and yoga teacher Lauren Donelson, MA, LMFTA tells Bustle. "Our bodies instinctually crave calm, so when someone is grounded, we are intuitively drawn to them because we probably need more of that energy ourselves."
Folks who have such a relaxing way about them might seem a bit magical. But really, these calming traits can be adopted by anyone. And there are so many benefits to be had in doing so. First off, once you figure out how to take on a calmer energy for yourself, "you'll have more clarity and command in your life and be less likely to get easily triggered by other people's behavior or stressful situations," Kelli Reese, a certified leadership and transition coach, tells Bustle.
And from there, you can be one of those people who also gives off super calm vibes, puts their friends at ease, and moves through the world with confident energy. Below are some traits and habits that put others at ease, deepen connections, and make life a little less stressful.
Sources:
Lauren Donelson, MA, LMFTA, therapist
Kelli Reese, certified leadership and transition coach
Xanet Pailet, intimacy coach
Dr. Jill Murray, licensed psychotherapist
Alexandra Trevisan, leadership coach
Dezryelle Arcieri, MA, LMFT, 200YTT, licensed marriage and family therapist
Lindsay Preston, multi-certified leadership coach
Aniko Dunn, PsyD, psychologist
Michelle Davies, certified life coach
Sharifah Hardie, business coach
Laura Jordan, MA, LPC, LMFT, licensed professional counselor
Jaya Jaya Myra, natural lifestyle expert
Lisa Hutchison, LMHC, licensed psychotherapist
Dr. Josh Klapow, clinical psychologist
Kristen Bingaman, NBC-HWC, RYT, PT, board-certified health and wellness coach
Dr. Christie Jenkins, MS, clinical mental health specialist
This article was originally published on