How To *Actually* Follow Your Intuition
Don't ignore the vibes your body's sending you.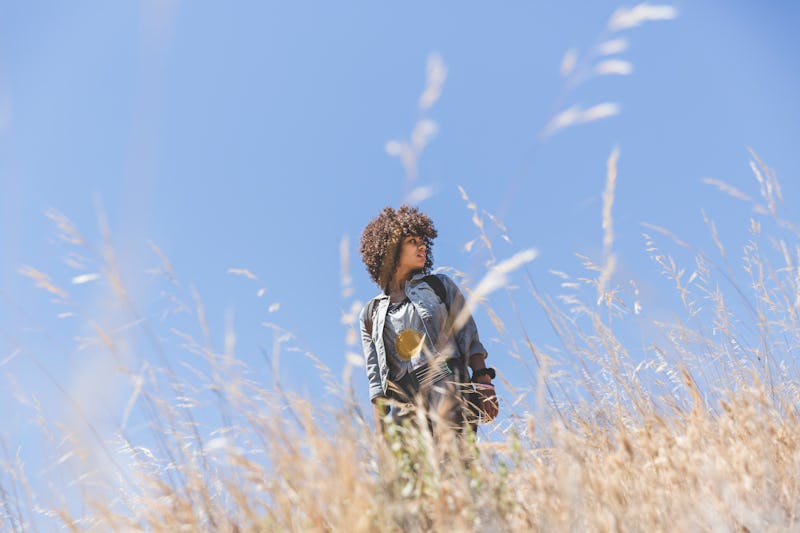 The Good Brigade/DigitalVision/Getty Images
You just know that the time is right to pursue yoga training full time, but you're wondering if it's worth the risk. Whenever you ask your friends, though, they sagely encourage you to "trust your gut." That's all well and good, but when you don't know how to follow your intuition in the first place, it's not necessarily the most helpful advice. Because really, how can you know when your intuition is talking to you? Spoiler: that gut feeling can actually be pretty helpful.
"Intuition is that sneaking suspicion that you feel when something is not right but you can't put your finger on why," licensed clinical psychologist Sarah Schewitz, Psy.D., tells Bustle. "Intuition can be a powerful guiding force and is more developed for some than others. Some people feel a strong urge or sense in their core when something is wrong while others, with a less developed intuition, might feel a small inkling that they aren't really sure how to interpret."
It's OK if you're not sure whether those butterflies in your stomach mean "take the leap!" or "run away." You might get your intuition confused with your scared ego (AKA the thing that keeps you from taking highly calculated risks and mistakes).
"When you're taking risks in life that feel bigger than maybe what you think you can handle, there will always be some sort of resistance," says Julie Holmes, a New York city-based life coach. "The scared ego usually shows up when you're about to do something new and different in your life but will in the end be beneficial. It could be a job promotion, being more social, or doing something outside of your comfort zone. Scared ego is usually scared of either failure or rejection." If you're doing something out of fear that you're not good enough, Holmes says, you might want to go in the other direction.
Learning to listen to your gut feeling has a lot to do with trust — which can be hard when fear is involved. "To follow your intuition means that you do not have to put conscious thought into making a decision," says Brooklyn-based mental health counselor intern Bernie Crowl, MHC-I. "It simply comes naturally and with no judgment." Of course, he explains, not judging yourself is easier said than done, especially when many people have been taught not to trust their own judgment. How are you supposed to trust your gut if you're not sure if you should trust yourself? Whether you want to know how you can follow your gut or learn to be more self-aware, here are 11 ways to know if your intuition is trying to tell you something and how to listen to it.
Learning how to listen to your intuition takes time. Your ego might try to interfere, but if you practice, you'll eventually know the difference between the two. Always try to guide with your heart. The more you listen, the happier and secure you may feel about the choices you make.
Experts:
Sarah Schewitz, Psy.D., licensed clinical psychologist
Julie Holmes, New York city-based life coach
Bernie Crowl, MHC-I, Brooklyn-based mental health counselor intern
Thomas John, celebrity psychic medium
Lillyana Morales, L.M.H.C., pyschotherapist
Jill MacFadyen, M.S.I.R., A.C.C., career coach
Anita Marchesani, Ph.D., licensed psychologist