11 Gentle Exercises That Can Help Relieve Period Cramps
For when you're ready to get out of fetal position.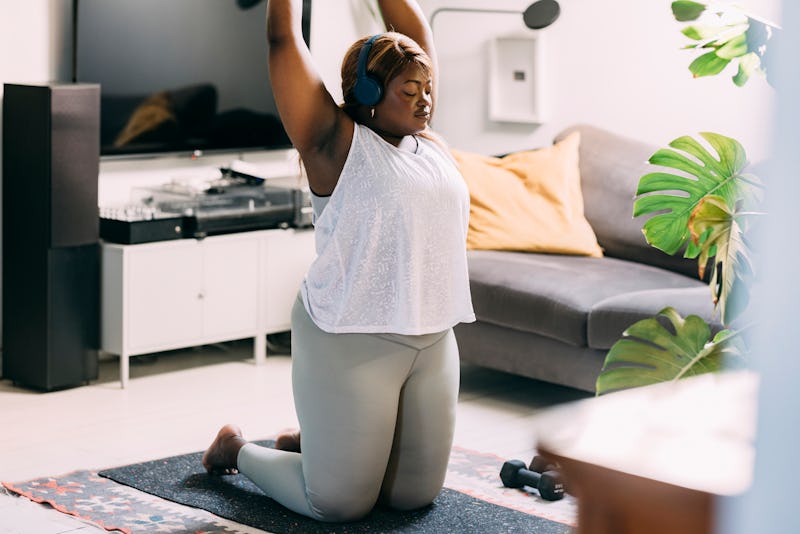 Getty Images/FreshSplash
When that time of the month rolls back around, you may find yourself burrito-d on the couch with a blanket and heating pad as a way to battle period cramps. And who could blame you? If you can't imagine moving, please don't. But if you feel up for a little bit of exercise, know that there are plenty of gentle, low-impact options to choose from — and some might even help ease the pain.
Of course, there's no denying that period cramps can make it tough to move, says Sasha Mihovilovic, a master trainer at workout studio AKT. And yet, she says exercising promotes circulation, which in turn eases muscle soreness. According to Alayna Curry, an AFAA-certified fitness and founder of Workout With Mom, a little movement can also boost your mood and make it easier to sleep — two things that are a godsend when you're feeling achy. If you've been lying awake PMS symptoms, a lazy yoga workout or a sleepy stroll might just do the trick.
Stretches, easy workouts, and flow-y exercises that target your lower abdomen will be key. And the gentler the better. "In general, it's best to stick with low-to-medium impact exercises during your period," Curry tells Bustle. "This isn't the time to push yourself with an extreme HIIT class or a heavy weight strength training session." Instead, slide off the couch and give these moves a try.
Studies referenced:
Armour, M. (2019.) Exercise for dysmenorrhoea. Cochrane Database Syst Rev. doi: 10.1002/14651858.CD004142.pub4.
Joyner, M. (2015). Regulation of Increased Blood Flow (Hyperemia) to Muscles During Exercise: A Hierarchy of Competing Physiological Needs. Physiol Rev. https://www.ncbi.nlm.nih.gov/pmc/articles/PMC4551211/
Maged, A.M. (2018). Effect of swimming exercise on premenstrual syndrome. Arch Gynecol Obstet. doi: 10.1007/s00404-018-4664-1.
Vaghela, N. 2019. To compare the effects of aerobic exercise and yoga on Premenstrual syndrome. J Educ Health Promot. doi: 10.4103/jehp.jehp_50_19.
Vieira, AKS. (2021.) Effect of Foot Reflexology Protocol on Premenstrual Syndrome Symptoms in Nursing Students: a Pre-Post Pilot Study. Int J Ther Massage Bodywork. doi: 10.3822/ijtmb.v14i4.631.
Wu, WL. (2015.) The acute effects of yoga on cognitive measures for women with premenstrual syndrome. J Altern Complement Med. doi: 10.1089/acm.2015.0070.
Yang, NY. (2016.) Effects of a Yoga Program on Menstrual Cramps and Menstrual Distress in Undergraduate Students with Primary Dysmenorrhea: A Single-Blind, Randomized Controlled Trial. J Altern Complement Med. doi: 10.1089/acm.2016.0058.
Sources:
Sasha Mihovilovic, master trainer at workout studio AKT
Alayna Curry, AFAA-certified fitness, founder of Workout With Mom
Dr. Kristina Kehoe, PT, DPT, board-certified clinical specialist in women's health
Soji James, life expert, certified personal trainer at wellness performance company 1AND1
Jake Dickson, certified personal trainer
Michele Riechman, personal trainer
Mary Sabat, MS, RDN, LD, ACE-certified personal trainer
This article was originally published on