11 Celebrities Who Love Running
Including those who have completed marathons.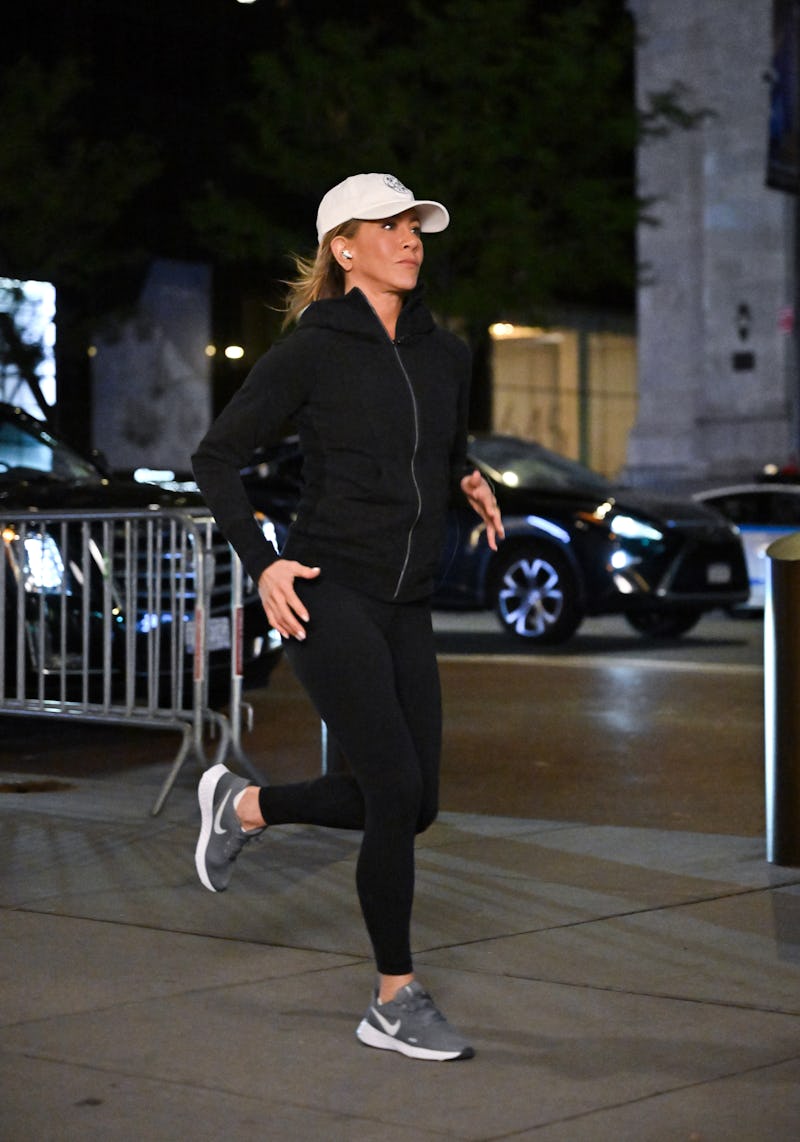 James Devaney/GC Images/Getty Images
You might hear a lot of celebrities talk about their love of Pilates, but many are also big fans of good, old-fashioned running. Plenty of A-listers — including Jennifer Aniston and Alicia Keys — have raved about the many benefits running has to offer, including the full-body workout, the endorphin high, and the way it helps them clear their minds. Some have even completed marathons (looking at you, Pamela Anderson).
For a number of celebs, training for a movie role is what kicked off their love of lacing up. Jennifer Lawrence, for example, started sprint training to get ready for her role in The Hunger Games — and she liked it so much that she kept it up.
That said, many actors have been honest about their struggles with the sport. Model Karlie Kloss admitted that she hated running when she first got started, especially as she prepped for a half marathon. But she pushed through — and eventually caught the running bug.
Keep scrolling for a look at 11 celebs who love running.
1. Jennifer Aniston
Everyone knows Aniston is a big fitness aficionado. (The Friends actor can reportedly hold a plank for three minutes.) And while she loves a spin class and boxing for cardio, she's also been known to hit the pavement.
When she isn't jogging through the streets of New York — here, she's seen getting a run in while on location at The Morning Show — Aniston can be found doing Pvolve's low-impact sculpting workouts.
2. Jennifer Lawrence
Lawrence is well-known for taking her active movie roles seriously, and it always includes lots of running. Besides learning archery, she famously began running as part of her training for The Hunger Games movies, during which she would do rounds of sprints.
When prepping for the X-Men films, Lawrence would also reportedly go for runs in the morning followed by HIIT routines.
3. Alicia Keys
When her brother asked if she'd ever run a marathon, Keys reportedly responded with a quick "hell no!" Despite hating the idea at first, the singer went on to run not one but two marathons: the New York City Marathon in 2015, and a 2007 marathon in Greece.
In a 2015 post for Refinery29, Keys wrote, "I'm all about breaking mental boundaries, and training for a marathon falls right into the Jedi mind-training I need." Her training routine included waking up at 5:30, meditating, running, taking care of her kids — and then sneaking in a quick nap.
4. Eva Longoria
In 2017, Eva Longoria told People that she's into yoga, Pilates, SoulCycle, and running. After having her son Santiago in 2018, the star said she planned to ease back into her fitness routine by slowly adding weight training into the mix. Clearly, Longoria knows the importance of mixing things up with some cross-training.
5. Reese Witherspoon
While Reese Witherspoon has been spotted on numerous runs, she's admitted that it took time to build up her stamina. One way she keeps going? By running with her besties. "It's an acquired skill, being able to discuss your love life, children, and friends, all while you're running," she told InStyle in 2021. "But we have mastered it."
6. Karlie Kloss
Even though she has a few marathons under her belt, Kloss hasn't always considered herself a runner. It wasn't until the model ran the Paris Half Marathon in 2015 that she went on to crush other routes, like the New York Marathon in 2017.
"I like to do things that take me out of my comfort zone, and the idea of running a half marathon was beyond scary," she told Runner's World in 2019. "I like putting my mind to something difficult and figuring out how to tick it off my bucket list."
7. Claire Danes
Whenever Claire Danes is in Los Angeles, she goes for a jog at Runyon Canyon. The A-lister has also been spotted running along the Hudson River in New York. "I exercise more for mental relaxation than anything else," Dane has said in the past.
8. Laila Ali
Laila Ali is a retired boxer turned TV personality, but she still likes to stay in fighting form by lacing up her running shoes. "I love the way that it makes my body feel, and it's just my time where I can get out there and think and let my mind go," she told Runner's World.
Even when she was boxing, Ali hit the pavement as part of her training regimen. "When I was boxing, I'd run four or five miles five days a week. Now, I go three or four miles three times a week."
9. Mindy Kaling
Mindy Kaling has admitted that she's a "slow" runner, pointing to her 11-minute mile. But she has a trick that gets her through, especially on the days when she isn't necessarily in the mood to jog.
"I tell myself to run a mile," the star told Bustle. "And, almost always, I exceed that because it's the first eight to 10 minutes that are the hardest of my workouts. So my biggest tip is to keep the bar really low for how much I'm going to do, and I always exceed it."
10. Pamela Anderson
In 2013, Pamela Anderson completed the New York Marathon in five hours and 41 minutes. According to Women's Health, the actor was incredibly sore afterward because she reportedly didn't train properly. The star ran the famous race with a group that was raising money for Haiti following an earthquake, so it meant a lot to her to push through.
11. Natalie Dormer
Games of Thrones actor Natalie Dormer has spoken a lot about her love of running. She made it the entire 26.2 miles at the 2014 London Marathon, and then repeated the route again in 2016 with a time of 3:51:21. And all this happened while she was filming The Hunger Games Mocking Jay parts one and two.
In 2016 she told The Guardian, "I like the quietness of running. I like that I'm not verbalizing, not talking, just going into my inner self."