20 Women Reveal Exactly How Long It Took Them To Get Over Their Ex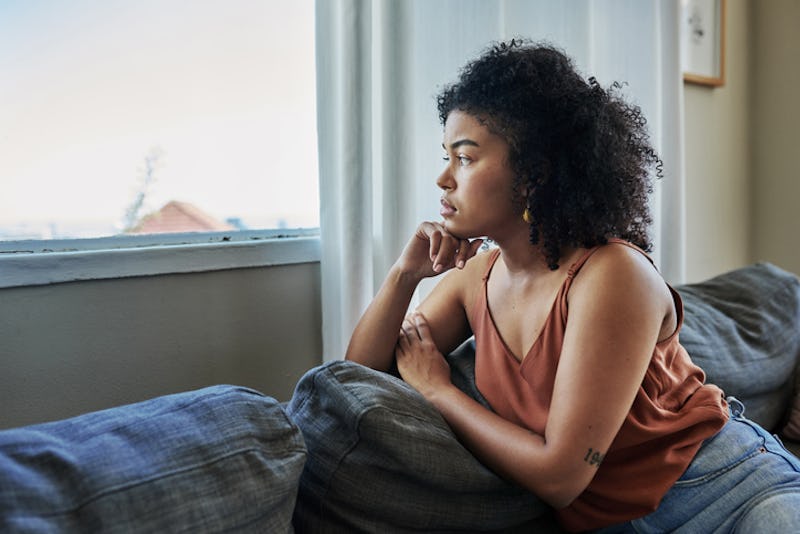 Getty Images/LaylaBird
How long does it take to get over someone? If you listen to Sex and the City's Charlotte York, "It takes half the total time you went out with someone to get over them." Which, when you think about it, can either be a good thing or a bad thing. For example, if you dated someone for only six months, then you're pretty much home-free within three months. But if you were with someone for, say, 10 years, going by Charlotte's theory on love and breakups, that's five long years of wallowing in pain and sorrow, trying to recover and move on.
According to a 2017 study of 2,000 Americans by OnePoll, everyone will spend, on average, 18 months of their lives getting over breakups, which, honestly, seems quite low. Although this average was based on three major breakups, how many people only have three major breakups in their lifetime? Between the ages of 18 and 25, I easily had half a dozen breakups, and considering the shambles they left me in, they were indeed "major." Or, at least, they were to me.
"The time it takes to get over someone depends upon two factors," Susan Winter, a New York City-based relationship expert, love coach, and the author of Breakup Triage: The Cure for Heartache, tells Bustle. "How central a figure they were in your life; such as husband, wife, or live-in partner, and how much you think you need them."
As Winter explains, if your partner was your "person" (read: your ideal match) it can take at least six months (or longer!) to grieve and eventually regroup. If you're talking about someone whom you regard as the love of your life (read: soulmate), that six months can take even longer, maybe as much as a year. If the breakup is a legal one that involves a divorce or a custody battle for kids, the time it takes to get over someone can be even more difficult and prolonged, because you have to be in touch with your ex, and even sometimes on a regular basis.
"Don't get fooled into thinking that grief of past loves has a clear 'end'."
"Anytime you're required to continually see an ex, it resets the clock and makes getting over them much harder," Winter says. Having them be an active participant in your life can definitely extend how long it takes to move on.
When it comes to how much you think you need your ex, things are equally painful, but in a different way. Especially if you put all your hopes and dreams in this one person. If this is the case, the loss can linger, meaning recovery time is long and deep. "If [your ex] played a dominant role in your life, their absence can appear as though all you wanted is now gone," Winter says. "As the leading man or woman in the movie of your life, their significance is not easily erasable — especially so if you're dependent upon them financially, emotionally, socially, or in business."
According to Dr. LeslieBeth Wish, Ed.D., a psychotherapist and author of Smart Relationships: How Successful Women Can Find True Love, it's completely normal to grieve the loss of a relationship while moving on with your life. "Don't get fooled into thinking that grief of past loves has a clear 'end'." Ultimately, there is no timeframe for how long it takes to get over an ex.
Here are real stories from 20 women on how long it took to get over their ex.
Experts:
Susan Winter, a New York City relationship expert and author
Dr. LeslieBeth Wish, Ed.D., psychotherapist
This article was originally published on