10 Things From Your Partner's Past That Are NBD
Time to forget about their exes.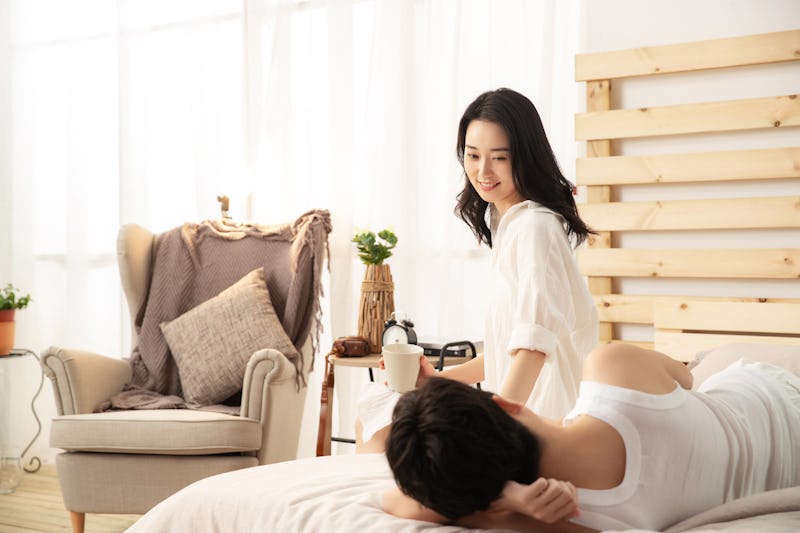 ViewStock/View Stock/Getty Images
One of the keys to living a happy and healthy life is to leave the past where it belongs. It's a piece of advice you probably hear a lot, yet have a hard time actually following. But moving on from the past is especially important when you're starting a new relationship. While it's so common to fixate on what your partner was like before you, experts say, there are some things you really shouldn't worry about when it comes to a significant other's history.
"It is very important to remember, that each new relationship should be given a new start," Dr. Ronica Arnold Branson, licensed therapist and relationship coach, tells Bustle. "When individuals initially connect, the relationship begins with much anticipation and excitement. After time, thoughts of the past may begin to set in and problems can start to arise if these unhealthy thoughts continue to run rampant."
There are some things you should obviously be careful of, like patterns of abusive or toxic behavior. But if you're fixated on your partner's ex or their past money mistakes, it's important to ask yourself how much of it matters today.
"Everyone has skeletons in their closet, and no one is perfect," Branson says. "Even though you may have had bad experiences in the past, use these experiences as opportunities for growth and improvement, not as opportunities to judge your new partner."
So here are some things from your partner's past that you shouldn't worry about, according to experts.
How To Get Over Your Partner's Past
If your feelings of inadequacy aren't addressed, Shorter says it can create barriers and conflict in a relationship. The good news is, there are things you can do to move on from obsessing over your partner's past. For instance, being open with your partner about your concerns and insecurities can help to clear up a few things.
"Ultimately, communication and vulnerability are key here," Shorter says. "If they are patient and kind, then they won't blame or shame you for your insecurities. In fact, it may open the door for them to share their own. While self-validation is important, there's nothing wrong with receiving both validation and reassurance from your partner."
It's also important to pay attention to any negative thoughts you may have, that way you can consciously let them go. "The more you non-judgmentally practice letting go of your partner's history — the less attention you give these negative thought patterns — the more your brain will become wired to be mindfully in the present rather than imaginings of the past," Manly says. "This intentional practice will free up your mind and spirit to engage more fully and lovingly with your partner."
Experts
Dr. Ronica Arnold Branson, licensed therapist and relationship coach
Dr. Fran Walfish, Beverly Hills family and relationship psychotherapist and author,
Dr. Mark Borg Jr., Ph.D., licensed clinical psychologist/psychoanalyst and author
Rosalind Sedacca, CLC, dating and relationship coach
Cherrelle N. "Juice" Shorter, LCSW-S, psychotherapist
Rachel Needle, Psy.D., licensed psychologist
This article was originally published on