12 Core-Strengthening Exercises Trainers Love
No standard crunches here.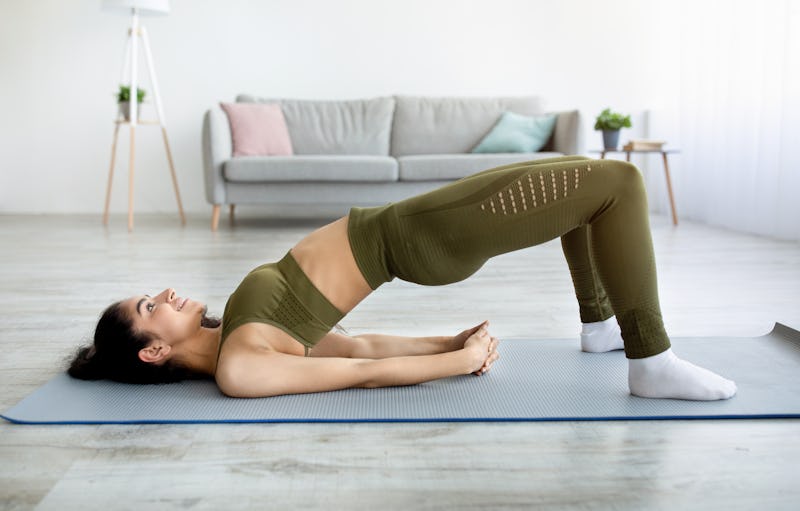 Shutterstock
If you can't stomach the idea of doing one more crunch, that's totally fine. Bustle asked trainers for what they believe to be the best core exercises out there, and there's not one crunch in the mix. Add one or two to your workout routine, and you might even hit a few core muscles you didn't know you had.
While it's common to think about the abs when you think of the core, your core is actually made up of many different muscle groups that go around the entire trunk of your body. "There's the abs, the rectus abdominis, transverse abs, and obliques," explains Cheryl Russo, a certified personal fitness trainer. "Then there are the muscles of the back, the latissimus dorsi, and the erector spinae." Even the hip flexors are considered a part of your core.
All of these muscles work together as you go about daily life, which is why it's helpful to make sure they're strong, says Alayna Curry, an AFAA-certified fitness instructor. "The core is especially utilized during most strength and cardio workouts as well," she tells Bustle. "Having a strong core will help you maintain balance and execute moves with proper form, while also improving your posture and strengthening your back."
You don't have to do countless reps to reap the benefits of a core workout, either. Curry recommends tacking just five minutes of core exercises onto the end of your usual routine, aiming for four to five sets a week, and you should feel a difference. Here, trainers share the 12 best core exercises for strengthening those all-important muscles.
Sources:
Alayna Curry, AFAA-certified fitness instructor
Cheryl Russo, certified personal fitness and group fitness trainer
Gia Calhoun, Pilates instructor and vice president of Pilates Anytime
Andy Stern, fitness trainer and VP of talent and programming at Rumble
Vanessa Liu, certified fitness trainer
Tatiana Lampa, trainer
Kelley Fertitta-Nemiro, Pilates and yoga trainer