7 Signs Your Partner Is Pulling An Emotional Power Move On You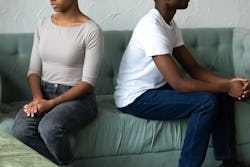 Shutterstock
It can be tough to tell when a relationship has turned abusive, especially when there are so many ways for a partner to be toxic — from constantly arguing, to stalking, and everything in between. But one form of psychological abuse, called coercive control, is particularly difficult to spot.
Coercive control describes someone's need for total emotional control over their partner, and it's often gained through subtle or sneaky tactics. "Coercive control in a relationship is, by definition, not about any of the factors that are being controlled — money, social interactions, rules in the house, individual pursuits," Joshua Klapow, Ph.D., a clinical psychologist and host of The Kurre and Klapow Show, tells Bustle, but the actions are taken to gain control.
"As soon as coercion is involved then the goal shifts from practical to personal, from functional to emotional," Klapow says. And it doesn't always manifest in one particular way. "Coercion is an emotional power move," he says. "It is done to influence an individual usually because the individual who is using the coercion lacks the skills or the confidence to openly discuss, compromise, or handle not getting what they want."
Here are a few signs of coercive control, according to Klapow.
If you feel like you're dealing with a relationship where there's coercive control, it's time to start considering your options. Klapow suggests first talking with your partner about making a few changes, including looking for ways to create more balance. If they didn't realize they were being toxic, they should be happy to make that change.
But if you don't notice any positive results, and/or are looking to leave the relationship, reach out to a friend, family member, or professional for help.
Editor's Note: If you or someone you know is experiencing domestic abuse, call 911 or the National Domestic Violence Hotline at 1(800) 799-SAFE (7233) or visit thehotline.org.
Expert:
Joshua Klapow, Ph.D., clinical psychologist
This article was originally published on