20 Signs Your Partner Has Anxiety, According To Psychologists
#8: They can't handle change.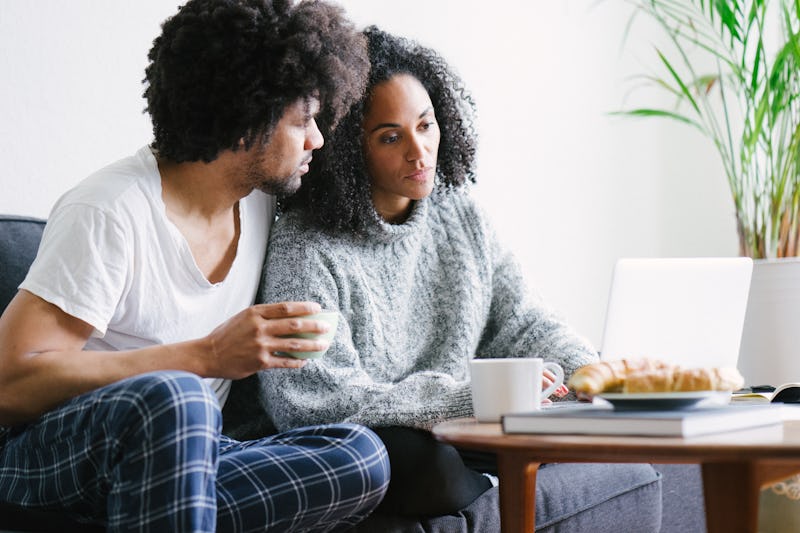 RoBeDeRo/E+/Getty Images
While everyone's flaked out on plans, worried about the future, or avoided stressful situations, these things can also be a sign your partner has anxiety. Their mental health is their business, and it'll be up to them to decide how and when they'd like to seek treatment. But since letting these issues go unaddressed can rock a relationship, it's also important to recognize symptoms of anxiety and talk about them as a couple ASAP.
"If you are unaware of your partner's anxiety, it can make it difficult to understand certain behaviors they have," Sasha Jackson, MSW, LCSW, a licensed therapist who specializes in anxiety, tells Bustle. It's all too easy, for example, to take these things personally or to believe a partner is uncaring when in reality, their anxiety is the root cause. These symptoms might even lead to arguments, Jackson says, due to ongoing tension.
Again, you won't want to push a partner to talk about their anxiety before they're ready, but you can offer support and understanding and let them know you're always down to talk. "Communication helps you discuss what your partner needs," Jackson says. Do they need a hug? Space? Encouragement? You won't know until you ask.
Once it's all out in the open, that's when you can chat about therapy or other kinds of support your partner might need to feel less anxious. Want to know what this can look like from an outside perspective, including how it can impact a relationship? Here are 20 signs your partner has anxiety, according to experts.
As their partner you'll want to figure out ways to help, which you can do by asking them how they're doing, listening to their concerns, and coming up with a plan to offer support, Goulet says.
"Fight the urge to tell them their worries are irrational (even if they are!) as this can feel invalidating in the moment," she adds. "Instead try validating their feelings by saying things like, 'That sounds really hard, is there anything I can do to help?'"
Anxiety can be a source of strain on a relationship, but that doesn't mean you can't learn how to cope with it together.
Sources:
Sasha Jackson, MSW, LCSW, licensed therapist
Dr. Jaclyn Lopez Witmer, PsyD, licensed clinical psychologist
Dr. Holly Schiff, PsyD, licensed clinical psychologist
Morgan Goulet, LMFT, licensed marriage and family therapist
Josh Klapow PhD, clinical psychologist
Aimee Daramus, PsyD, licensed clinical psychologist
Dr. Carla Marie Manly, clinical psychologist
Dr. Laura Louis, licensed psychologist
Billy Roberts, LISW-S, therapist