20 Signs You've Lost Interest In Your Partner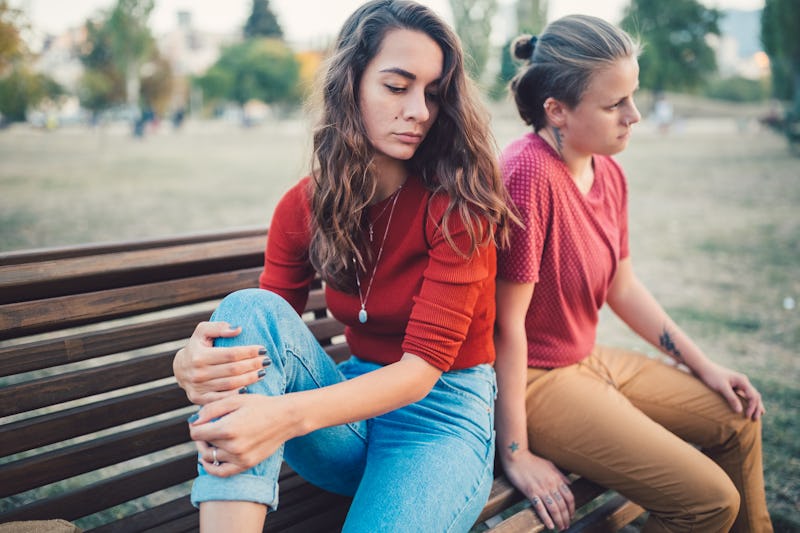 martin-dm/E+/Getty Images
The early days of a relationship are an exciting mix of texting sprees, fun dates, and the thrill of getting to know a new person. And while, for many couples, that can settle into a steady relationship that lasts for years, it's OK if you lose interest in your partner and decide to break up.
It might happen as the honeymoon period starts to fade and you realize you don't want to invest long-term. But it's also possible to lose interest in a partner at an unforeseeable time for an unforeseeable reason. And you know what's even weirder? It doesn't even necessarily mean you "fell out of love."
It's totally possible to love someone, but not no longer feel a spark. It's also possible to love someone, but come to the conclusion you aren't a good match. "Ultimately, it can feel really scary to leave a relationship that you've put time and energy into, and people often can use this as a reason to stay," Alyssa Arnol, LCSW, a psychotherapist with Psychotherapy Associates of Chicago, tells Bustle.
But if you relate to any of the 20 signs listed below, and no amount of effort changes the way you feel, you may decide it's best to move on.
Sources:
Alyssa Arnol, LCSW, psychotherapist
Sterling Woods, LSW, licensed social worker
Deborah K. Krevalin, LPC, LMHC, a licensed professional counselor
Dr. Jill Murray, licensed psychotherapist and author
Susan Golicic, PhD, certified relationship coach
Susan Trombetti, matchmaker
Katherine Shorter​, marriage counselor
Heidi McBain, MA, LMFT, licensed marriage and family therapist
Dr. Wyatt Fisher, licensed psychologist
Stephanie Moir, MA, CRC, LMHC, licensed counselor
Hillary Schoninger, LCSW, therapist