35 Signs You're With The Right Person
Even if you're having some doubts.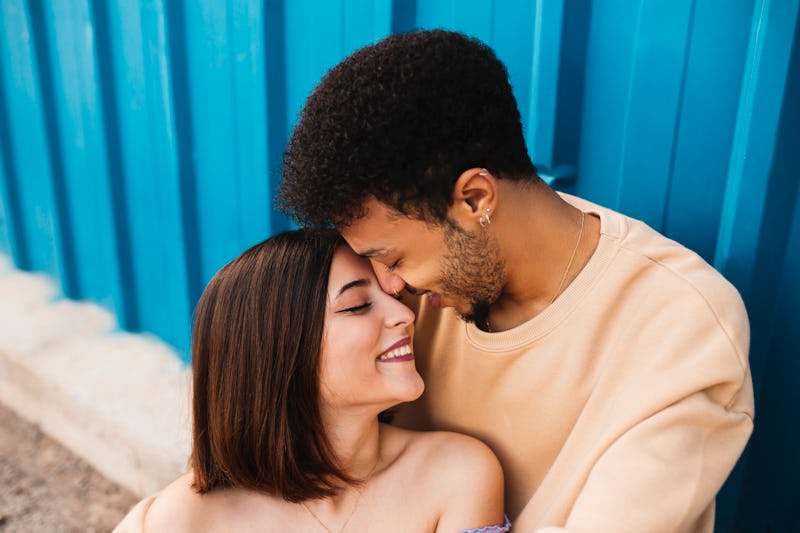 Westend61/Westend61/Getty Images
The very question "Am I with the right person?" implies that, on some level, you're having second thoughts. It'd be so nice to have a definitive answer and know, without a shadow of a doubt, that your partner is "the one." Unfortunately, there's not a giant green flag waving above your partner's head when you first meet them, encouraging you to pursue the relationship. But since life and relationships are never that straightforward, doubts and worries are bound to arise. It's normal for couples in long-term relationships to experience reservations at some point.
And yet, as Annie Wright, LMFT, a licensed psychotherapist, tells Bustle, it doesn't necessarily mean you're destined for a breakup. "Contrary to what [movies] and most pop songs teach us," she says, "love and being with the 'right' partner doesn't always look like fireworks or being completely certain about the other."
It's likely you'll experience moments of ambivalence, boredom, and even doubt. This is especially true if you have a history of toxic relationships, Sasha Jackson, MSW, LCSW, a licensed therapist, tells Bustle. "It's important to explore if you're allowing past negative experiences to overshadow your current relationship," she says. "If this is the case, take time to talk to your partner about insecurities and seek therapy to help you overcome your past. This way you can have a healthy and happy relationship."
Reassessing the positives and negatives (even if there aren't that many) of your relationship is very important, as it could help you figure out if you're right for each other in the long run. Do you still connect as well as you did in the beginning on issues, opinions, and lifestyles? Do you see yourself still with them in the next five years as you pursue professional and personal growth?
Dr. Jaclyn Gulotta, PHD, LMHC, licensed mental health counselor, believes it's helpful to reevaluate what's important to you as well as what makes the relationship feel special. "If you find someone that still meets your personal relationship expectations even after being together for a while, then that may be the right person. Being in a relationship where you are able to find a compromise to each partner's expectations is important for building a strong foundation," Gulotta tells Bustle.
So, wondering how to know if you're with the right person? Here are 35 signs you are, even if you've been questioning your relationship.
Sources:
Annie Wright, LMFT, licensed psychotherapist
Sasha Jackson, MSW, LCSW, licensed therapist
Virginia Williamson, LMFT, licensed marriage and family therapist
Amber Artis, relationship expert
Saudia L. Twine, Ph.D., LPC, LLMFT, marriage therapist and relationship coach
Samantha Daniels, dating expert
Rosalind Sedacca, CLC, dating and relationship coach
Nicholas Hardy, LCSW, psychotherapist
Salina Schmidgall, M.Ed., PLPC, NCC, mental health therapist
Cathy Sullivan-Windt, Ph.D., licensed psychologist
Dr. Danielle Forshee, clinical psychologist and licensed clinical social worker
Emily Griffin, MA, LCPC, LPC, mental health therapist
Pippa Murphy, a sex and relationship expert
Holly Battey, PsyD, matchmaker & dating coach
Matthew Brace, LMFT, marriage and family therapist
Chloe Ballatore, relationship and communication expert
Dr. Jaclyn Gulotta, PHD, LMHC, licensed mental health counselor, relationship expert
Sarah Kaufman, LMSW, psychotherapist
Dr. Lea McMahon LPC, EdD, licensed counselor, adjunct professor of Psychology
Wendy Sterling, CPCC, ACC, CDS, divorce recovery specialist and relationship coach
Sandra Myers, relationship expert
Leah Carey, sex and intimacy coach
Katina Tarver, MA, relationship and life coach
Sonya Schwartz, dating and relationship expert
Barbara Santini, MSCI, psychologist, sex and relationship adviser
This article was originally published on