15 Therapist-Approved Texts To End A Friendship
"We've both grown, just not together."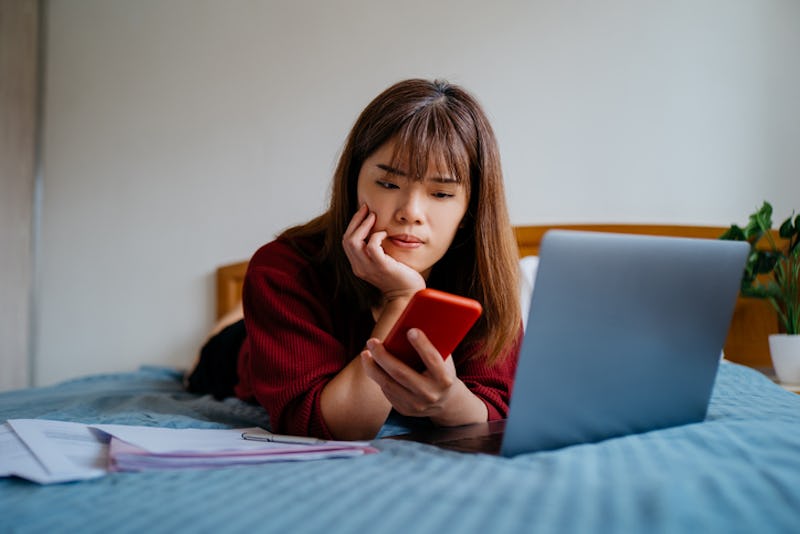 Getty Images/ hxyume
It isn't always necessary to send a text to end a friendship. If you and a pal have drifted apart, you'll probably reach out less and less often until it gets to the point where you no longer speak. This is the natural progression of many friendships as people get older, grow, and change — and that's OK.
There are, however, quite a few circumstances where you may want to break up with a friend so that you can truly move on. In situations where a friendship is no longer in your best interests, it can be tempting to ghost or send an insincere text like, "Hey, I'm super busy but I would love to hang out when things calm down," says mental health counselor Bernie Crowl, MHC-LP. But if you truly can't see yourself getting together again, figuring out what texts to send to end a friendship is tough, but can ultimately spare their feelings.
You might also want to end a friendship over text if the person is toxic or draining to be around. Do they pick fights? Bring you down? Or have they betrayed your trust? "Texting can be used as an effective tool for creating a safe boundary as it reduces the ways in which the person can try to manipulate you," says trauma-informed therapist Dr. Amelia Kelley. "By not being in person, or even on the phone, you can remain more grounded and choose how much of the interaction to participate in." Once you end the friendship, you can block them and move on.
While it's never easy to call off a friendship, sometimes it's for the best. If you're not sure where to start, these therapist-approved texts can help you break up with your old friend.
Experts:
Bernie Crowl, MHC-LP, mental health counselor
Dr. Amelia Kelley, trauma-informed therapist
Sherese Ezelle, LMHC, licensed behavioral therapist
Emily Griffin, MA, LCPC, mental health therapist
Dr. Easton Gaines, licensed psychologist
Lillyana Morales, LMHC, psychotherapist
Shawnessa Devonish, LCPC, NCC, licensed clinical professional counselor
Sameera Sullivan, relationship therapist
Jordan Pickell, MCP RCC, relationship therapist
Brianna Wolf, counselor
This article was originally published on