What Can I Do If I Feel My Partner Pulling Away?
"These kind of tough times can ultimately bring you two closer."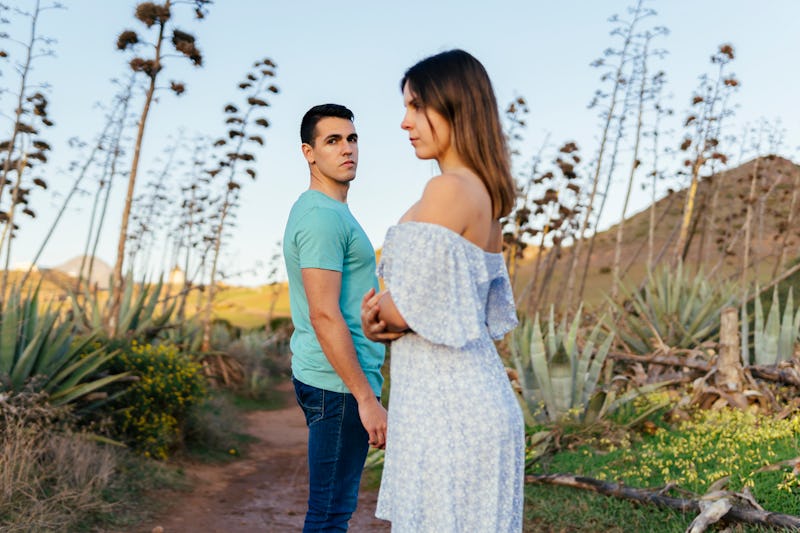 Westend61/Westend61/Getty Images
If you and your partner have been dating for a while and you've started to notice a shift in your relationship — they aren't as responsive to your touches as they were before, they've stopped planning romantic dates nights, or they're just acting more distant overall — you may be up all night wondering what can you do to stop your partner from pulling away.
According to Emily Holmes Hahn, relationship expert and founder and LastFirst matchmaking service, recognizing what's going on with your partner is the first step to figuring out why they're pulling away in your relationship. "While it's easy to jump to conclusions, there's no one-size-fits-all reason for why your partner is acting distant when things seem to be going really well," Hahn says.
If they're dealing with stress at work, family issues, or anything outside of the relationship, Hahn says it's just important to be understanding. "Actively help them deal with whatever it is head on. These kind of tough times can ultimately bring you two closer."
But if your partner is pulling away because the relationship is moving too fast, you can find ways you can slow down the tempo while still keeping the spark alive. It's all about helping your partner feel comfortable with your relationship again. "Either way, the only way to really resolve this issue is to sit down and have a direct conversation," Hahn says.
According to experts, there are both good and not-so-great ways to react when you feel your partner is pulling away. Below, you'll find some tips for restoring your connection.
Experts
Emily Holmes Hahn, relationship expert and Founder and LastFirst matchmaking service
Heidi McBain, MA, licensed marriage and family therapist
Rachel Wright, licensed marriage and family therapist
Alisha Powell, PhD, LCSW, therapist
Anita A. Chlipala, LMFT, and author of First Comes Us: The Busy Couple's Guide to Lasting Love
Dr. Carla Marie Manly, clinical psychologist, speaker, and author of upcoming book, Date Smart
Kimberly Perlin, LCSW, therapist
Dr. Alexandra Solomon, author of LOVING BRAVELY: Twenty Lessons of Self-Discovery to Help You Get the Love You Want
Merissa Goolsarran, LCSW, therapist
Ashley Gray, LCSW, individual and couples therapist
This article was originally published on