9 Tips For Dealing With Loneliness On Valentine's Day
Being alone doesn't have to be lonely.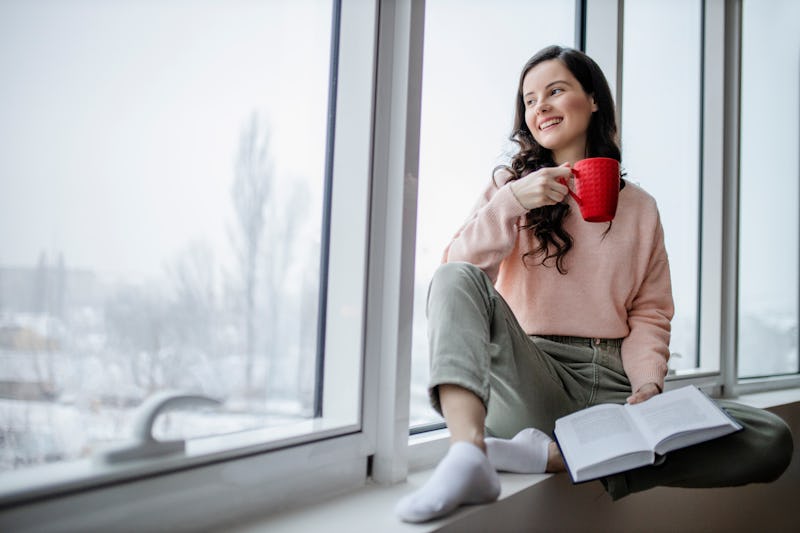 DjordjeDjurdjevic/E+/Getty Images
These days, it's hard enough to feel connected to your family and friends while in lockdown, let alone find a partner to celebrate with. So if you're struggling with loneliness around Valentine's Day — and are being bombarded with pink heart-shaped candy sales and photos of couples kissing on your Instagram feed — don't be surprised if it seems like the entire world is joining together to drive home the fact you are, in fact, all by yourself.
"Valentine's Day is one of those holidays where it often seems like everyone has a significant other and that they are all over-the-moon happy and in love," Heidi McBain, LMFT, a licensed marriage and family therapist, tells Bustle. But it's important to gather some perspective, and resist the urge to compare where you are in life to where others seem to be — especially considering the quarantine's loneliness pandemic.
"We are always comparing ourselves in our society and this holiday puts relationships front and center," says Sara Sedlik Haynes, LMFT, a licensed marriage and family therapist. "Comparing ourselves to others sets us up for distress." And that'll only make you feel worse. "When we put our self-esteem in the hands of what others see or think," she says, "we give our power over to external forces, leaving us feeling powerless, helpless, [and] alone."
But there are so many ways to get that power back and better manage how you feel on Valentine's Day (and, let's be honest, every day of the pandemic), whether you're in a relationship or not. Read on below for a few tips from experts.
Experts:
Heidi McBain, LMFT, licensed marriage and family therapist
Sara Sedlik Haynes, LMFT, licensed marriage and family therapist
Emma Donovan, MA, LPC, psychotherapist
Maria Sullivan, relationship expert and vice president of Dating.com
Studies referenced:
(2020). COVID Impact Survey. NORC at the University of Chicago, https://www.norc.org/Research/Projects/Pages/covid-impact-survey.aspx
Hershfield, H. (2013). When Feeling Bad Can Be Good: Mixed Emotions Benefit Physical Health Across Adulthood. Social Psychological and Personality Science, https://www.ncbi.nlm.nih.gov/pmc/articles/PMC3768126/
Hwang, T. (2020). Loneliness and social isolation during the COVID-19 pandemic. International Psychogeriatrics, https://www.ncbi.nlm.nih.gov/pmc/articles/PMC7306546/
Palgi, Y. (2020). The loneliness pandemic: Loneliness and other concomitants of depression, anxiety and their comorbidity during the COVID-19 outbreak. Journal of Affective Disorders, https://www.ncbi.nlm.nih.gov/pmc/articles/PMC7330569/
This article was originally published on